Today is World Hepatitis Day so we're deviating from the uterus and talking about another important organ – our liver. One of the largest organs of our body, the liver is unique in its appearance, reddish brown in colour, weighs around 1.5 kg, and lies on the right side of the abdomen just below the ribs. 
Did you know the liver also has a fantastic property to regenerate? And believe it or not, it carries around 500 functions in our body!
To mention a few:
Helps in the digestion of food
Extracts nutrients from your food
Helps in the excretion of bilirubin, cholesterol, alcohol and drugs
Stores several vitamins and glycogen
Plays a major role in detoxification of the blood
Makes blood clotting factors
Helps the immune system
It is important that we handle our liver with care. In order to do so, we should realise that various factors such as infections and immune problems can affect the liver.
Sometimes the liver might also experience inflammation which is referred to as Hepatitis.
Viral hepatitis is caused by several variants such as A, B, C, D, and E. Let's find out a little bit of each of these types of hepatitis, on World Hepatitis Day.
Hepatitis A
It is transmitted by the virus in stools. If any person ingests fecal matter even in microscopic amounts from contact with objects, food, or drinks contaminated by this stool they can catch the infection. Although it is an acute disease, a person recovers in 6 weeks.
Good thing is it usually does not cause any permanent damage to the liver.
Hepatitis B
It usually spreads through a parenteral route i.e the blood, semen, or certain other body fluids. Even microscopic amounts of the Hepatitis B virus can cause infection. A person can also get Hepatitis B infection during birth from an infected mother. Other physical causes can be sexual intercourse with a person who is carrying the virus. Sharing personal objects such as toothbrushes or razors or any equipment that has come in physical contact with an infected person such as needles, syringes, and even medical equipment, such as glucose monitors can spread the virus.
The infection ranges from a mild illness, lasting a few weeks, to a serious, life-long (chronic) condition and is one of the important causes of liver cancer.
Hepatitis C
This type of hepatitis spreads in a similar manner as Hepatitis B virus. More than 50% of people who get infected with the Hepatitis C virus develop a long lasting infection and 5-25% of people with chronic Hepatitis C develop cirrhosis over 10–20 years.
Hepatitis D
This virus cannot live independently. It can only survive only if the person already has the Hepatitis B virus present in their body.Together, they cause chronic infection that can progress to liver failure.
Hepatitis E
Like Hepatitis A, it is transmitted by faeco oral route. It is also an acute and self limiting disease but can cause severe infection in pregnant people.
We know that all of this sounds scary but there is nothing to worry about. Hepatitis can be prevented by ensuring good daily hygiene.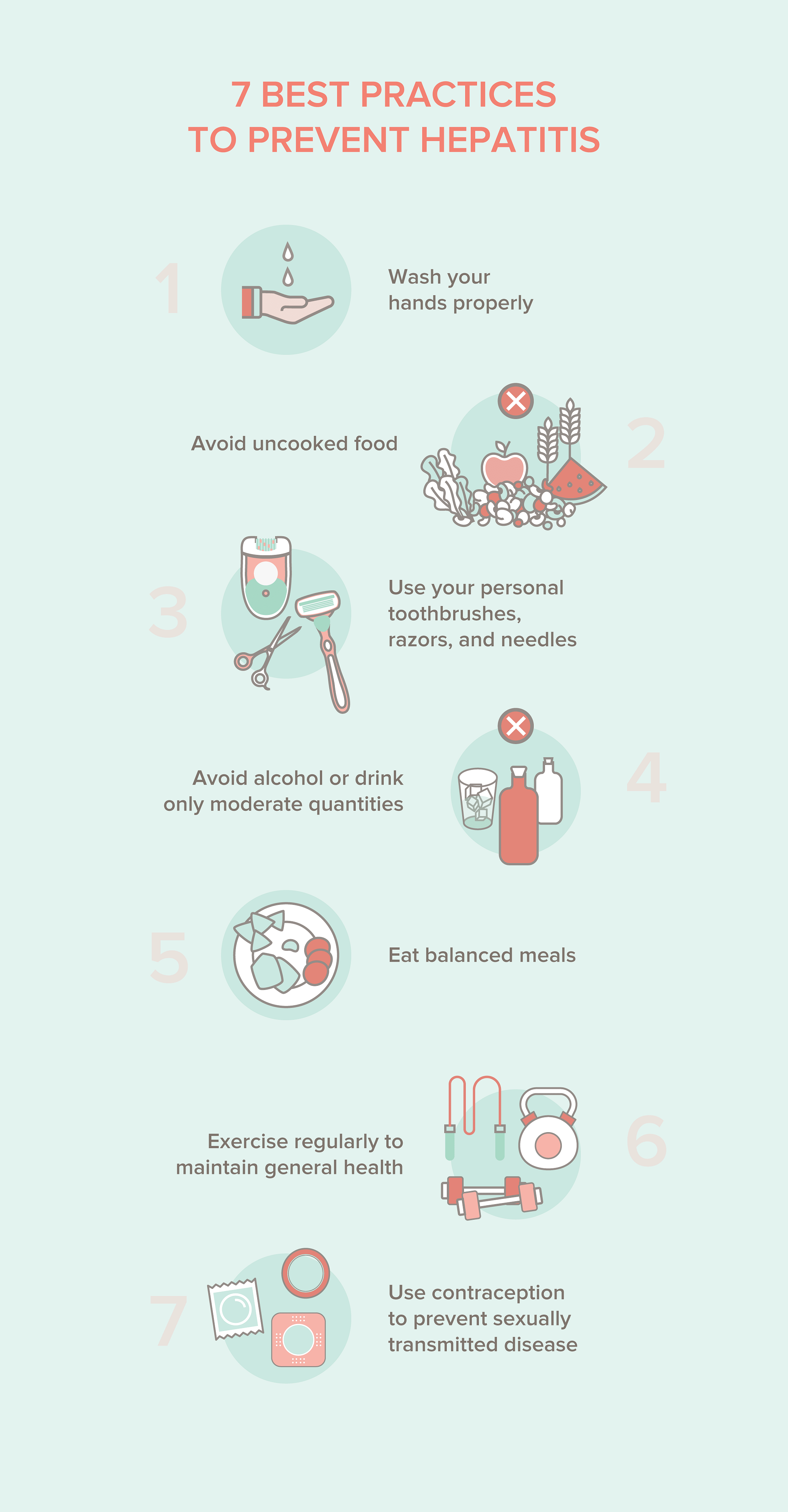 There are also vaccines available for Hepatitis A and B. They are usually covered during our childhood immunisation schedule. Hepatitis A vaccine includes 1 or 2 shots depending on the vaccine given and Hepatitis B vaccine includes 4 shots. However, in case you didn't get the vaccine in your childhood, don't worry about it! You can get it now, too.
The best way to keep your liver healthy and prevent Hepatitis is to be sure that you take care of yourself. Get tested to ensure that your body is fine this World Hepatitis Day. Keep your liver happy and let it take care of you, too. 
---
Our experts work round the clock to provide you with the answers that you are looking for. If you have any, leave it in the comment section below or send us a DM at @nuawoman. This is a safe space so don't hold back on any doubts you may have about your body and mind. Read our other Community Asks here.
Read all of Dr Abhinaya Alluri's other articles here.