Acne is a major concern that women face from the time they are teenagers, following them well into adulthood. At Nua, we have found a way to help you combat this! Our newly launched Acne Control range includes our first ever Acne Healing Patch made out of 100% hydrocolloid. Here's everything you need to know about an acne patch that will help treat your acne or pimple.
What is hydrocolloid?
Hydrocolloid is a moisture absorbing agent that creates a moist environment on the skin to promote healing on a film sheet. In simple terms, when hydrocolloid is used for acne, it helps in soaking up all the liquid, pus and gunk from the infected pore.
What is an acne patch and how does it work on acne?
Hydrocolloid is added to a carrier-like a film to create an absorbent, self-adhesive, waterproof protective cover – what our acne patch is! This patch draws out ALL the impurities from the skin. Check out our Acne Healing Patches to test it for yourself.
What kind of acne can I use this acne patch on?
The patches work best on pus-filled acne such as pustules and papules. For other types of acne, it serves as a protective layer to prevent popping or picking on the acne. Click here to find out which type of acne you're experiencing to heal it better.
Are there different types and sizes of acne patches?
Yes, acne patches and hydrocolloid patches come in different shapes and sizes. An acne (or pimple) patch usually comes in a circular shape to fit perfectly over an acne spot. Taking this consideration to mind, our Acne Healing Patches come in two sizes – 12mm and 10mm.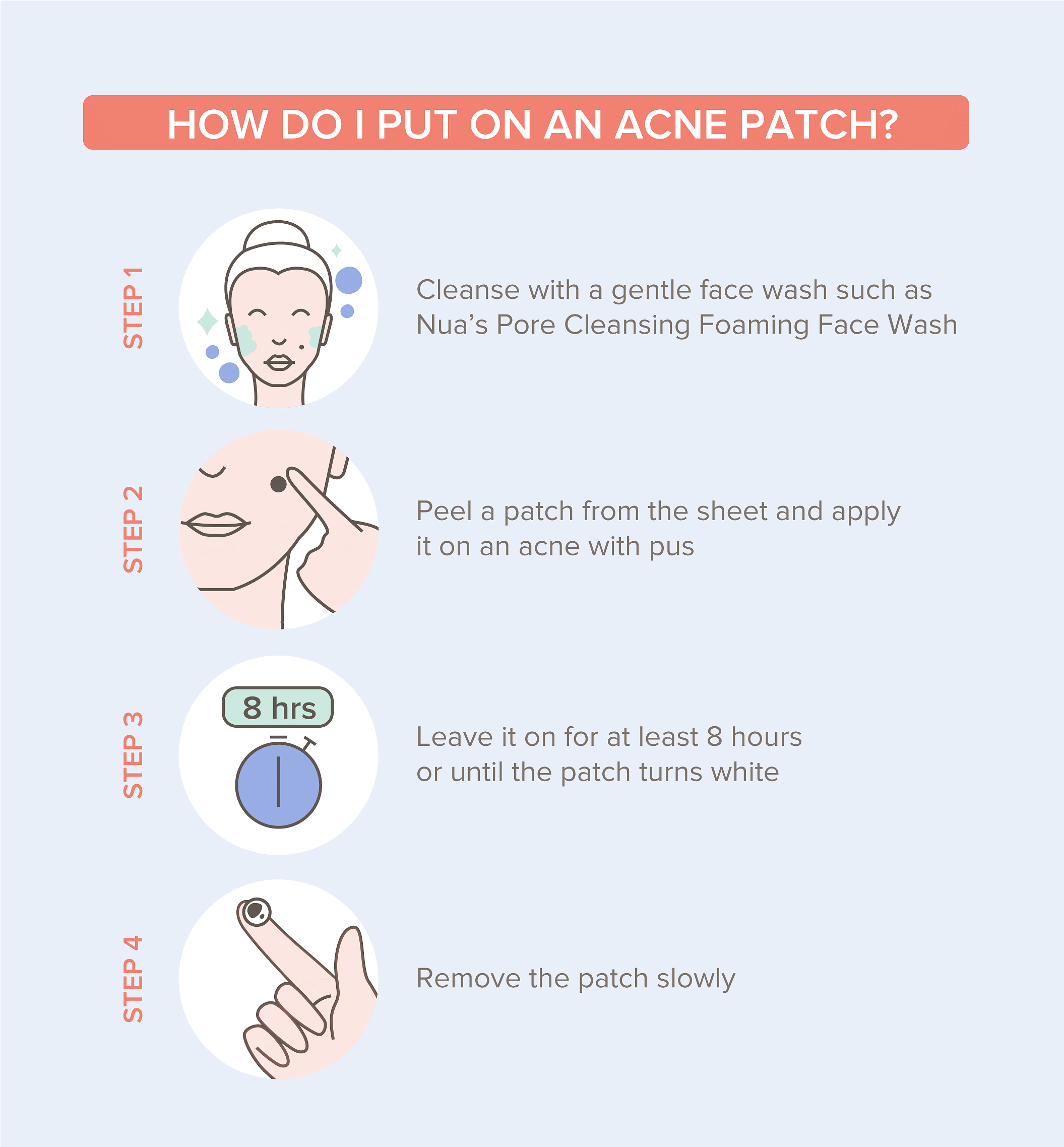 How long should I keep the patch on for it to work and how often can I use it on one spot?
You must keep the patch on for 6 hours or until the patch turns white. You can use upto 2 patches on one acne in a day but do not keep the patch on for more than 12 hours.
How to dispose an acne patch correctly?
The disposal process is similar to that of a bandaid. Fold it, wrap it up in a bit of tissue and put it in the bin.
What are the advantages of using an acne patch?
It creates a healing environment for faster recovery for the acne.
It prevents any external bacteria or dirt from entering.
It keeps you from picking and popping the pimple.
You can wear makeup over the patch.
The verdict? Definitely worth having a stash of these patches at home! 
Nua Acne Patch
---
Acne shouldn't pull down your confidence and make you feel like it's the end of the world. Our Acne Healing Patch can help you press the fast-forward button and flatten those pesky pimples in 8 hours. Get them now!
Are you interested in our period care range? Shop it all here.