Many women have queries around contraceptive options and one common misconception is the interchanging terms used for two of the most popular options – emergency contraceptive pills and birth control pills. Before we go into the details, it is important to understand what each type does.
What are emergency contraceptive pills?
Emergency contraceptive pills are hormonal pills used in cases of emergency contraception such as unprotected sex or failure of regular contraception, e.g., slippage or tearing of condoms.
How do emergency contraceptive pills work?
Emergency contraceptive pills contain levonorgestrel, a synthetic progesterone hormone in high doses. It helps to stop or prevent release of egg or ovulation.
What is the time period in which emergency contraceptive pills are effective?
It needs to be taken within 3 days or 72 hours of unprotected sex to be effective. It's always better to take it as early as possible as the effectiveness can be lowered if consumed late.
After consumption of the emergency contraceptive pill, does it continue to act as a contraceptive in subsequent unprotected intercourses?
No, it doesn't. Its contraceptive action is short lived and hence it need to be consumed again if unprotected sex is repeated in the future. One can use emergency contraceptive pills more than once in a menstrual cycle if one needs to.
Are there side effects of taking emergency contraceptive pills?
Yes – headaches, vomiting, abdominal pain, changes in period cycles like a late period or irregular bleeding are common side effects.
What are birth control pills?
Birth control pills are contraceptive hormonal pills which need to be taken regularly. They are composed of two types of synthetic sex hormones – oestrogen and progesterone.
How do birth control pills work?
Birth control pills are taken daily throughout the period cycle, starting from the 5th day of the period for 21 or 28 days depending on the type of pill. It prevents ovulation and hence pregnancy.
A birth control pill is prescribed by the gynaecologist after assessing a woman's medical history and requirements.
Can it be harmful to use birth control pills?
While prescribed medication such as birth control is not harmful, there are certain instances during which they should not be taken by a person. One cannot use birth control pills during breastfeeding. They are also to be avoided in certain high risk conditions like blood clotting disorders. Women who are prescribed anti-epilepsy medicines or certain antibiotics should also stay away from contraceptive pills as their potency decreases when ingested with other stronger medication.
Why are emergency contraceptive pills more popular than birth control pills?
Emergency contraceptive pills are accessible at over-the-counter medical stores compared to birth control pills. Emergency contraceptive pills can also be taken once, after every instance of unprotected sex, compared to the regular and constant dosage birth control pills need to be taken as advised by your gynaecologist.
Due to these reasons, women assume emergency contraceptive pills can be their go-to contraception option. Taking emergency contraceptive pills often and over a period of time can cause long term damage and thus is not ideal for daily usage.
Emergency contraceptive pills are completely different entities than birth control pills and should be used judiciously and only during emergencies.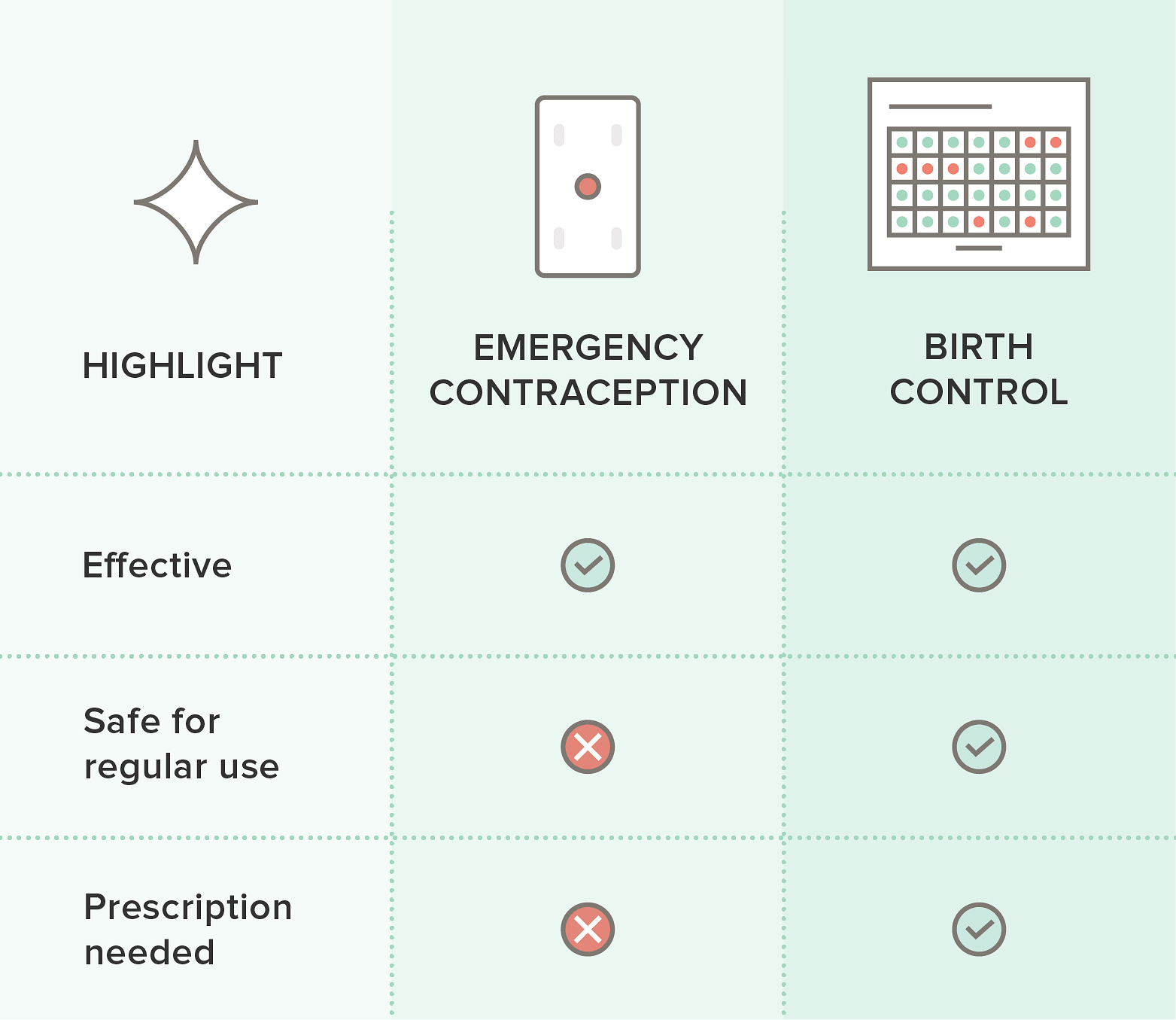 ---
Our experts work round the clock to provide you with the answers that you are looking for. So, if you have any, leave it in the comment section below or send us a DM at @nuawoman. This is a safe space that we have built for you so do not hold back on any doubts you may have about your body and mind.
Read other articles by Dr. Vaishali Joshi here.