Many want to know if face masks cause acne or pimples and the answer, unfortunately, is yes. Wearing a face mask has become a staple in our lives due to the spread of Covid-19 but what most might not realize is that it can take a toll on your skin.
Wearing a face mask for extended periods of time at a stretch can lead to additional friction on the skin, causing breakouts or acne caused due to masks a.k.a. maskne. What's worse is that due to lack of exposure to the air, your face also tends to become oily and promote the growth of bacteria on its surface.
Now that we know that masks cause acne, the next step is how to manage them.
Here are a few tips that can help you prevent and treat this cause of irritation and acne:
Change your mask after every use
The best way to protect your skin from unwanted pimples is to ensure that the mask you are using is always clean. If you are using disposable face masks, changing them throughout the day can reduce dirt and oils that may build up on your face. Cloth or fabric masks need to be washed daily to make sure that they are clean for their next use. Keeping your mask clean will help maintain healthy skin.
Cleanse your skin
Just like a clean mask, clean skin goes a long way in keeping acne at bay. Knowing that masks cause acne, it's important to have your skin clean as well. Use a gentle cleanser that contains salicylic acid twice a day (i.e at morning and at night) to prevent and treat the skin without stripping its natural oils. Our Pore Cleansing Face Wash has a pH-balanced formula with all the ingredients you'll need to get clear, healthy skin all year round.
Avoid touching or picking your spots
This may be one of the harder tips to put into practice because everyone on the planet has the tendency to pick their pimples. Touching your face transfers dirt, oil, and additional bacteria from your hands to your face, which can clog pores and can make the appearance of acne darker. So while it may be tough to avoid the urge to touch and pick at it, a hands-off approach is advised. Remember, masks cause acne, but picking them makes it worse.
Patch it up with an acne patch
Hydrocolloid patches have been a great way to ensure that your pimple or acne spot is treated while protecting it from possible pollutants including your fingers! Place our Acne Healing Patch gently on your spot for it to extract all the pus from the developed white area on your pimple. You'll notice a great difference within the first 6-8 hours of its application. Plus, how will the mask cause acne if it's already being treated?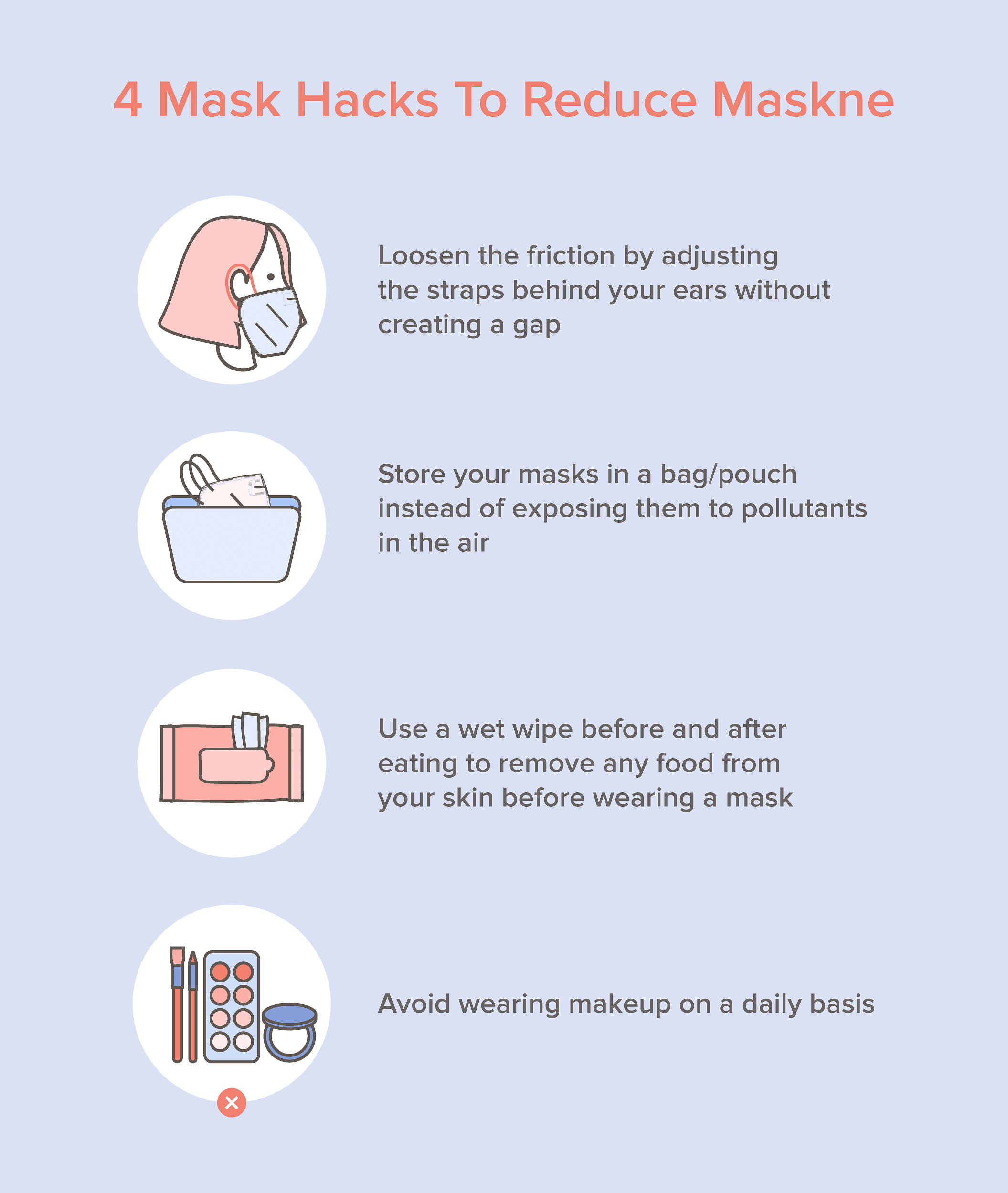 ---
While wearing a mask is our new normal, maskne doesn't have to be. A few extra steps in this version of a masking routine can help you put your best face forward. Learn more about our range of products here.