Consuming a healthy, balanced diet is a goal for many people. While this is an excellent goal for health reasons, the terms "healthy" and "balanced" will vary for each individual. A healthy, balanced diet generally means one that is rich in whole grains, fruits, vegetables, lean proteins, and healthy fats. A meal plan is a great tool to help you stay on track for your nutritional goals.
Prepping and planning doesn't have to be time-intensive and complicated. A few simple steps, including basic meal constructs, making a shopping list, shopping strategically, and methodically preparing food ahead of time, are what make meal planning a helpful tool to keep you energized, meet your nutrition goals, reduce food waste, and save money.
Why Nutrition is Important for a Healthy and Balanced Diet
A healthy, balanced diet looks different for each person, as nutrition needs vary based on gender, height, weight, activity level, and many more factors. When thinking about what is "healthy" and "balanced" for you, there are many considerations. Think about taste preferences, nutrition needs, cooking ability, medical conditions, budget, and more.
Planning a daily menu isn't difficult as long as each meal and snack has some protein, fiber, complex carbohydrates, and a little bit of fat.1 You may want to plan approximately 100 to 250 calories for each snack and 300 to 600 calories per meal; however, you may need more or less depending on your hunger levels and energy needs.
7-Day Sample Menu
This one day meal plan was designed for a person who needs about 2,000 to 2,200 calories per day and has no dietary restrictions. Your daily calorie goal may vary. Learn what it is below, then make tweaks to the plan to fit your specific needs. Consider working with a registered dietitian or speaking with a health care provider to assess and plan for your dietary needs more accurately.
Each day includes three meals and three snacks and has a healthy balance of carbohydrates, fats, and proteins. You'll also get plenty of fiber from whole grains, fruits, vegetables, and legumes.
It's OK to swap out similar menu items, but keep cooking methods in mind. Replacing a sirloin steak with grilled chicken is fine, for instance, but replacing it with chicken-fried steak isn't going to work because of the breading changes the fat, carb and sodium counts—and the calories. Finally, you can adjust your calorie intake by eliminating snacks if you want to lose weight or eating larger snacks if you want to gain weight.
Breakfast
Two poached eggs (or fried in a non-stick pan)
One slice 100% whole wheat toast
Macronutrients: approximately 327 calories, 18 grams protein, 41 grams carbohydrates, and 11 grams fat
Snack
One banana
1 cup plain yogurt with 1 tablespoon honey
Macronutrients: 324 calories, 14 grams protein, 62 grams carbohydrates, 4 grams fat
Lunch
6 ounces grilled chicken breast
Large garden salad (3 cups mixed greens with 1 cup cherry tomatoes, 1/4 avocado, topped with 2 tablespoons balsamic vinegar)
Macronutrients: 396 calories, 41 grams protein, 18 grams carbohydrates, 18 grams fat
Snack
1 cup (about 10) baby carrots
3 tablespoons hummus
1/2 piece of pita bread
Macronutrients: 192 calories, 7 grams protein, 31 grams carbohydrates, 5 grams fat
Dinner
1 cup steamed broccoli
1 cup of brown rice
Any vegetable (4-ounce portion)
Macronutrients: 399 calories, 34 grams protein, 57 grams carbohydrates, 4 grams fat
Snack
Two pitted Medjool dates
1 ounce 70% dark chocolate
Macronutrients: 302 calories, 3 grams protein, 49 grams carbohydrates, 12 grams fat
Daily Totals: 1,738 calories, 114 grams protein, 258 grams carbohydrates, 55 grams fat
Note that beverages are not included in this meal plan. Individual fluid needs vary based on age, sex, activity level, and medical history. For optimal hydration, experts generally recommend drinking approximately 8 cups of water per day for women and 13 cups of water per day for men.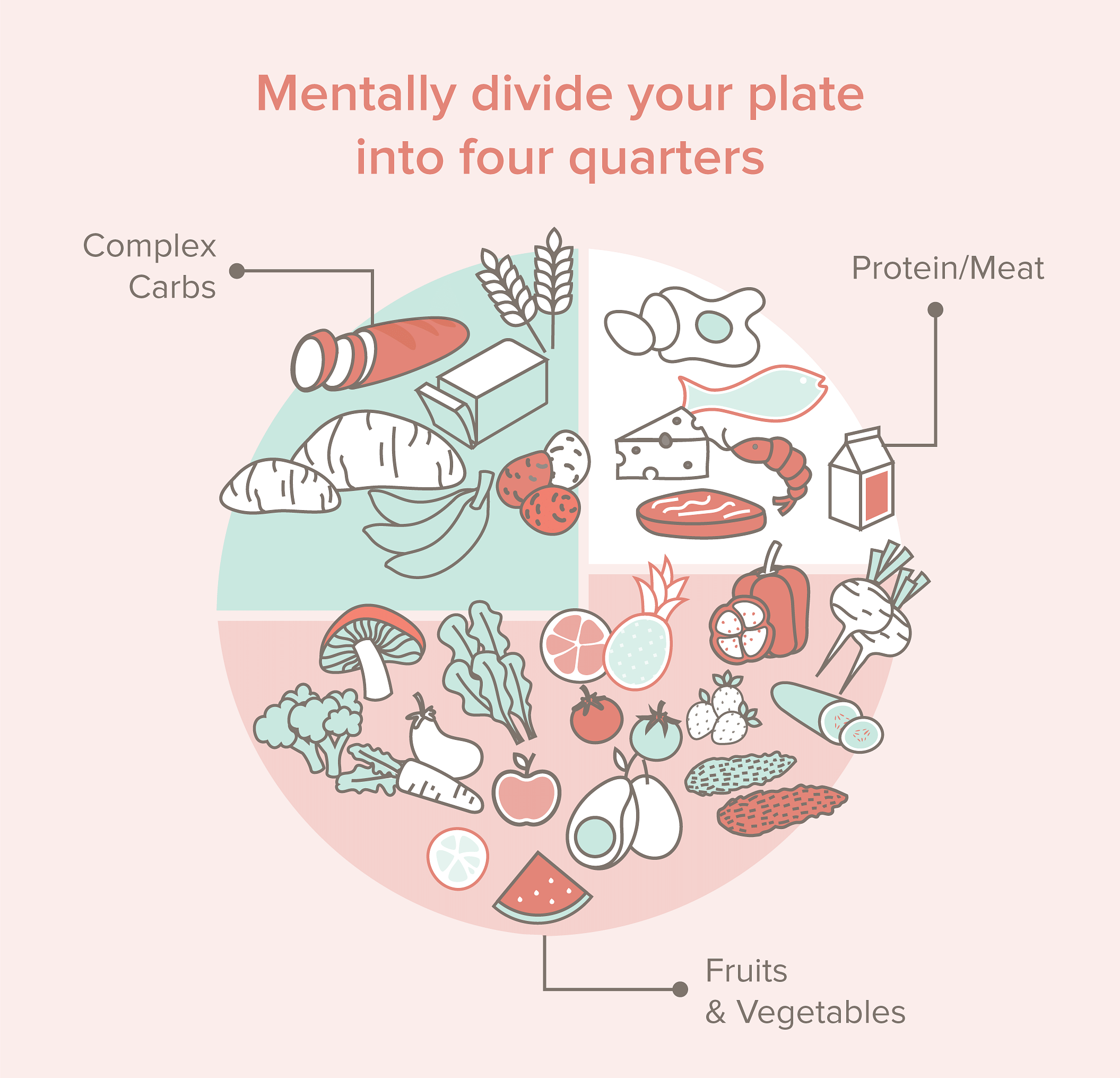 Planning healthy meals isn't difficult, but if you're not used to it, the planning can take a little practice. The examples we provided should give you a great start. Don't feel discouraged if you don't stick to the plan exactly as outlined—it's OK to make variations that fit your lifestyle and needs. Do your best to incorporate healthy choices into your day—vegetables, fruit, lean proteins, beans and legumes, and whole grains are always smart bets.
---
Our experts work round the clock to provide you with the answers that you are looking for. So, if you have any, leave it in the comment section below or send us a DM at @nuawoman. This is a safe space that we have built for you so do not hold back on any doubts you may have about your body and mind.
Read other articles by Preeti Chedda here.