Mental health refers to our state of mind and includes emotional, psychological, and social well-being. It affects how we feel, think and behave. It is important to understand that mental health is not just important during adulthood but is significant from childhood.
Often, it is assumed that just because we are not mentally ill means that we are mentally healthy. 
It is important to understand that these two terms cannot be used interchangeably. An individual can experience poor mental health but not be mentally ill.
It is therefore important to understand that nurturing our mental health is a daily activity. Just like we physically work out every day, it is important to spend some time on our mental health too. Mental health has an influence on our relationship with others and ourselves, confidence, productivity, work, life choices, decision-making abilities, physical health, emotional health, sexual health, societal factors, and overall quality of life. It thus can be seen that mental health has an impact on all aspects of our lives.
Follow these basic few steps every day to improve your mental health.
1. Don't see your phone first thing in the morning
Give yourself at least half an hour before you switch yourself on. Spend some time with yourself, reflect on how you slept, try being mindful for that moment, and plan your day ahead.
2. Don't see your phone the last half an hour before you sleep
Similar to your mornings, reflect on how your day has been – what went your way, what didn't, what you liked, what you didn't like. Our phones today have literally become an extension of our hands. It is therefore important to provide ourselves with a digital break when we wake up and before we go to sleep.
3. Exercise your body
This does not have to necessarily include an intense workout but something that makes you break into a sweat at least thrice a week. It can be a walk, swim, gym exercise, pilates, or yoga. When we exercise our body releases endorphins, which help us automatically feel better.
Similarly, try to do 5 – 10 minutes of breathing exercises every day. When we do this, we are automatically putting all our attention and focus on ourselves, which helps to center and ground our mind – reducing anxious and depressive thoughts. Further, during deep breathing, our body takes in more oxygen, which automatically helps us to think more clearly.
4. Have a combination of something fun and something accomplishing in your routine
All of us at whatever age lead extremely hectic lives and often end up doing only what we are supposed to do. It is important to stop, pause and reflect sometimes on how we are doing. Ask yourself, "Have I done something fun lately?".
The fun doesn't have to be anything extreme, it could simply mean getting into bed and watching a fun episode of friends. Similarly, ask yourself "Have I done anything that has made me feel accomplished this week?".
Again, we have to be realistic with ourselves and our expectations as we will not be meeting incredible targets all the time. However, accomplishment can be something like having your green juice every morning or not losing your patience with your partner or children.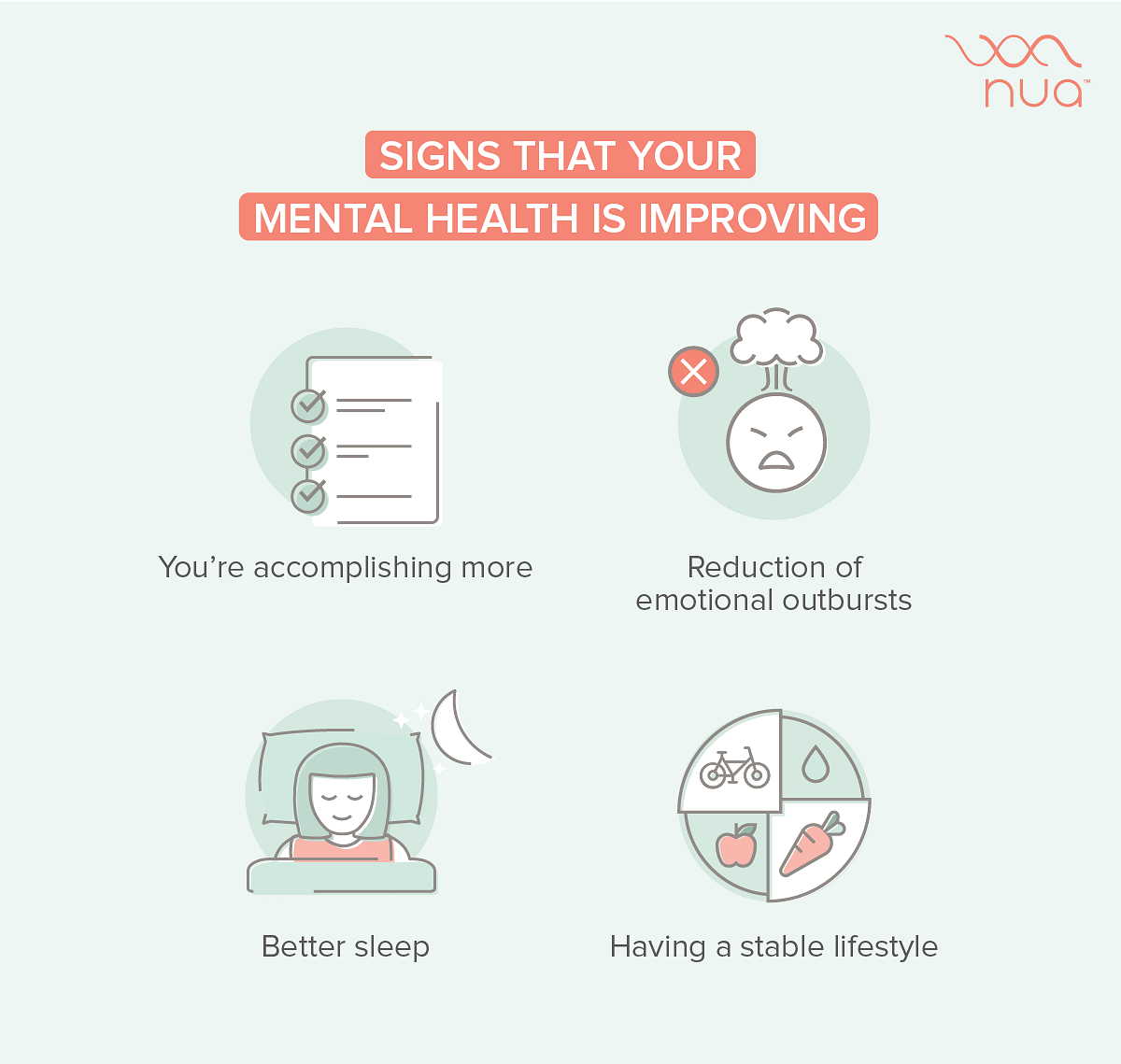 Although these may seem like three extremely simple steps, they do help a long way. It is always important to start somewhere. If you feel, however, that days are seeming tougher and your ability for everyday functioning is reducing – it is extremely important that you reach out for help. Please reach out to a professional or someone who you know can help. One has to remember that there is no shame in asking for help and that there is no need to suffer alone.
---
Our experts work round the clock to provide you with the answers that you are looking for. If you have any, leave them in the comment section below or send us a DM at @nuawoman. This is a safe space so don't hold back on any doubts you may have about your body and mind.
To know more about mental health, read Ishita Pateria's articles right here.