Acne most commonly appears on your face, but also on neck, chest, back and shoulders. It can also be annoyingly persistent. People ranging between the ages of 13 to their 20s and at times even till their mid-30s experience acne and pimples. However, an important factor to keeping your skin healthy is to know how to cleanse and wash your face effectively.
If you don't wash your face in the right way, the dirt, oil and dead skin cells clog up the pores on your face, triggering the bacteria and causing those pimples. Hormonal changes and stress are also triggers that can cause intense forms of acne on the face, so it's important to keep your skin clean to let acne treatments penetrate into the skin and clear them out.
How to wash your face properly in the morning?
Wash your hands first after you wake up.
Rinse your face not with too hot or too cold water. Use lukewarm water.
Dispense the cleansing foam into your clean hands, apply it on your face and massage it for 1 minute.
Rinse it off and dry it with a napkin that can be used just for your face.
Follow with an SPF 30.
Typically, the time you can spend washing your face can vary due to the ingredients in the product you use. If you use salicylic acid or glycolic acid, you have to slowly increase the washing and leave-on time. Also massaging the skin helps the products work better, so start from your nose and cheeks and then from chin to forehead.
How to wash your face properly at night?
Remove your make-up first. Never ever go to bed with make-up. After removing the makeup, rinse it with water and apply your cleanser in the same way you would in the morning, replacing your SPF for your acne treatment and a moisturizer. If you don't wash your face at night, you spread the bacteria from your face onto your pillow – cursing more acne or even a skin condition. Hence it is important to wash your face the right way!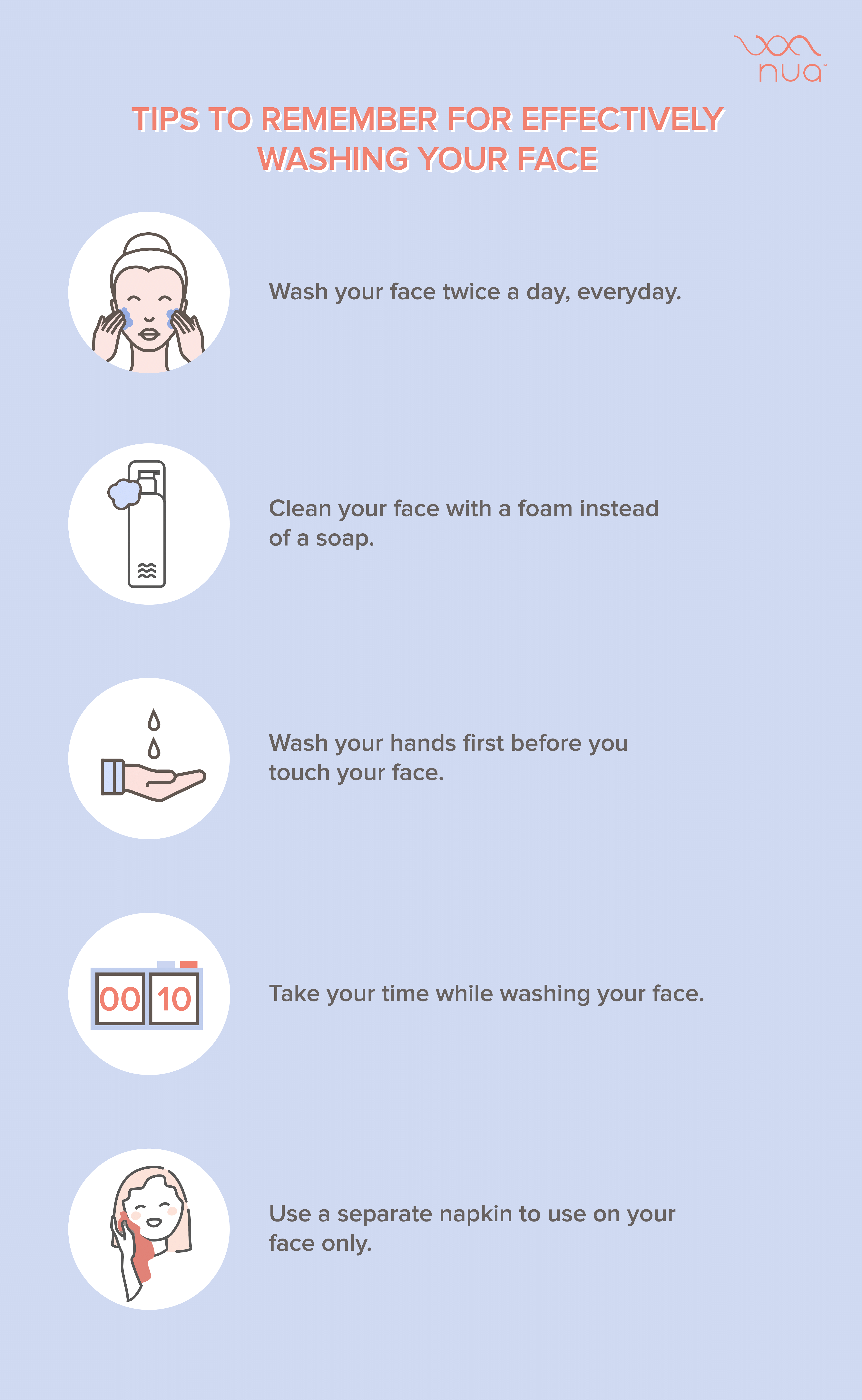 We, at Nua, have always looked at developing effective solutions to help you solve any issues caused by hormonal imbalances and even pollutants on the skin's surface. This led to the launch of our latest Acne Control range of products, including our first ever, non-drying Pore Cleansing Face Wash.
PS: You can follow this with our Oil-Free Gel Moisturizer that hydrates, calms and strengthens the skin barrier to prevent future breakouts.
---
We know how tough it can be to get clear skin with so many external and internal factors, but with our latest range, we want to make the task a bit easier for you! Shop the entire range here to holistically treat your period & acne woes.