Over the years, many women have noted a decline in their gut health. While your overall health can be improved with a good gut health diet, one must identify the reason that could be affect their gut microbiome in order to help improve their health.
What is a gut microbiome?
Gut microbiome is a term used to describe living microorganisms in the intestines. Every person has roughly 200 different types of bacteria and fungi in their digestive tract. Most of these are incredibly beneficial and play a big role in your gut health and digestion.
How can you ensure good gut health?
Increasing healthy gut bacteria is not as simple as eating more yogurt in your diet but you can follow a few simple steps:
We don't pay much attention to what causes changes in our gut before noticing signs of discomfort, so noting down what you eat can have a direct correlation to how you feel. You will be able to notice patterns such as lactose intolerance, acidity, and an upset stomach by tracking everything you eat for better gut condition.
Instead of eliminating food items in the search to improve stomach health, add more whole foods, rich in fibre. Eating a variety of fruits, vegetables, lentils, and whole grains will help break down into chemicals that feed good gut bacteria. Onions, garlic, and oats also fall under this high-fibre and probiotic-rich category to further improve your gut well being.
A good gut health diet can go a long way in improving your health, especially when you avoid certain triggering food items. While meat and dairy can be inflammatory, limiting their intake can be good for your overall gut health in the long run. A diet that's high in sugar, starch, and saturated fats can inflame the intestines, leading to poor nutrient absorption and can cause Crohn's disease or Irritable Bowel Syndrome. Limit those down so that your gut health can improve and you have space to include more fibre-rich food in your diet.
Lack of sleep does increase the levels of cortisol in the body. This stress-inducing hormone can cause an imbalance in your overall gut health with indigestion.
Poor gut health can lead to stress which can be managed by different exercises such as walking, yoga, or even weight lifting. Exercising can increase endorphins in your body and is a great anti-anxiety agent that can be the answer to how to improve your gut health.
Visit your doctor regularly
Most young adults only visit a doctor when something is wrong. Having a professional keep an eye on you and your health, beyond a gut health diet can be beneficial to keep you healthier and problem free.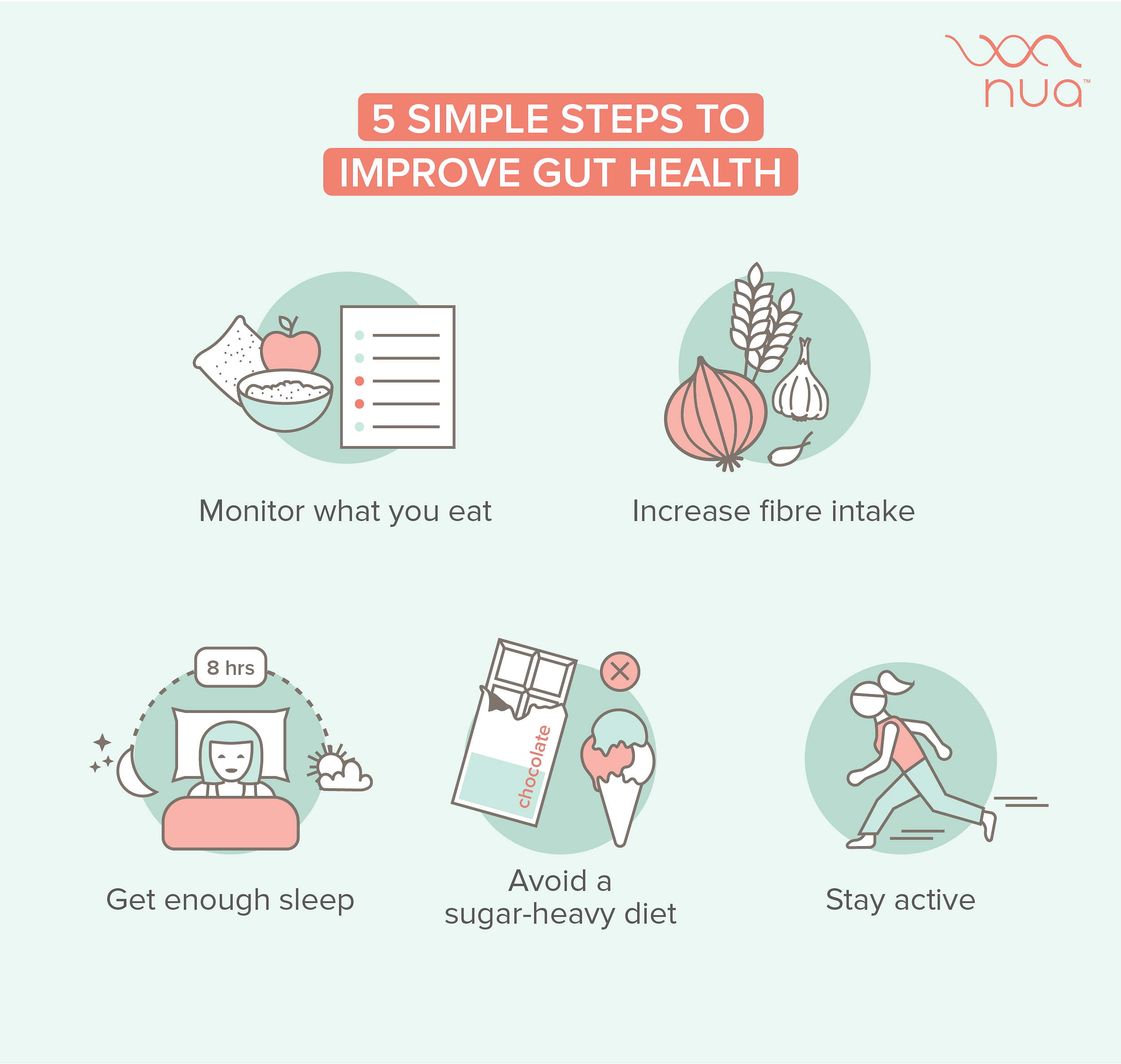 Knowledge is power when it comes to your health, especially the health of your gut. Arming yourself with the understanding of what destroys and heals your gut health will put you in a position of control. Reach out and work with a qualified health expert who can help restore your gut health and get you back to your thriving self.
---
Our experts work round the clock to provide you with the answers that you are looking for. So, if you have any, leave it in the comment section below or send us a DM at @nuawoman. This is a safe space that we have built for you so do not hold back on any doubts you may have about your body and mind.
Read other articles by Preeti Chedda here.