Even though acne and pimples are usually experienced by most before their menstrual cycles, it is often an occurrence that can happen at any time of the year. There are many different causes of acne and pimples on your face. From environmental pollution to eating excess dairy and more, stubborn spots can be tough to deal with. Before you start looking for acne & pimple treatments, there are a few ingredients that can help you along the way.
Firstly, it is important for you to identify your skin type before we talk about the right acne & pimple treatments.
How to identify your skin type?
Cleanse your face with a gentle face wash and do not use any other product. After 30 minutes, you need to notice what your face feels like:
If your face is dry and feels tight all over, you have dry skin.
If your face is oily on your forehead and your nose but dry/normal in the remaining areas, you have combination skin.
If your face is oily to touch, you have oily skin.
Now that you have identified the correct skin type, you can move on to finding your pimple treatment. It's always important to look at the ingredients on any product you might use on your skin, that can lead to the causes of acne. There are a few ingredients that could work phenomenally for certain people, however, they might not for the rest. It all depends on your skin's preferences and what suits it the best.
Here are some of the top-performing ingredients that can be the right pimple treatment for you:
Salicylic acid
Salicylic acid is a keratolytic agent, which means that it's used to gently exfoliate the top layers of your skin to unclog pores from the surface. Salicylic acid is a common ingredient and is found in many products and works for mild to moderate acne. It ensures that whatever particles are stuck within the pores are removed, preventing the pimple from forming in the first place. This pimple treatment has anti-inflammatory properties that can help treat whiteheads, blackheads, and even pustules.
Benzoyl peroxide
Benzoyl peroxide is another ingredient that's majorly used as a pimple treatment. It is a comedolytic active that will help mild, moderate, or even severe acne depending on its potency. There are products with this ingredient in the market but due to its nature, it's best if it is prescribed by a professional dermatologist so that the right dosage or strength can be prescribed as a pimple treatment.
Retinol
Retinol is an ingredient that works for acne in two different ways. While it helps people with cystic and stubborn acne, for someone over 25-30 years of age, it can also help with quicker cell regeneration. This delays the signs of aging. However, it has been known to be a bit of a controversial ingredient for pimple treatments since it is not suited for all skin types, so do include this into your routine with the right guidance from a professional.
Niacinamide
Niacinamide is one ingredient that takes care of your skin while you use the ones mentioned above as pimple treatments. When treating acne and pimples, your skin can become dry since the goal is to reduce the overproduction of sebum to control clogged pores. It is an ingredient that helps in maintaining the hydration levels and elasticity of your skin and calms any redness or irritation that you could experience.
Consulting a dermatologist will help you find the right causes of acne and share the right pimple treatment for your skin's changing needs throughout the year. They could also help you identify the root cause of the acne since it could be stemmed from PCOS and PCOD. Every skin type is different, and so reacts differently to all pimple treatments, so make sure your skin is treated the right way.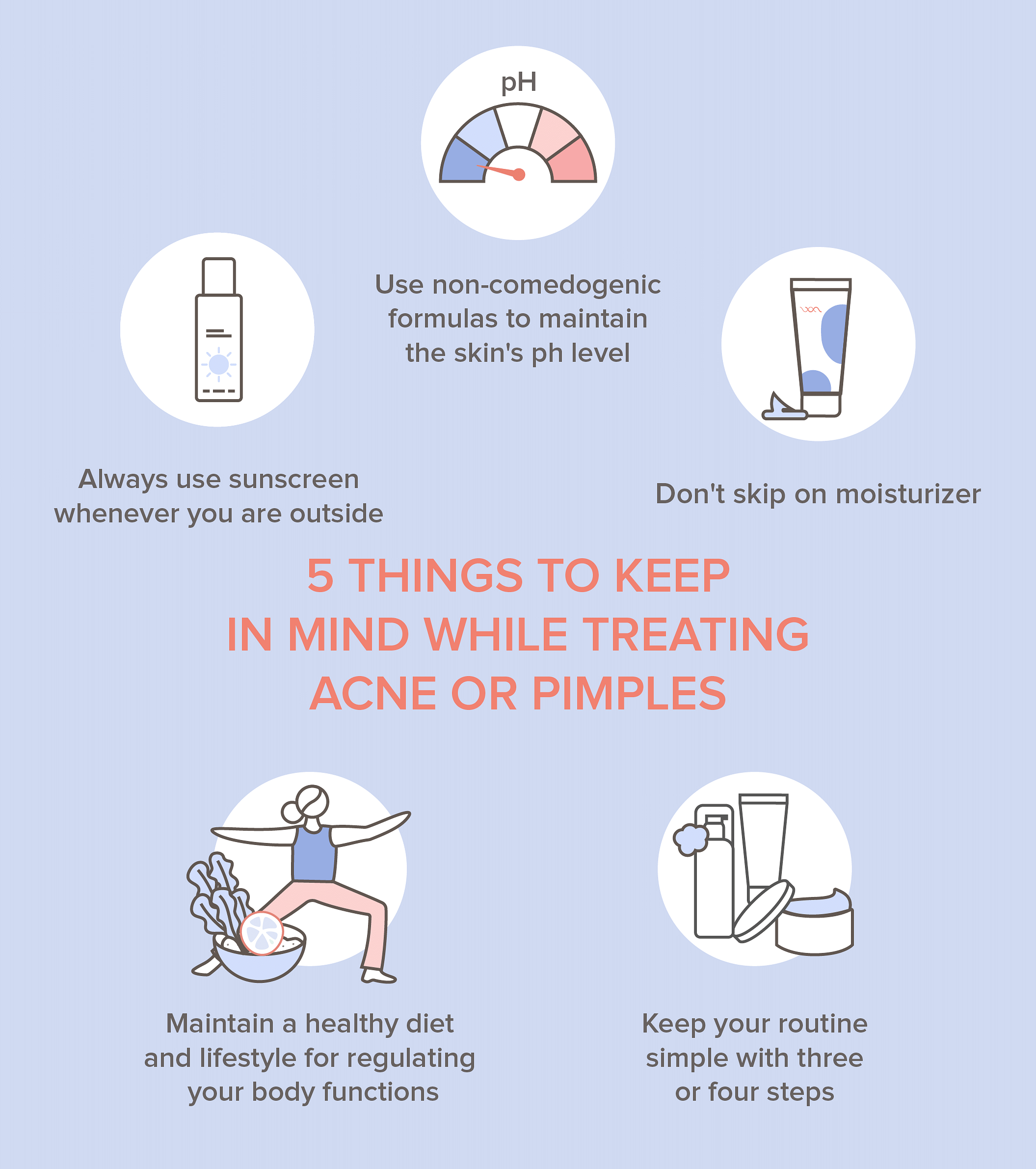 ---
Our experts work round the clock to provide you with the answers that you are looking for. So, if you have any, leave it in the comment section below or send us a DM at @nuawoman. This is a safe space that we have built for you so do not hold back on any doubts you may have about your body and mind.
Read other articles by Dr. Poonam Wadhwani here.