When it comes to period sex, like everything else that's associated with your sex life, what matters most is your comfort.
If you and your partner are comfortable with the sight and feel of menstrual fluid in safe conditions, there is no reason for you to stop yourself from being intimate with your partner when Aunt Flo comes for a visit. There is nothing medically wrong or inherently unhealthy when it comes to having period sex.
In fact, it can help the menstruating person relieve pain, lift their mood, and make them feel better overall. But there are some things that you need to keep in mind before diving headfirst into period sex.
1) Ensure your partner's comfort and willingness
While there is absolutely nothing wrong with having sex during the menstrual cycle, not everyone is open or comfortable with the idea. In the case of the menstruating person, they might be in pain, irritable, feeling bloated, hormonal, or just uncomfortable in general due to PMS. One might also be uneasy around blood or just not into the idea. Make sure that you both want and are okay with the same thing before becoming intimate. If you are having period sex for the first time, try and observe the reaction of your partner at each step. If they show any signs of discomfort or lack of enthusiasm, stop immediately and discuss it with them to communicate for a better sex life. 
2) Invest in some large, dark towels
Anyone who has ever accidentally bled into their bedsheets at night knows how hard and frustrating it is to get a blood stain out. Dried blood stains ruining your pretty clothes, bed sheets or comforters, are not ideal. Always drape a large, dark-coloured towel over your bed before engaging in period sex. The dark colour of the towel will make the bloodstains a little less obvious during and after sex. The towel will also protect your expensive bedding from becoming an unintended piece of art. It should also be noted that a towel is much easier to wash and dry when compared to your whole bed linen set.
3) Do not ditch lube
Most people believe that you do not need lube during period sex as menstrual fluid is a good replacement. This is not completely true. It is accurate that menstrual fluid reduces friction during sexual intercourse but not all women bleed equally. While some women experience heavier bleeding, many women bleed significantly less. Even during the early days when women bleed more heavily, the quantity released is neither constant nor stable throughout a given time. In such instances, the amount of menstrual fluid discharged may not be enough to act as a lubricant for many women. Moreover dried menstrual fluid and tissues can also increase friction, making the entire ordeal unpleasant or even painful.
4) The risks of unprotected sex
Many individuals take period sex as a ticket to have unprotected sex. This is an unwise decision for your sex life and more. While it's true that women are less likely to get pregnant when menstruating, it is not entirely impossible. The sperm cells can actually be alive and active within the reproductive organs of a woman's body for almost a week. This could lead to fertilization at a later time after the sexual intercourse. An unwanted pregnancy is not too out of the realm of possibility in these cases. Another thing to remember is that menstrual blood does not prevent Sexually Transmitted Infections (STIs). You could pass on or contract them from your partner during unprotected period sex. So, pack up on protection and have fun responsibly!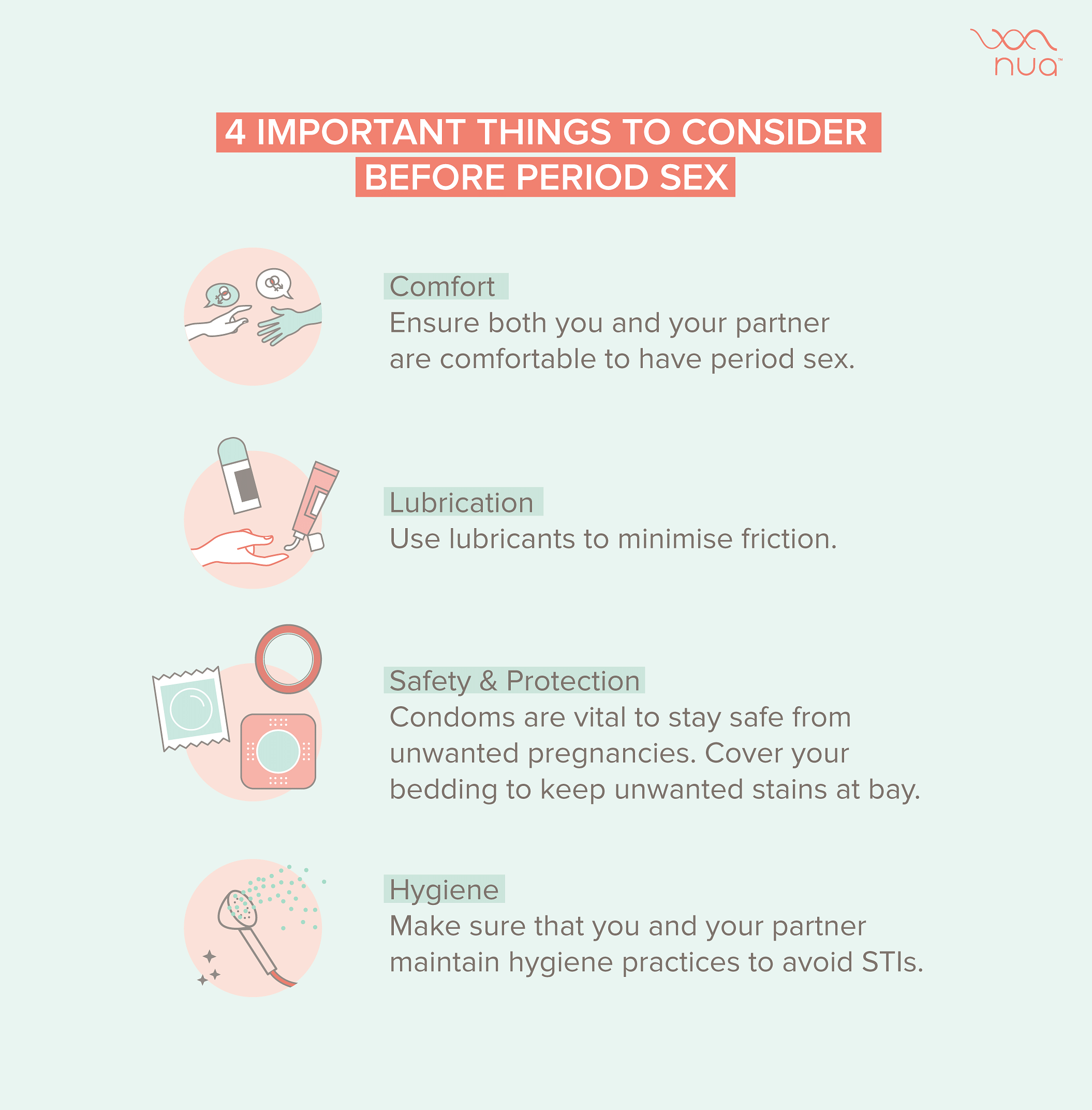 ---
Our experts work round the clock to provide you with the answers that you are looking for. If you have any, leave it in the comment section below or send us a DM at @nuawoman. This is a safe space so don't hold back on any doubts you may have about your body and mind. Read our other Community Asks here.
Read all of Pallavi Barnwal's other articles here.