In 2016, The Wall Street Journal reported that Indian millennials spend more time at work than many of their counterparts, averaging to around 52 hours a week. This has further been heightened during the pandemic, where work hours are stretched, boundaries are broken and the concept of weekends has minimized. As a result, the fast paced and stressful workplace restarting after the lockdown has only intensified leading employees to struggle with work related stress and personal issues.
In the last 8 months, I have had more clients seek help on how to cope with workplace stress than ever before. Often when asked to describe their work environment, common responses have been "stressful", "overworked", and "chaotic".
Several organizations have therefore taken the initiative of organizing mental health webinars and other campaigns.
They have also started utilizing counselling in their workplace to help their employees, which in effect helps the overall organization. Research has continually shown that there is a direct link between an employee's psychological wellbeing and their productivity at work.
Counselling at the workplace is imperative and extremely beneficial. Employees are provided a non-judgemental, safe, and empathic environment, where they can talk about their problems. It helps them understand themselves and their environment better. It further helps them improve their coping skills and develop effective solutions to their problems.
It also helps create a positive environment.
Counsellors help the employees and employers release their stress and negativity. This therefore makes them feel a lot lighter and a lot more motivated towards work as well as teamwork, overall contributing to a positive environment.
Counselling motivates individuals to work on themselves by helping them take responsibility for parts of their lives that they have control over.
Often employees get into a pattern of blaming external factors rather than working on themselves. This process helps them look within so that they can work within the given resources.
It improves employee performance as they are far more motivated to work on their work rather than using their energy on work politics or other matters. This has a positive influence on their confidence, mood, and anxiety, which help them cope with their other work matters and personal issues better.
Lastly, counselling at the workplace does not only help the employees but the organization itself.
With the correct support and help provided, it helps reduce employee absenteeism, lower turnover rates amongst employees and helps produce employees who are more efficient at handling chaotic and complex environments.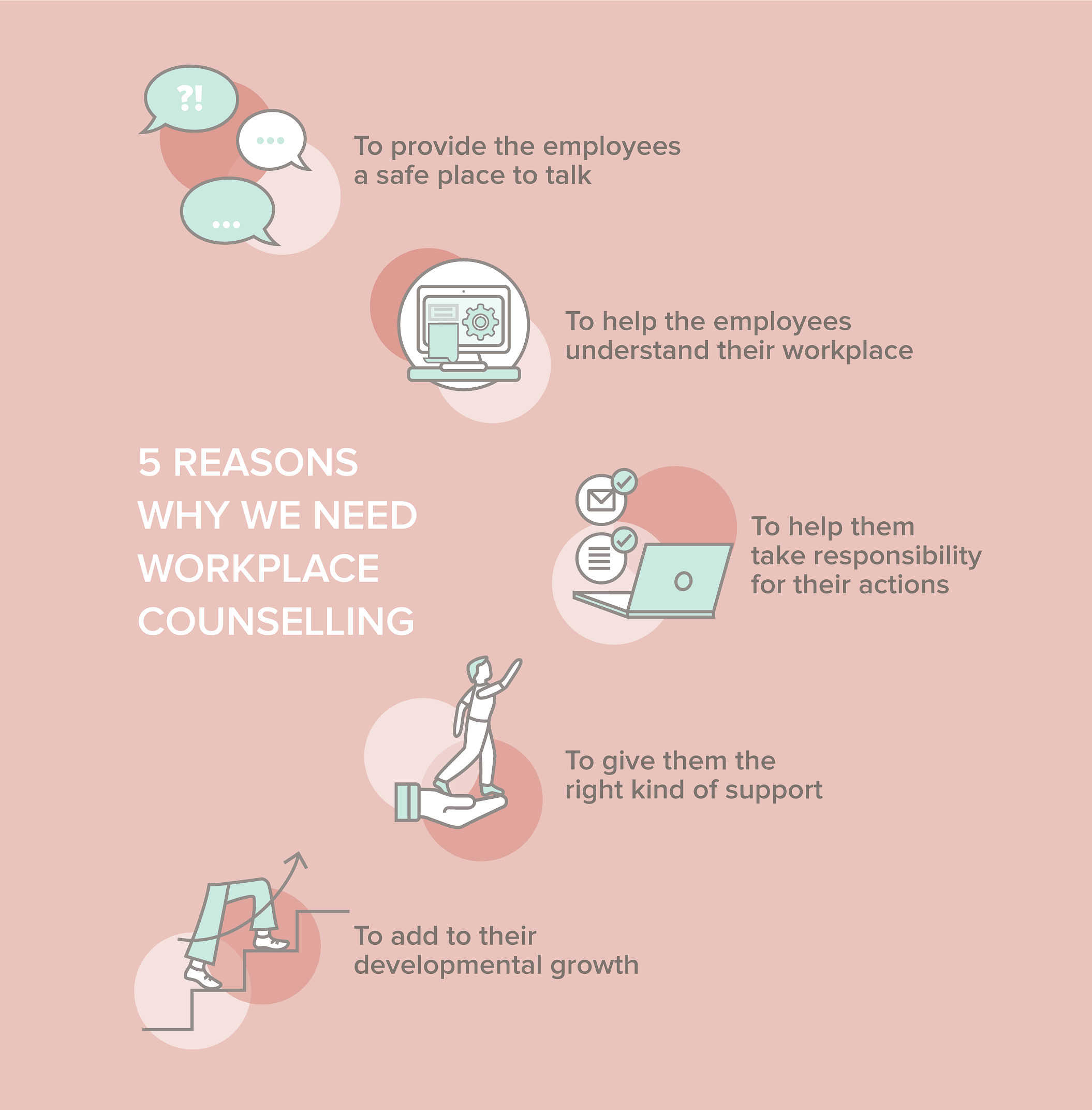 It is fair to assume that our workplaces are not going to get less stressful given the current times. Therefore, it is very important to consider counselling at the workplace so that employees and employers are given the right kind of support to be able to cope in these stressful times. However, it is important to remember that it should not be used as part of a disciplinary process but instead should be recommended as a part of their developmental growth.
---
Our experts work round the clock to provide you with the answers that you are looking for. If you have any, leave them in the comment section below or send us a DM at @nuawoman. This is a safe space so don't hold back on any doubts you may have about your body and mind.
To know more about mental health, read Ishita Pateria's articles right here.