A tiring day of work leaves you wanting nothing more than a thorough cleanse and a goodnight's sleep. Your skin may get clogged after a long day of being exposed to makeup and environmental pollutants that may lead to breakouts. Here's an easy nighttime skincare routine you can follow for it clear skin:
1. Remove all your makeup
The first step in your nighttime skincare routine is to remove makeup. You can do this with some micellar water, facial cleansing oil or a lotion-based cleanser. By leaving makeup on, your skin is restricted from breathing as your pores get clogged. This leads to a condition called cosmetic acne.
2. Second Cleanse
To remove all the dust and grime from your face thoroughly at the end of the day, it is essential for you to cleanse twice for clear skin. The first round involves using an oil-based cleanser (when you remove all your makeup) followed by another using water-based cleansers. Based on your skin type, you should cleanse once again – for dry skin, a nourishing, lotion-based cleanser, and for oily skin, one with salicylic acid or tea tree oil. You can even consider getting cleansers rich in Vitamin C or arbutin in case of pigmentation.
3. Toner
A toner helps to balance the pH level of your skin. Your skin is generally at a pH level of 5.5 but after washing your face, it rises and your skin becomes more alkaline. A toner helps bring it back down to regulated levels. While this step is not essential in your nighttime skincare routine, it is beneficial, especially if you use acidic (which leads to skin sensitivity) or alkaline (which leads to dryness) products.
4. Serum
Serums target specific skin conditions. Pigmentation is one that leaves dark spots on your skin. Wrinkles are a more mature condition that comes with age. You could even have dehydrated skin, especially if you smoke or you work under the sun for long hours. Select one of your choice for your nighttime skincare routine.
5. Moisturize
After making sure your skin is clean and treated, moisturizing is the key to locking in all the hard work of your routine. It allows the skin to hydrate itself and seal in the products you've used before this step. All skin types must have a moisturizer in their nighttime skincare routine.
6. Mask
Ideally, you should use a facemask twice a week. Use a mask right after the two rounds of cleansing and before you use a toner. Using a rosewater toner is a great way to top off your nighttime skincare routine but if your toner is one with active ingredients like alpha hydroxy acid, it is not recommended after a mask.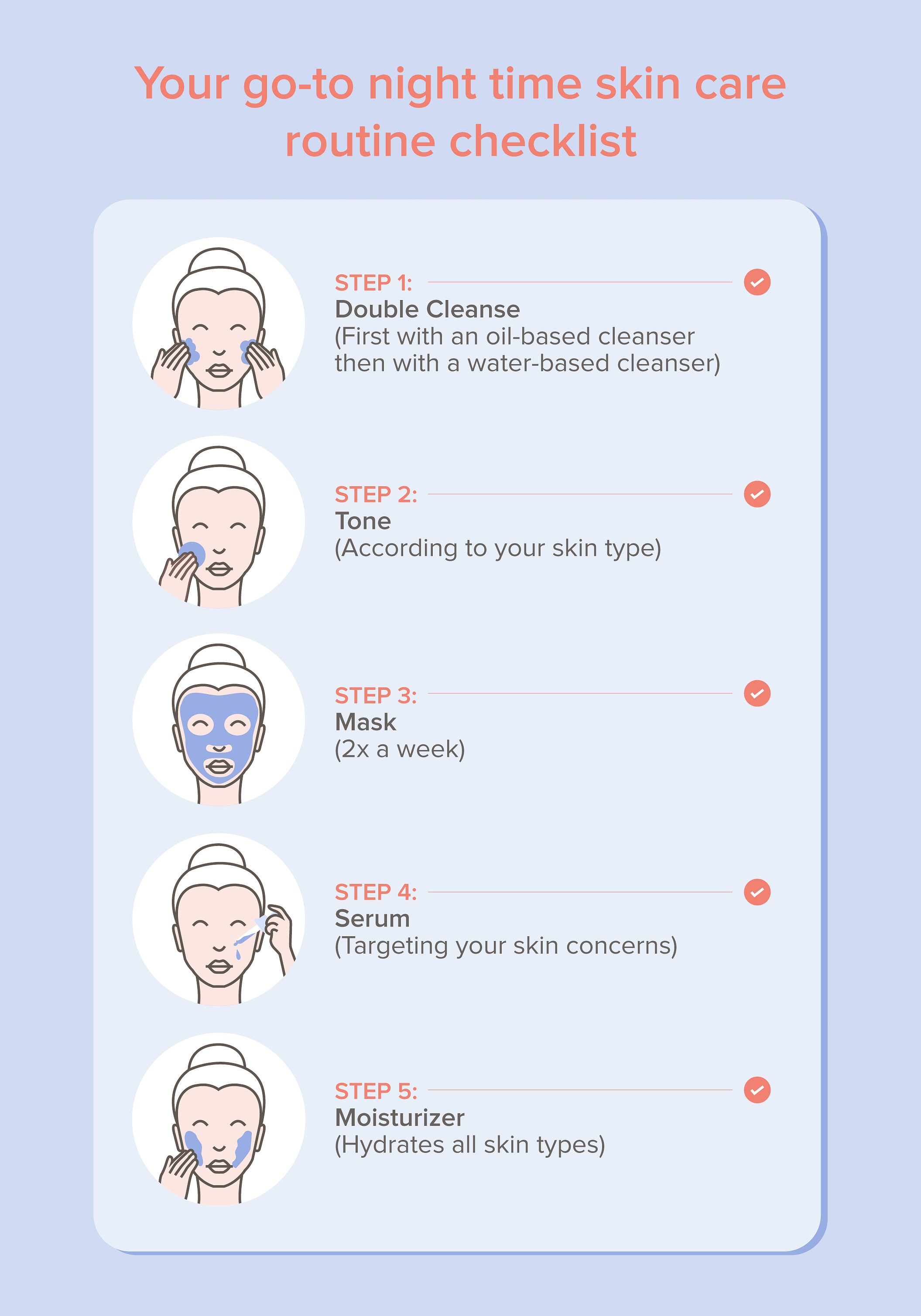 Remember, your skin type changes with every season. You need to be consistent with your skin's changing needs for each season. Once you've identified your skin type, use products that will help you with your needs. Stay consistent with your morning and nighttime skincare routine and in six weeks, you will definitely see a positive change and clear skin. Acne is a normal part of your life and not at all a reflection of who you are. Stay radiant!
---
Our experts work round the clock to provide you with the answers that you are looking for. If you have any, leave it in the comment section below or send us a DM at @nuawoman. This is a safe space so don't hold back on any doubts you may have about your body, skin and mind.
Read all of Dr Anupriya Goel's articles here.