It's easy to get swept up in the celebrations of the holiday season. The combination of weddings, national holidays and parties can cause a discrepancy in a balanced diet. These factors affecting balanced diet can also take a toll on the arteries and strain the waistline.
Why is a balanced diet important?
By eating just 200 extra calories a day — a piece of dense cake, a few glasses of alcohol, a couple of mithais and some snacks — you could pack on a kilo very quickly. While that doesn't sound like much, it can affect your overall health.
You don't need to deprive yourself. Maintaining a balanced diet doesn't mean you only eat boring food or feel guilty about eating an indulgence. Instead, smart eating choices can be your way to enjoy the festive season and eat what you like.
Here are a few ways you can maintain a balanced diet:
Don't skip meals
The most important rule of maintaining a balanced diet is not skipping any meal. Skipping meals lowers your metabolic rate. That's the main reason why you should never skip breakfast. This is why a balanced diet is important, to increase healthy eating habits without affecting your nutrition.
Stop when you feel full
It is important to stop eating when you feel full. This will help you maintain your weight to an extent and keep you feeling your best. Remember, no single food has all the nutrients you need, so while a variety is preferred, overeating is a major factor affecting balanced diets.
Limit days of liquid calories
While everyone sips on some drinks during the holiday season, alcohol and sodas can negatively affect a balanced diet. Not only do they increase your sugar intake, but are huge liquid calorie items – they make you gain weight even if it doesn't seem like it as you drink them. Limit the number of drinks or the number of times you drink across the duration of your outings.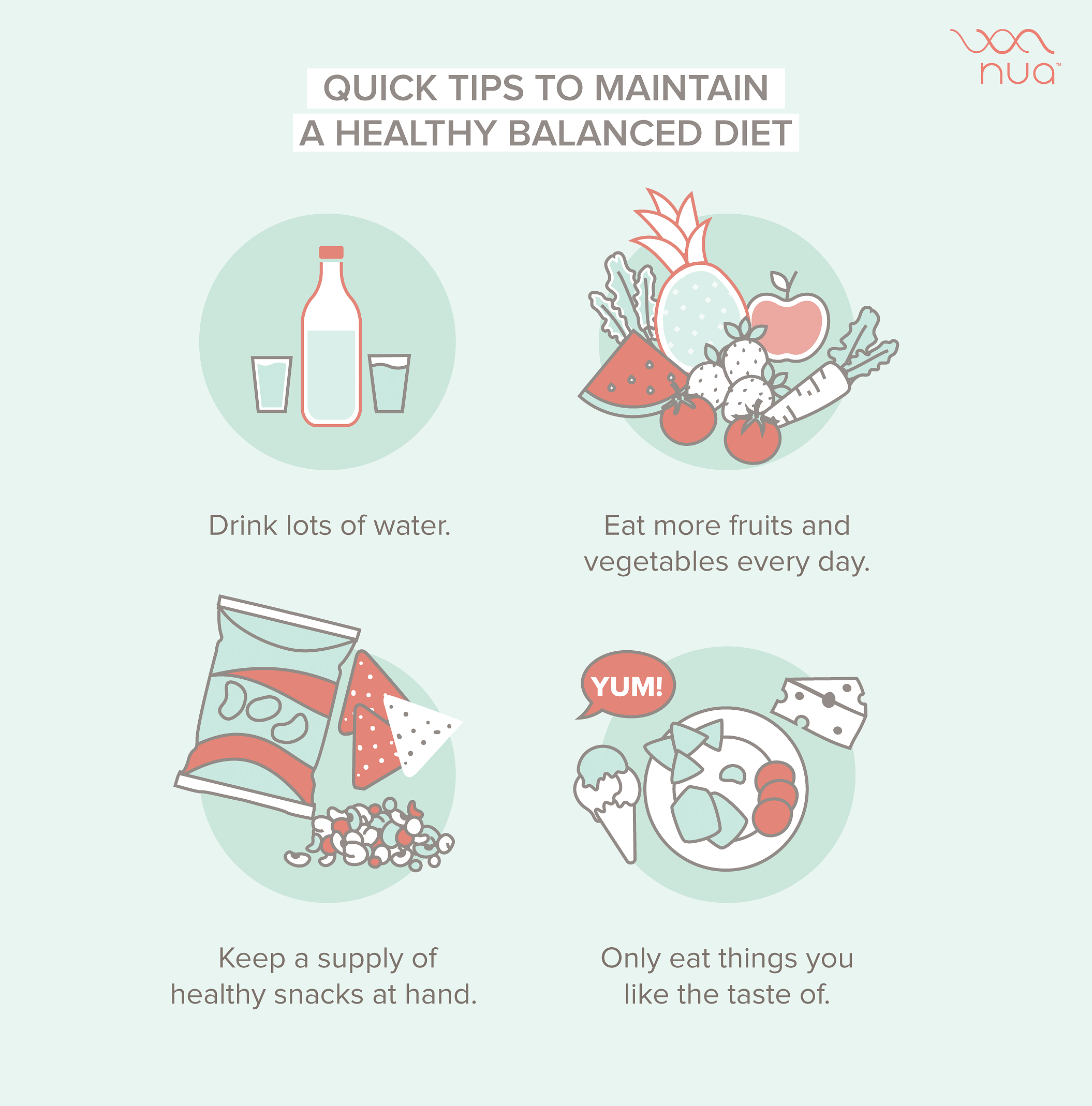 Most of all, remember what the season is about—celebrating and connecting with the people you care about. When you focus more on the fun, it's easier to focus less on maintaining a balanced diet.
---
Our experts work round the clock to provide you with the answers that you are looking for. So, if you have any, leave it in the comment section below or send us a DM at @nuawoman. This is a safe space that we have built for you so do not hold back on any doubts you may have about your body and mind.
Read other articles by Preeti Chedda here.