The summertime brings around many wonderful and not so wonderful things into our lives. With the sweetness of mangoes, we face the scorch of heat and one unavoidable result – a whole lot of sweat. While we have options to change our clothing often, we often tend to forget about our underwear that is left damp.
In order to help you have a sweat-free, breezy and hygienic summer, here is a guide for all your underwear needs.
1) Materials
When it comes to the summer, cotton is king – or in our case, queen! With its incredible breathability, there is no better replacement. The moisture-absorbing nature of this fabric is what makes it a hit with not just underwear but also with any type of summer clothing. Cotton bras and panties will keep you moisture-free, far from rashes or infection and don't retain odour.
2) Fit
Luckily, there are many different styles of bras and underwear that are designed and created to look seamless under clothing, but they also hug the different body shapes perfectly. With bras, it's important to keep the shape and size of your breasts in mind. Each bra shape has the perfect bra style for its fit. Similarly with underwear, your waist and hip measurements are important to help you find the right fit for your body and its beautiful shape. An underwear size too large or too small, can cause irritation, rashes and collect excess moisture leading to infections.
3) Colours
You already know that darker materials absorb heat while lighter shades reflect them when it comes to clothing. Well, the same formula applies to underwear! Opt for lighter, pastel colours for your underwear. They will not only keep you cool but will also blend easier with lighter coloured clothing you will wear over the underwear. A staple guide for summer!
4) Hygiene
With sweaty summers, it's important that your underwear and clothing are changed often. While you can change your clothing as often as you like throughout the day, you must change your underwear once each day after a shower. After any physical activity such as exercising or even running errands, it's best to have a quick change. It's not advisable to let any sweat dry off your body when you have the option to swap it for fresh and dry underwear.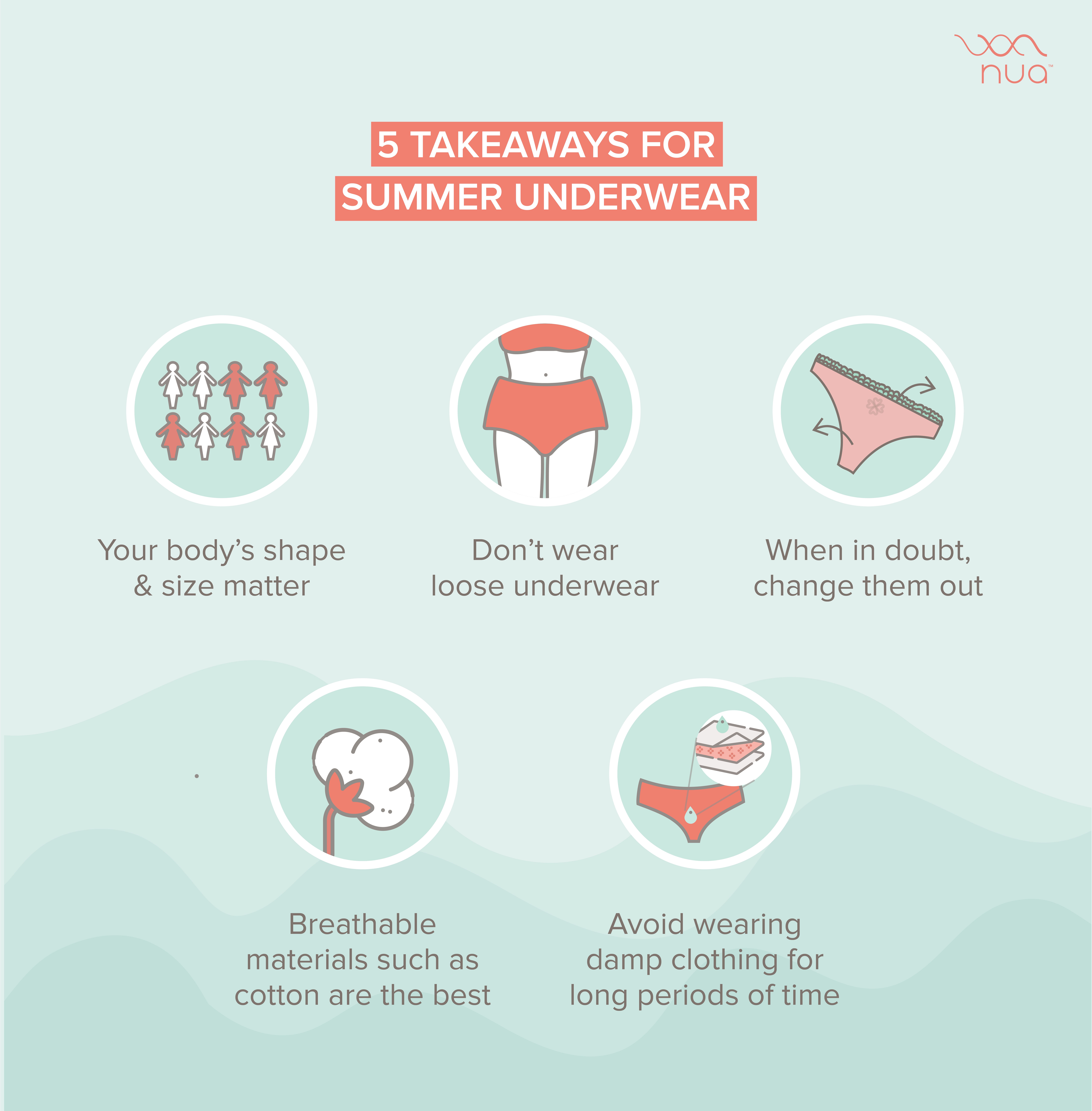 Wearing the right underwear is very important to deal with the tricky summer weather. We hope these tips for your guide for summer help you keep you cool and dry.