Health is wealth and in the current era of preventive medicine, women shouldn't wait for a problem to consult a specialist. The anxiety, fear or shyness associated with visits to a gynaecologist are increased by misinformation obtained from the internet and relating to other peoples' experiences. That's why we've put together a manual on going to the gynaecologist!
Let's break it down for you and answer some common questions!
How should I approach a visit to the gynaecologist?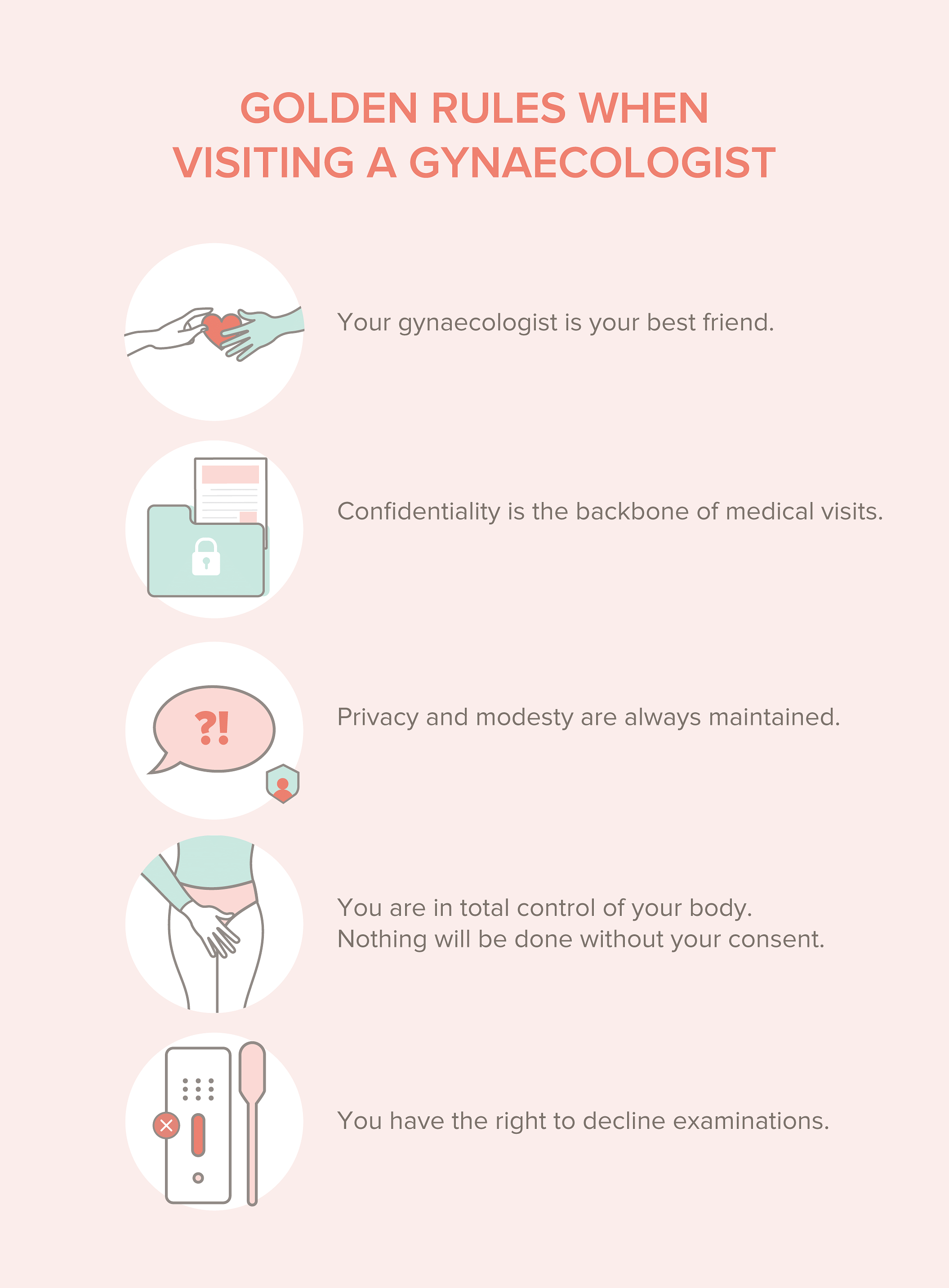 When should I visit a gynaecologist?
This is an important step in the manual: Always schedule the visit with your gynaecologist after the completion of your period as pelvic examinations such as Pap smears or STI (Sexually Transmitted Infection) swabs, if required, cannot be performed during periods. 
At what age should I start seeing a gynaecologist, and how often should I go?
There is a lot of misinformation about thus but usually, once you turn 18, you may start needing to discuss periods and choice of contraceptives. Annual visits are recommended till the age of 30, and then again between 40 and 65 years. Between 30 and 40 years of age, you can visit your gynaecologist every alternate year.
What should I do to prepare for the appointment?
Have a bath or shower before your visit the gynaecologist. There is no need for bikini waxing, shaving of hair, or use of vaginal deodorant- this is all misinformation. This is one of the most important yet overlooked steps in the manual.
What should I avoid before my appointment with the gynaecologist?
As pelvic examinations and tests may be carried out, the following should be avoided at least 2-3 days prior:
Having sexual intercourse
Usage of tampons
Application of vaginal creams
Vaginal douching
Is it a good idea for someone to accompany me?
Yes, if you think the person may give you mental support. It can be your friend, mother, partner or husband. It's not a must as some women wish to come alone. During the consultation with the gynaecologist, the accompanied person is asked to wait outside the consulting room unless the woman objects it.
What can I expect during the visit?
Let's remove any misinformation; you will have to answer questions with regards to:
Physical health; previous surgeries and illnesses
Sexual health; past and current sexual partners, previous STIs if any, contraceptive usage, sexual preferences
Menstrual health; the date of your last period, amount of bleeding, pain during periods, cycle duration
What is involved in gynaecological or pelvic examination?
There's misinformation about this but pelvic examinations are not painful and take less than 5 minutes to perform. Your chaperone can be present to help. 
The examination involves looking at the vulva and the vaginal lips, followed by the use of a small duckbill instrument to look at the cervix and the inside of the vagina. This is usually followed by gentle insertion of two gloved fingers in the vagina to feel the uterus, with the other hand on the abdomen.
If required, a Pap smear or STI swab is taken as well, with the patient's consent.
In conclusion, this manual is trying to tell you that visiting a gynaecologist should not be looked at as something scary, but rather, as an opportunity to openly discuss your questions, fears and concerns. It is very important to be honest with your gynaecologist and is essential to develop a good rapport and faith in your doctor. After all, he or she can be your friend in confidence.
---
Our experts work round the clock to provide you with the answers that you are looking for. So, if you have any, leave it in the comment section below or send us a DM at @nuawoman. This is a safe space that we have built for you so do not hold back on any doubts you may have about your body and mind.
To know more about the intimate parts and how to take care of them, read Dr. Vaishal Joshi's articles right here. You can also read our other expert content here.