"I went to pee in the morning and trust me doctor, there was such severe burning while passing urine that I literally couldn't stop crying. Please help me." This is how patients usually describe their experience to us when they have an urinary tract infection (UTI). Urinary tract infections are an infection of the kidney, ureter, urinary bladder and urethra. Studies have shown that 1 in 5 adult women experience a UTI at some point in their lives, confirming that it is an exceedingly common problem. Luckily, there are ways to prevent UTI.
Did you know that a UTI is more common in women than men? This is due to the short length of the urethra and lesser distance between urethra and anus in women's bodies.
Why does UTI happen?
UTI is caused by bacteria. Escherichia coli or what we know as 'E. coli' is the most common causative organism.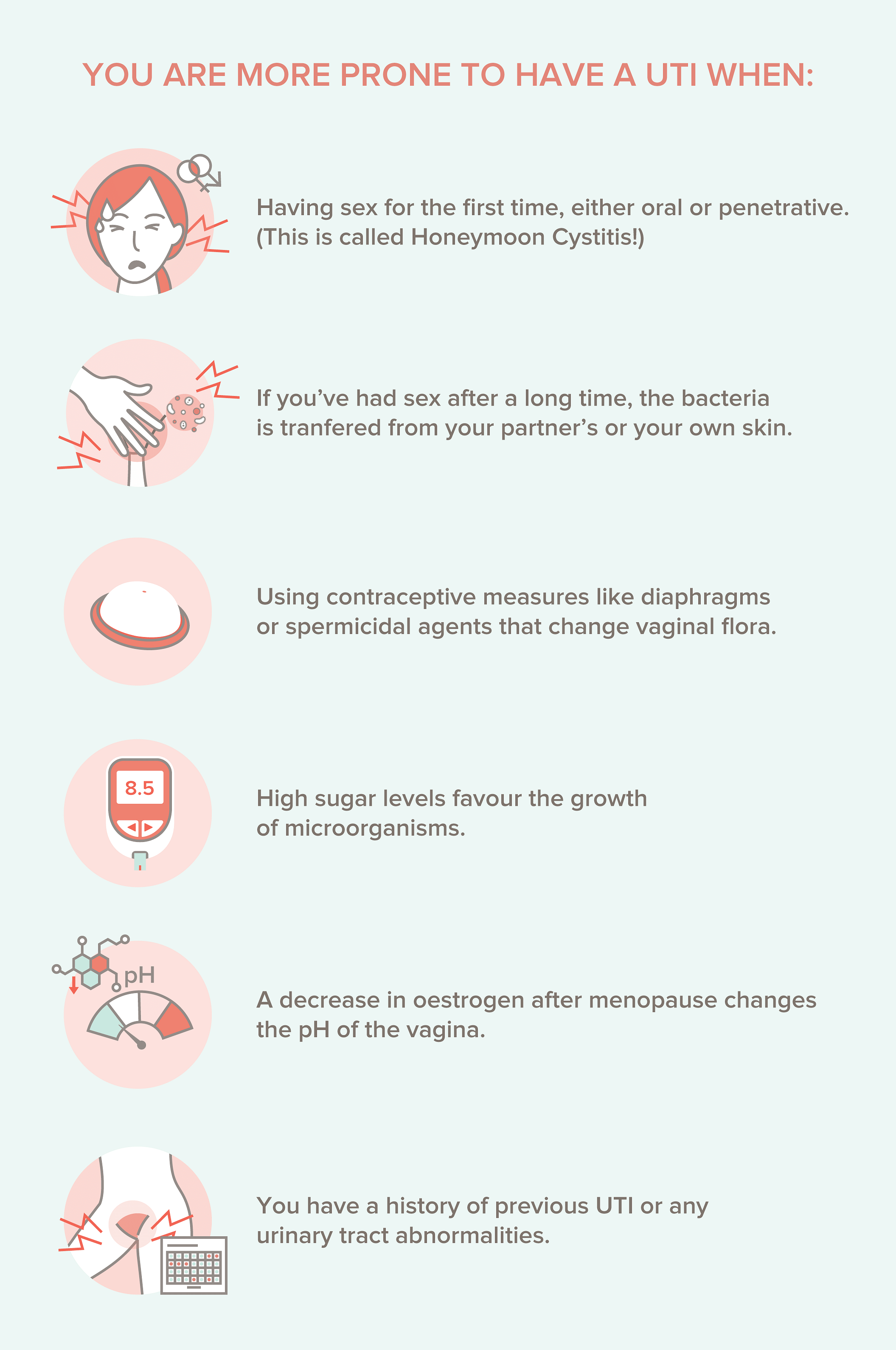 Why is it important to treat urinary tract infections?
If not properly treated, it causes recurrent infections which can cause permanent damage to the kidneys. There is also the possibility of a kidney infection to cause sepsis, which can be life threatening.
UTI can be identified by the patient's symptoms and your doctor may recommend a urine examination and culture test to confirm the infection and identify the bacteria involved. They can be treated with antibiotics. It is only under the guidance of your doctor that a UTI can be treated at home.
What can you do to prevent a UTI?
Simple lifestyle measures and UTI home remedies you can try:
At least 1.5 litres per day of water helps in diluting your urine. Frequent urination flushes out the bacteria and prevents infection.
While cleaning, always clean from front to back. This way you ensure that no bacteria around the anus goes near the urethra or vagina. Avoid using scented hygiene products which can irritate the vagina.
Visit the washroom regularly
Never hold urine for a long period of time.
Upgrade your sexual practices
Make it a point to get up and pass urine forcefully every time after you have sexual intercourse. If you are using diaphragm or spermicidal agents for your birth control, please change them.
Treat it with your conditions in mind
Diabetics have to keep their sugar levels under control. If you are postmenopausal and have recurrent UTIs, please see your doctor. They can decide if you need a vaginal oestrogen cream as treatment or refer to another cure instead a UTI home remedies.
UTI prevention is not complete without the mention of cranberry extract and supplements which are most popular in the prevention of UTI . There is no conclusive evidence but some studies say that cranberry intake can help in preventing UTI but they contain compounds such as phenolic acids and flavonoids. They do not allow the bacteria to attach to the lining of the urinary tract thus preventing infection.
---
Our experts work round the clock to provide you with the answers that you are looking for. If you have any, leave it in the comment section below or send us a DM at @nuawoman. This is a safe space so don't hold back on any doubts you may have about your body and mind.
To know more about other gynaecological topics and how to take care of your health, read Dr. Abhinaya Alluri's articles here.