It's super important to know how to layer products in your skin care routine correctly to make the most of it. Yes, you read that right, and in case you're having trouble decoding the order in which you need to layer your skin care, you're in the right place. Grab a snack, lay back, and prepare yourself for all the information and clarity that is sure to level up your skin game with the correct order of skin care products.
Starting a skincare routine can be extremely overwhelming. The long list of products available in the market can be confusing and almost make it a daunting task to form a regimen that suits your skin type and concerns. It is essential to be aware of products that must be included and the order in which they must be applied.
Firstly, let's understand what we mean by the term 'layering' of skin care products. Layering is the simple process of applying your products in a particular order to ensure that they give maximum results and help you gain flawless, healthy skin in the bargain.
When it comes to layering, there is one simple rule of thumb to follow: Apply your products in order from the thinnest consistency to the thickest.
This rule stays constant whether you follow an easy three-step skin care routine or an elaborate ten-step one. Why? The answer is simple. There is no point in having a skin care routine (or applying any products to your skin), if you do not give them a chance to penetrate into the layers and work. Skin care should be layered to perform most effectively and yield desired results. Not following the correct order of skin care products by layering them can lower the efficacy of products or lead to irritation and breakouts.
A good skin care routine is one where you understand the need for each product, and layering as a concept helps us understand this. Sometimes products by themselves are not effective enough, but certain additions and amendments in the application process can go a long way and work wonders for your skin.
Once your skin is cleansed, you can begin layering your products in this order for your morning skin care routine:
Toner or mist: To maintain the skin's pH balance.
Essence: That can hydrate, protect, and boost skin health.
Ampoule: As a booster or when your skin is having a crisis.
Serum: To hydrate your skin and provide it with antioxidants.
Eye cream: A formula that hydrates and prevents signs of premature aging, and dark circles.
Moisturizer: To help boost hydration and provide nourishment to the skin.
SPF: Protects your skin and saves you from sun damage.
Lip balm: Ensures your lips don't get chapped.
For your nighttime skin care routine, double cleanse your skin, first with an oil-based cleanser or micellar water and then with a water-based cleanser. This helps deeply clean your skin and get rid of all the dirt, and impurities.
Once you are done, then you can begin your nighttime skin care routine using:
Toner or mist: Hydrate and prep your skin for your remaining products.
A targeted serum: This will address your specific skin concerns (P.S.: if you are using more than one, then ensure you apply them in order from thinner to thickest).
An eye cream: That goes to work on those dark circles, fine lines and wrinkles.
Night cream: Made to nourish the skin and seal in other products.
Overnight sleep mask: This locks in all the moisture and repairs damaged cells (can be used once or twice a week).
Lip mask: To give you baby soft lips.
It's not necessary to use all these products; stick to the one's that work for you but in the mentioned order of application.
There are also a few skin care routine boosters that can be used twice a week:
Exfoliators: Gets rid of all the dead skin.
Using a face mask: Restores your glow and radiance.
Massaging your face: Sculpt your face muscles.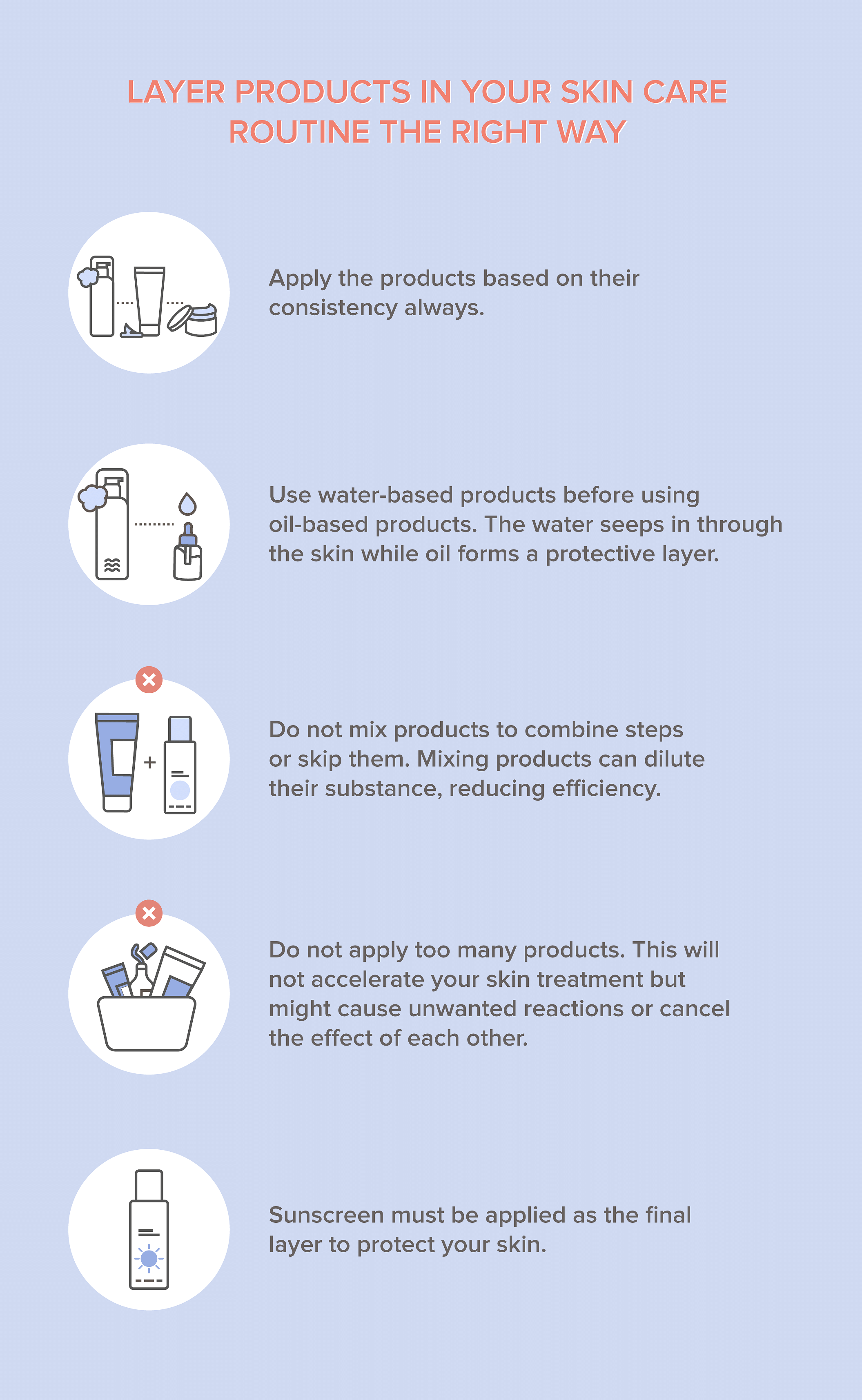 There is no use in applying everything all at once or using more products than you need. An easy three-step skin care routine can be as effective as a ten-step one if you want to know layer products in your skin care routine correctly. To get maximum benefits from your skin care routine, just follow the guidelines with the products you have and enjoy the process of taking care of your skin.
---
Our experts work round the clock to provide you with the answers that you are looking for. If you have any, leave it in the comment section below or send us a DM at @nuawoman. This is a safe space so don't hold back on any doubts you may have about your body, skin and mind.
Read all of Dr. Pavitra Patel's articles here.