Polycystic Ovarian Syndrome (PCOS) is perhaps one of the most common things women experience. It is a cluster of symptoms that can include irregular periods, scanty menstrual flow, and at times issues with fertility. However, that does not mean that a woman cannot conceive. PCOS and pregnancy can be successful when you take care of your lifestyle and balance out your hormonal levels.
Here are all the facts you need to know about PCOS and pregnancy:
What is PCOS?
Polycystic Ovarian Syndrome (PCOS) is a cluster of symptoms like irregular periods, scanty menstrual flow, acne, excess body hair, weight gain, darkening of skin along with Polycystic bulky ovaries (PCOD) and hormonal imbalance including high Insulin resistance. It is one of the most common hormonal problems a woman can face during her reproductive life span.
What are the causes of PCOS?
The exact cause of PCOS is not known, but the sex hormone imbalance occurs in the body due to high levels of insulin. This is due to increased resistance to the action of insulin. This has an impact on the increased production and activity of male hormones like testosterone.
When, and what are the tests done to confirm PCOS diagnosis?
The hormonal blood tests are usually done during the first five days of periods. It may be a good idea to do a Thyroid and Prolactin test to exclude other causes of irregular periods. The pelvic sonography is done after the periods stop. Most of the time the blood tests can be normal in early PCOS.
Can someone with PCOS get pregnant?
Women with PCOS can definitely get pregnant naturally. It has been seen that the fertility hormone (AMH- Anti Mullerian Hormone) levels are significantly high in PCOS.
The hormonal imbalance in PCOS gives rise to inconsistent ovulation, i.e it may not happen every month. Almost 50% of PCOS women do not register their pregnancy as they get used to skipping periods. So it's very important to do a urine pregnancy test to rule out pregnancy before taking any medications to induce periods.
What will help women with PCOS to conceive naturally?
Lifestyle modifications by diet and regular exercise help weight loss. A weight reduction of 10-15% can trigger spontaneous ovulation which can treat anovulation in PCOS. Oral anti-diabetic medicines like metformin address high insulin levels and help with ovulation. Simple supplementation of Myo-inositol preparations may be helpful in these women.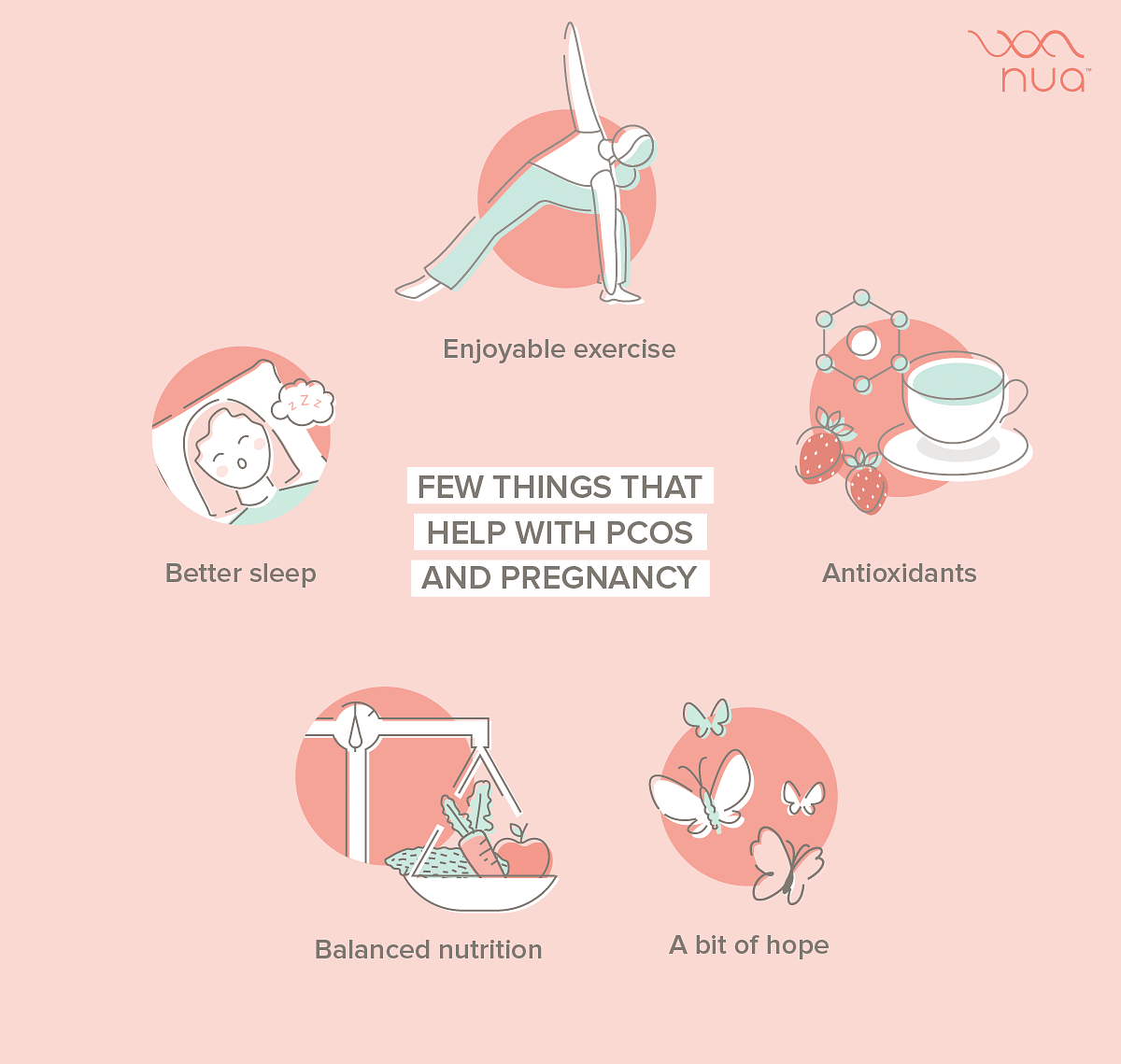 Sometimes waiting to conceive naturally can be stressful and long. Having PCOS and pregnancy at the same time can create anxiety, particularly for older women. In such circumstances, women may need help to conceive with medications that induce ovulation. Occasionally Laparoscopic ovarian drilling surgery is required to induce ovulation if women fail to respond to ovulation-inducing drugs.
---
Our experts work round the clock to provide you with the answers that you are looking for. So, if you have any, leave it in the comment section below or send us a DM at @nuawoman. This is a safe space that we have built for you so do not hold back on any doubts you may have about your body and mind.
Read other articles by Dr. Vaishali Joshi here.