Finding a good skin care regimen might be difficult. What products do you require? How soon do you use them? What sequence do you use them in? Those are many questions you need the right answers to, fortunately, skin cycling is a rather simple procedure to master.
What is skin cycling?
Skin cycling is a skin-care technique that has lately gained popularity thanks to board-certified dermatologist Whitney Bowe, MD, CEO of Dr. Whitney Bowe Beauty, in New York.
Skin cycling is, in its most basic form, a four-night rotational skincare routine that alternates between utilizing active substances and allowing the skin to rest and heal. You will simply need to repeat a four-night cycle. The method is intended to enhance the efficiency of active substances and minimize discomfort by cycling through active and inactive products for four nights.
The ultimate goal of skin cycling is getting that glowy, smoother complexion!
How does skin cycling work?
Night 1: Exfoliation – Get ready to unclog your pores and slough off your dry, dead skin with exfoliation. First, wash your face gently and pat your skin dry. Next, apply a leave-on chemical exfoliator, such as an alpha or beta-hydroxy acid serum.
Night 2: Retinol Night – Retinoids are vitamin A-based skin remedies that can treat minor acne, lighten hyperpigmentation and scarring, and minimize the appearance of fine lines and wrinkles. Retinoids assist in speeding up skin cell turnover. Wash your face well before making sure you pat dry before applying retinol. For your entire face, a pea-sized amount of product is sufficient. If you have never used a retinoid previously, start by putting a thin coating of a mild moisturizer on the affected regions. After that, apply your retinoid, followed by another layer of moisturizer.
Night 3 and 4: Recovery – After your skin has worked very hard on the first two days, it is time to get into recovery mode. After cleansing your face, leave your skin a little damp and apply any moisturizing serums or creams that don't include active ingredients like those listed above. Look for products with hyaluronic acid, glycerin, niacinamide, or ceramides as skin-repairing additives that are fragrance-free. An optional step to this night routine here is applying the facial oil of your choice to seal the moisture in.
Night 5: Repeat the routine from Night 1 & so on.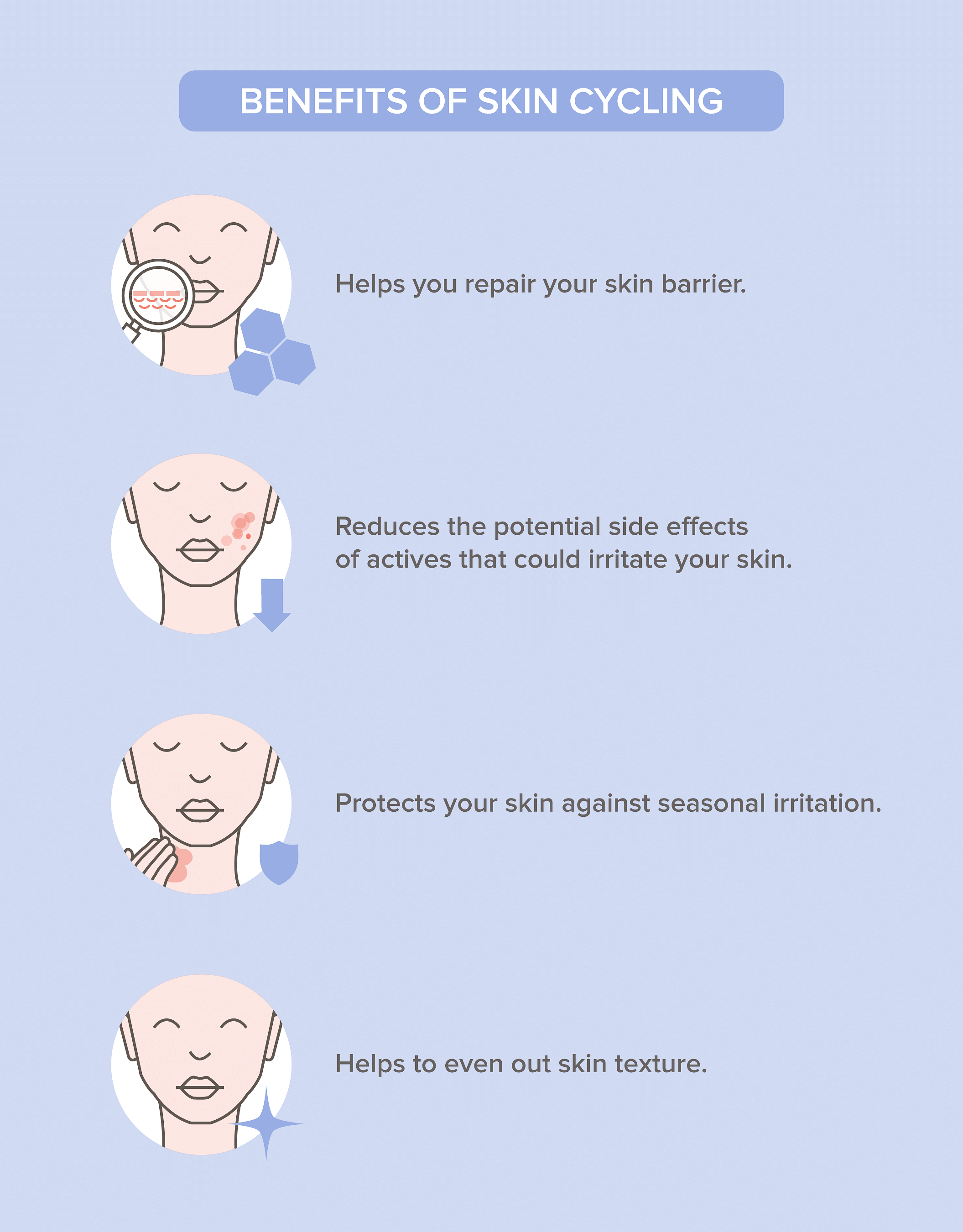 Anyone can practice skin cycling, but over time, your program may need to be adjusted to fit your specific needs. The benefit of skin cycling is that you may modify your training plan to accommodate your skin's needs. You can increase your recovery nights if you're feeling sensitive and irritated. You can switch to a three-night cycle if you are experienced and accustomed to your retinoid and want to crank up. In essence, it's imperative to pay attention to skincare. It's probably time to take a breather and go back to the basics: mild cleanser, moisturizer, and SPF if it's irritating, rough, and itchy.
Skin cycling is safe for all skin types including sensitive skin but before beginning a new skincare regimen, people with specific skin concerns, such as severe acne, rosacea, eczema, or psoriasis, as well as those who take prescription skin drugs, should always consult their dermatologist or medical esthetician. The skin cycling program can be customized by your doctor to fit your skin tone. If something feels amiss when you start skin cycling, even if you don't have any known recurring skin conditions, it's still recommended to visit a dermatologist or medical esthetician if you can.
Although the procedure is old, skin cycling is the newest skincare craze. It entails exfoliation, the application of retinoids, and two days of gentle product rest for the skin. While this procedure might assist to enhance the texture and appearance of the skin, it's crucial to consult a dermatologist or medical esthetician to see if it's the correct choice for you.
---
Our experts work round the clock to provide you with the answers that you are looking for. If you have any, leave it in the comment section below or send us a DM at @nuawoman. This is a safe space so don't hold back on any doubts you may have about your body, skin and mind.
Read all of Dr. Pavitra Patel's articles here.