Irregularities in a woman's menstrual cycle are quite common and approximately 30% of women in India say they experience delayed or irregular periods. Every woman's cycle is unique to her, and even for her it is different from any other cycle she has had or will ever have. On average, a normal period occurs once every 21-35 days and may last 2-7 days, and blood loss is approximately 5-80 mL per cycle.
In some cases, however, women tend to get periods twice a month.
Why does that happen?
To understand the reason behind it we spoke to Dr. Sangeetha Sivaraman, an obstetrician and gynaecologist based out of Bangalore. She helped us with an understanding about the causes behind periods twice a month and what can be done about it.
1. Why do some women get periods twice a month?
Stress, late nights, inadequate sleep, highly processed foods in the diet with high sugar content, are some of the causes of periods coming more than once in the month.
It could also occur after the use of emergency contraception, the use of oral contraceptive pills or an intrauterine device, following an abortion or childbirth. Occasionally, it can occur due to endocrine imbalances like thyroid disturbances, prolactin elevation or diabetes related causes. In the presence of diseases too, cycles could be more frequent than before.
2. Is it a matter of concern when someone gets periods twice a month for a long time?
If bleeding occurs frequently, the girl or woman runs a risk of excessive blood loss causing a loss in haemoglobin and resulting in Anemia. Anemia in turn poses a risk of infections to set in apart from putting the heart at risk. If a woman has more than two cycles, or more frequent ones, it is better she seeks professional advice for the same.
3. What should be the ideal gap between two cycles and when can an exception be made?
As every woman is different, an average of 3-5weeks is the gap between cycles and if it's due to the causes mentioned above, appropriate action can be sought.
In general, one solitary cycle with more frequent cycles is most likely to be related to stress and need not be a reason for undue concern.
How does a doctor determine the causes of period twice a month?
From head to toe, important regions that your doctor evaluates for determining the causes are:
A. Hypothalamus and Pituitary – in the brain. These determine the levels of hormones to be secreted by the ovaries which then act upon the uterus. These hormonal levels are affected by genetics, stress, medication, and the presence of any tumour in these organs.
B. Thyroid gland is responsible for metabolism and changes in this can affect cycle regularity.
C. Ovaries – Presence of any disease in the ovaries could cause irregular periods. The causes could be endometriosis, presence of ovarian cysts, polycystic ovaries etc.
D. Uterus – A fibroid, adenomyosis, or any other abnormality in the structure can lead to bleeding that is more than normal.
E. Adrenals – These too can lead to changes in cycle duration if they have a tumour or growth causing variation in hormonal levels.
F. Blood – Bleeding disorders usually run in families and if someone has a tendency to bleed more than normal, they would be evaluated for the same.
G. Cancers – Cancer of the uterus, cervix and ovary can result in more than regular cycles and this would be ruled out too.
H. Medication – During the course of treatment with some particular medication too, one could have irregular cycles as a side effect.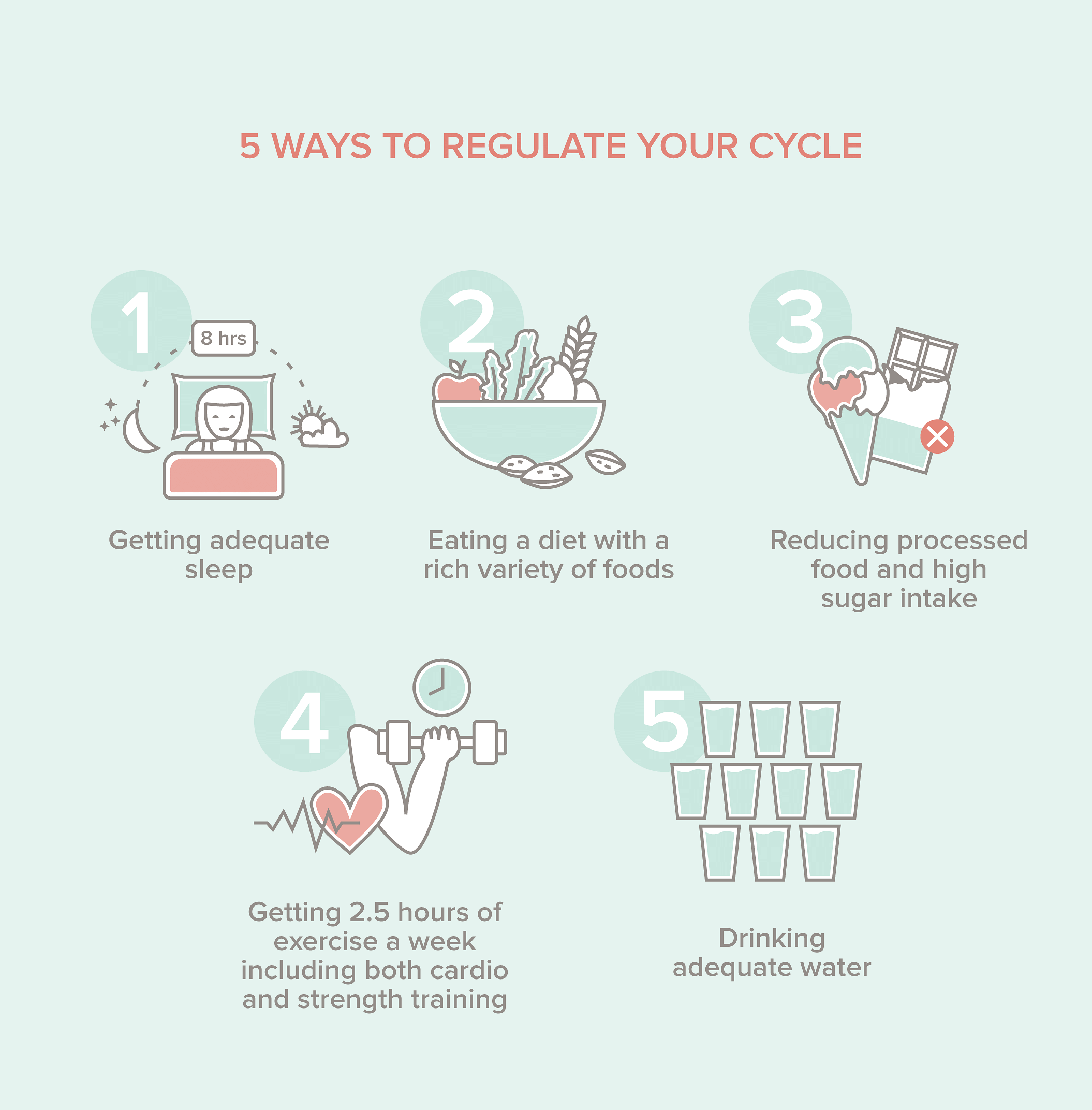 These are basic measures that are beneficial for anyone and will aid in regularising periods. Irregular periods are a major concern for most women and at Nua we are constantly talking to experts and specialists to bring to you content that you can trust. For more information, find our articles here.
Dr. Sangeetha Sivaraman spoke to our community about various topics related to periods and sex during our Period Coach Week. Watch her interesting talks here.