Cleansing, in the early times, used purely water. Since then, science has proven that not all environmental impurities are water soluble, making this method less efficient.
In the modern world, with the addition of makeup, sunscreens, facial oils, and even abrasive exfoliants, our skin's barrier has been left vulnerable to clogged pores, excess sebum collection and irritation due to dryness.
Finding the right cleanser or face wash is the need of the hour for all skin types to keep their skin healthy and acne free, especially when your hormones take a turn closer to menstrual phases.
We, at Nua, have always looked at developing effective solutions to help you solve any issues caused by hormonal imbalances and even pollutants on the skin's surface. This led to the launch of our latest Acne Control range of products, including our first ever, non-drying Pore Cleansing Face Wash.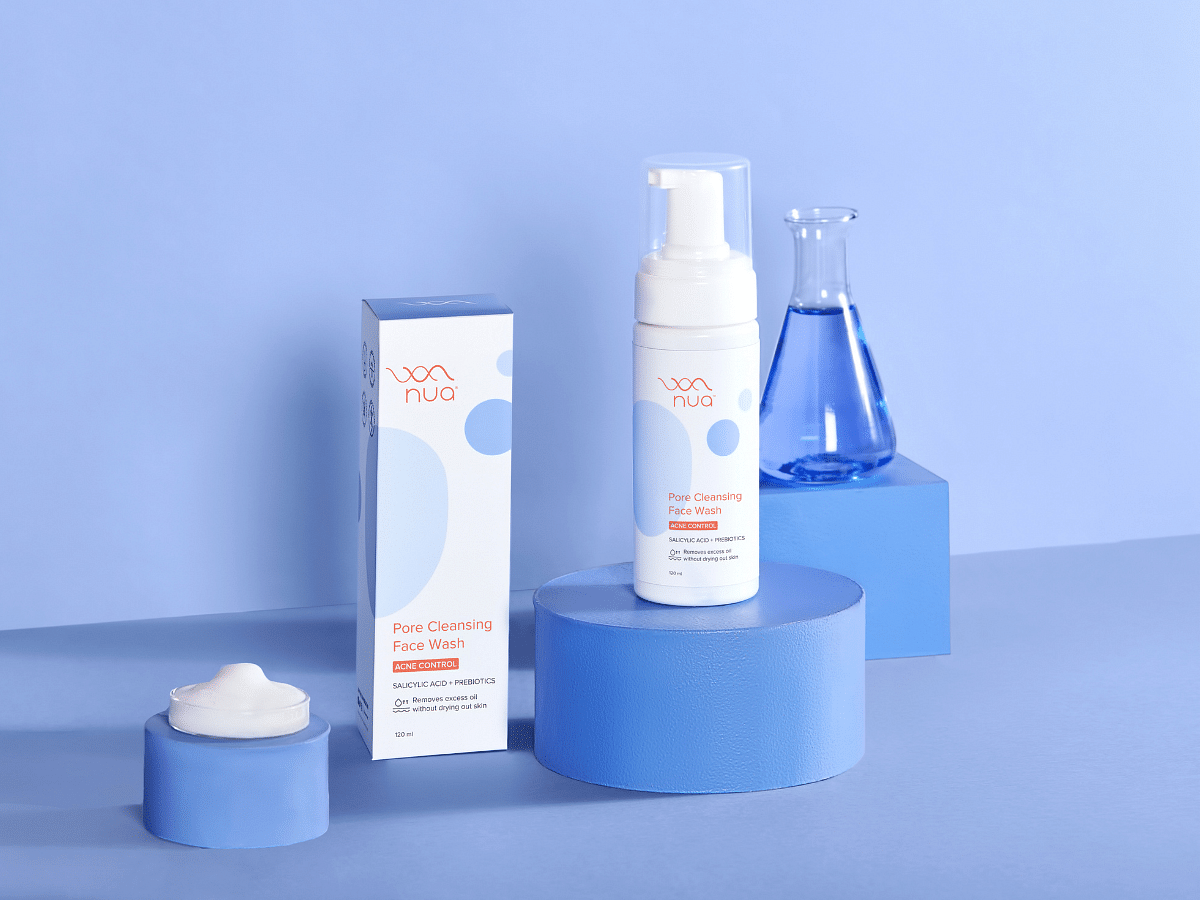 What is unique about Nua's Pore Cleansing Face Wash?
Combining the power of #ScienceWithSense, this dermatologist-backed, pH-balanced formula is made with soap-free ingredients that are gentle and non-drying. It's great for all acne prone skin types – whether you have dry, oily or even combination skin.
What are its benefits of using this face wash?
Salicylic acid acts as an anti-inflammatory chemical exfoliant that removes excess oil and unclogs pores while glycolic acid gets rid of dead skin cells from the surface of the skin. With the addition of hyaluronic acid and prebiotics, your skin will retain moisture and promote a natural balance of good bacteria to keep your skin healthy.
How can it be incorporated into your skin care routine?
Every morning and night, take two pumps of the face wash and gently apply the foam in circular motions across your face. Once done, rinse your face thoroughly to ensure it's clean and pat dry. In case you get some of the face wash in your eye, rinse it out immediately.
PS: You can follow this with our Oil-Free Gel Moisturizer that hydrates, calms and strengthens the skin barrier to prevent future breakouts.
---
We know how tough it can be to get clear skin with so many external and internal factors, but with our latest range, we want to make the task a bit easier for you! Shop the entire range here to holistically treat your period & acne woes.