Comfort is of primary importance during your period. We mostly dread deciding what to wear and despise the process of getting ready when aunt flow pays her monthly visit. We want to look good but at the same time stay carefree about staining our dresses or having a period leak through our pants. Finding comfortable clothing options to wear during your period is just a big dreaded disaster!
We asked within the Nua community what was their idea of casual, comfortable clothing options during their period.
Here are some of their period 'outfit of the day' categories:
The bohemian kind

This one is for women whose motto is 'comfort first' and they don't care as much about anything else. Loose, old, oversized t-shirts and baggy harem pants is their go-to choice for clothing. This outfit definitely helps with those draining hot flushes and that irritable feeling you get when everything is sticking to you and you just need your own space. Other than the fact that you wouldn't wanna be seen like this, this is one of the most comfortable clothing options during your period. If you relate to that feeling, then this look is for you.
The no-stains club
This is a shout-out to all active working women out there. We know how hard you work despite having your period. However, when it's that time of the month, we all need some help to cope with the unpredictability. Dark colours and period panties are your safest bet. Period panties are almost stain-proof and even if the blood does manage to flow out, the dark colour of your clothes will mask the stain. Additionally, dark colours help in hiding those embarrassing sweat patches too.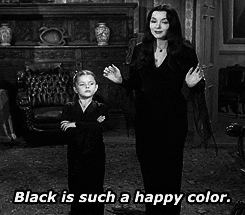 Chic, yet comfy outfits
We all know how reluctant we feel to move around and socialize while on our period. However, your friends are already waiting. Crop-tops/tank tops and palazzos are your go-to outfits if you need to step out and party on your period. The loose palazzos will keep you airy and comfortable during your period.
The 'basic' dressing
This one is for all the ladies who just don't care and want to be left to themselves on their period. The most convenient, practical and easy-to-find outfit in your wardrobe for these women would be a pair of jeans and a hoodie. The jeans keep things snug and held in place while the loose and airy hoodie is the perfect contrast giving you a comfortable clothing choice during your period.

The free-flowing kind
Stylish and comfortable clothing options during your period is not very easy to find but this category is comfort and style defined. Flowing maxi dresses are ideal during the day and a short denim skirt gets you set for the night. This category works for almost all kinds of occasions and most of all, keeps you hassle-free.
PJs! All-day Everyday
Who doesn't like staying in their pyjamas all day long, especially when you're on your period? This is the ultimate dream. If you have nowhere to be, showering and getting back into your oldest, most tattered pair of pyjamas is one of the best feelings for some women. This is perfect to help you relax and feel comfortable during your period when your hormones are all over the place.
We hope you enjoyed our blog and that we could manage to answer most of your questions. Now that we've provided you with comfortable clothing options to wear during your period, let us know if there's something we've forgotten or left out. Reply in the comments section below!
To know more on Menstrual Hygiene, read here – https://nuawoman.com/blog/menstrual-hygiene-day-chat-with-an-expert-tips-hygiene-myths/