Winter is one of the most awaited seasons of the year – and why not? It brings with it the joys of Christmas and New Year with an outpour of gifts from friends and family. It, however, also has its own set of not-so-pleasing aspects. One of the most common one being dry skin.
As the days get colder, our skin becomes drier due to low humidity. The cold and dry air outside makes the water in our skin evaporate faster.
But there are always things which you can do to prevent those dry patches from appearing on your skin.
Here are a few steps to take:
When the skin gets patchy in the winter months, you need to up the moisture and reduce the number of times you wash it. In some cases, you may need to change your face wash as it could strip your skin off it's natural oils.

In the day, it is essential to apply a moisturiser first, followed by a sunscreen (if you are outdoors a lot). For skin that does not have exposure to sun, a good moisturiser is enough.

At night, a light face oil is a very good option. A face oil when applied at night on the face and neck, brings in a lot of moisture into the skin, being easily absorbed by the skin. Used on a daily basis, it gives a spongy and moist feel to the skin.

For people with excessively dry skin, cold pressed coconut oil is also a good option.

At all times, always apply the products on the neck as well.

Natural face masks are also an excellent way to bring in the glow as well as moisturise the skin.
Here are two recipes:
1. 1tsp besan + 1/2 tsp turmeric powder. Make a thick paste with 2-3 drops of lime juice and yogurt. Apply evenly on the face and neck. Wash off after 15-20 minutes.*
*This is good for all skin types.
2. 1tbsp of honey mixed with the oil of 1 EVION 400 VIT E capsule. Mix it well. Apply on your face and neck for 15-20 minutes. Wash off with tap water.**
**This pack is good for all skin types.
It is most important to keep the skin hydrated at all times. This may also include certain changes in the way you wash your hands or clean yourself. It is always better to pat and dry yourself, and then immediately apply moisturiser.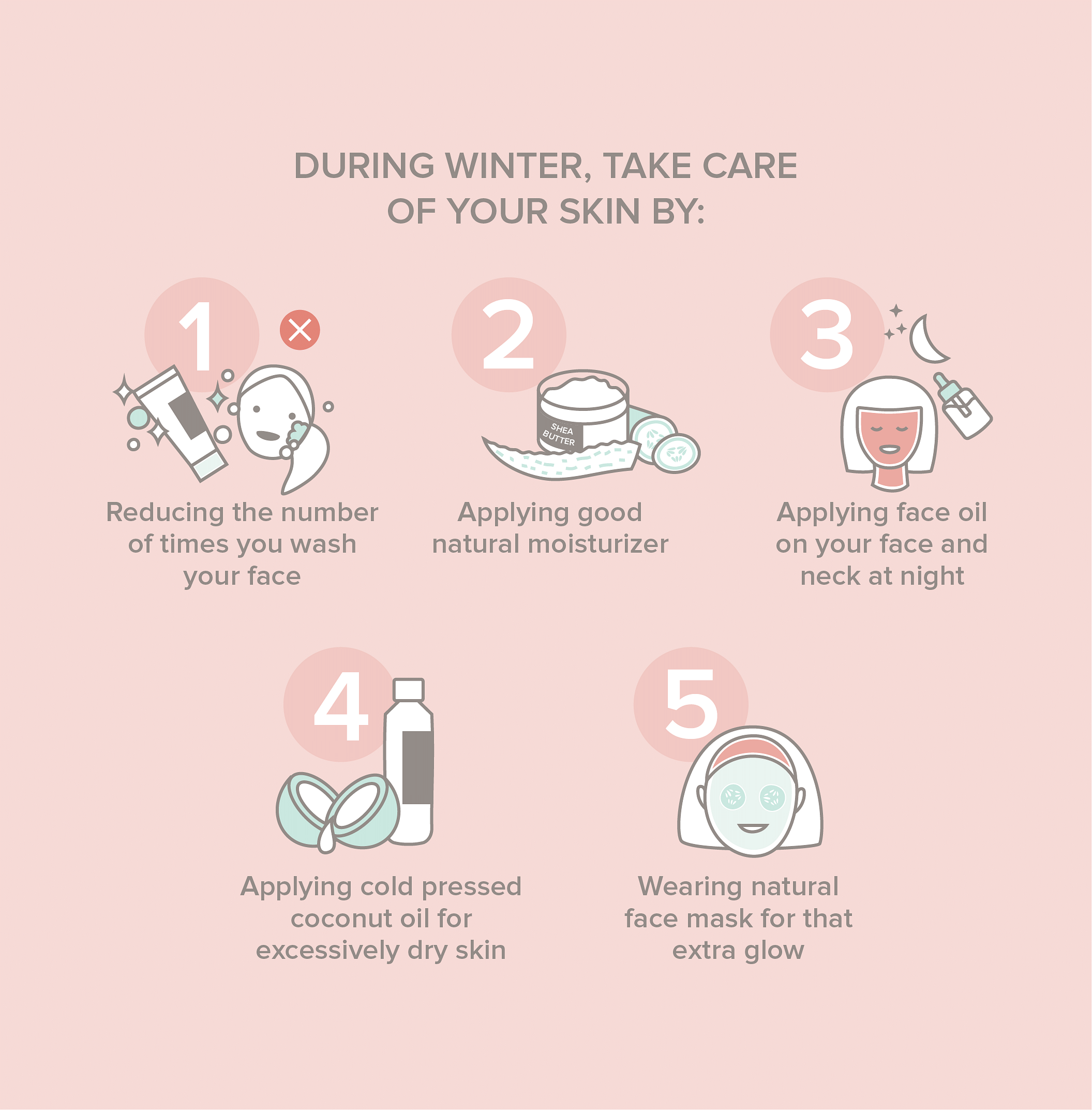 Your skin is the largest organ on your body and during the cool season it needs a little bit of that extra care. You can read on our expert-written skin care routines right here. You can also find beauty therapist Mala Punwani's article on skin care during the lockdown here.