The answer to the question of 'what is normal period flow', has been an ongoing debate in women's health. Unfortunately, the actual measurement or quantification of the flow has been challenging in practice. The perception of ones flow also varies from person to person and depends on their past and family experiences too. Let's look at the aspects of identifying a normal period flow and then identyfy what makes it different from either light period flow or heavy period flow.
What is a normal flow?
A regular period flow can vary from 5ml to 60ml in quantity, i.e between 6-7 tablespoons of menstrual fluid. It consists of 40% blood and 60% non-blood compositions such as the lining of the womb and cervical mucus. 
Occasionally one may have clots, smaller than an inch in diameter. The colour of your period can be bright red in its initial days with a heavy period flow on the first day or two. The ideal frequency of changing pads or other menstrual products should be around 3 – 4 hours during the day. A change of products is not required during the night.
How to quantify it?
In medical literature, there are pictorial tools available that can help women roughly estimate their daily period flow. A regular sanitary pad can absorb a minimum of 5ml of blood. An overnight XXL pad can however absorb a maximum of 30-40ml. A menstrual cup can collect 30 – 35ml of blood. These measurements can help you learn about your flow in case it needs to be monitored for any sudden changes.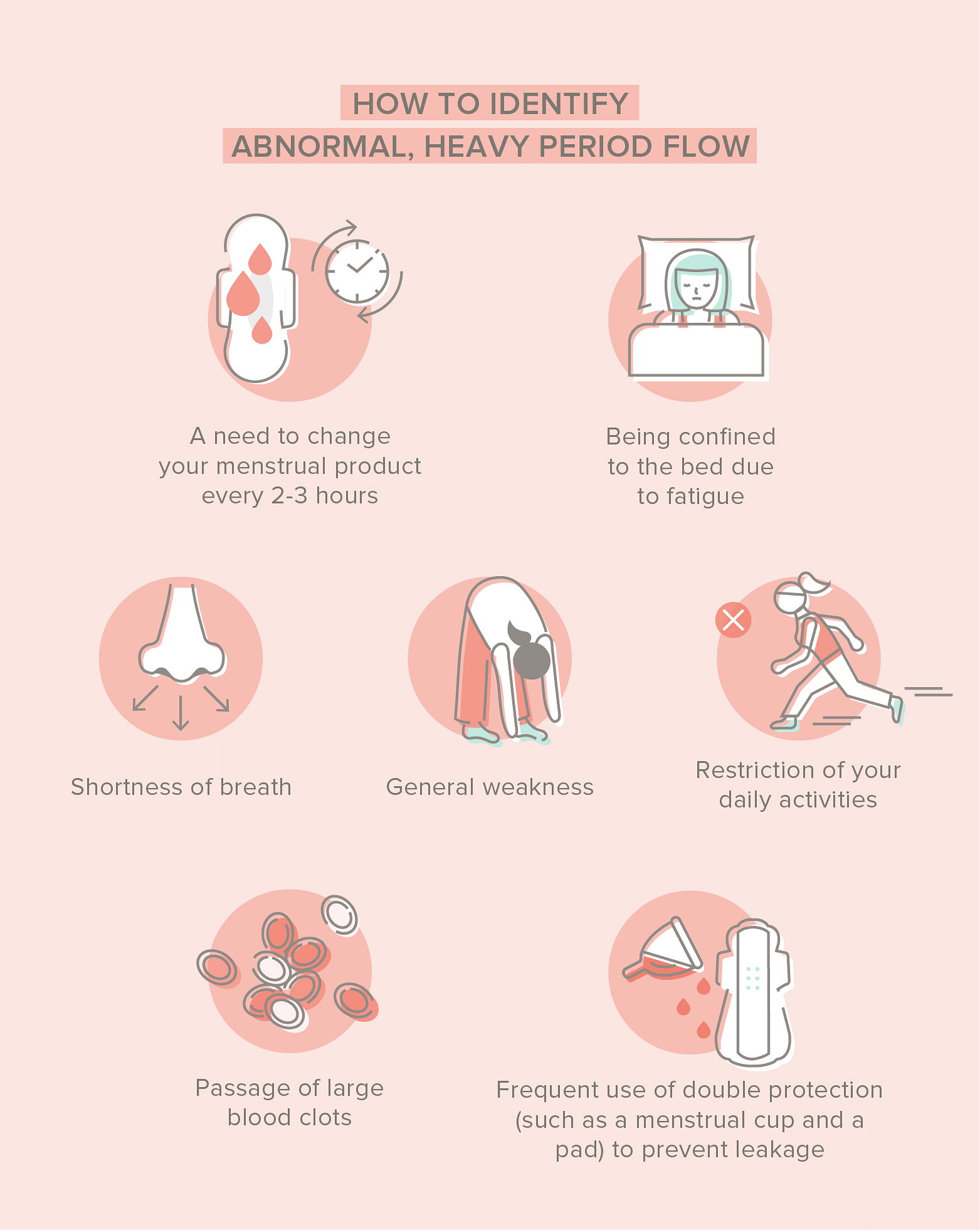 What are normal variations in period flow?
Adolescence – The first period marks the onset of the hormonal system. It is usually a light period flow and will continue to increase to a more moderate one for the initial 2-3 years. The period cycles also can change from irregular to regular as your body and its hormones get accustomed to adulthood and change with age.
Adulthood to preconception – The changes in period flow can occur during this important stage due to factors like lifestyle, weight fluctuations, use of contraceptives, and co-existing illnesses identified above. 
Post pregnancy to perimenopause – Weight gain during pregnancy can give rise to less flow post pregnancy, making your period cycles more irregular.
Peri-menopause to menopause – Period flow can increase from moderate to heavy with clots during this phase in life. It's mostly due to the natural hormonal imbalance due to a decline in ovarian function. The onset of menopause means no period for one year.
Reasons behind a heavy period flow
Changes in period flow can be due to any underlying issue with your reproductive system as well. Women with PCOS experience hormonal imbalance, increasing the chances of irregular period. With endometriosis, a heavy and painful flow is accompanied by the passage of many blood clots while endometrial polyps or fibroids can cause irregular bleeding. 
Thyroid issues that fall under both underactive and overactive gland functions can impact your flow. Pelvic infections and a Copper T contraceptive device can make you experience a heavy period flow but some birth control pills can cause light bleeding after their use.
Importance of monitoring your flow
Noticing changes in your cycle from light period flow to heavy period flow helps women become proactive to seek medical advice. Excess flow can give rise to low Haemoglobin (also known as anaemia) and generalized weakness and fatigue.
Sometimes changes in period flow can be a normal part of the body's maturation in the initial days of menarche or with menopause as you age. One needs to be able to understand them correctly and avoid any complications.
A period is unique for every woman but noticing differences is an important aspect of taking care of your body. If you are unsure about the cause of abnormal flow, visit a gynaecologist who will give you the right guidance to help you #GoWithYourFlow.
---
Our experts work round the clock to provide you with the answers that you are looking for. So, if you have any, leave it in the comment section below or send us a DM at @nuawoman. This is a safe space that we have built for you so do not hold back on any doubts you may have about your body and mind.
Read other articles by Dr. Vaishali Joshi here.