It is the holy month of Ramadan, a time of special significance for Muslims all around the world. Most of us associate this period to worship, break of fast and eat delectable food. But what is it really like for a fasting Muslim woman in the month of Ramazan with menstruation?
It is also the time to introspect, practice self-restraint and to understand the hunger faced by millions across the globe.
However, what about when a woman is menstruating? Well, here's what you need to know!
Menstruation & Ramadan
Women abstain from fasting during their period – reason being that the almighty has forbidden a menstruating woman from fasting out of mercy because women lose blood and it can lead to fatigue. Hence, fasting would be an unfair burden on them. It has got nothing to do with impurity or purity, as in Islam, a believer is considered to be spiritually pure.
What studies say
The menstrual cycle is finely tuned with everything we do on a daily basis. Be it eating food, working out, being stressed, consumption of medications, etc. A change in the normal routine is likely to affect menstruation for a shorter duration. Some studies have also pointed towards abnormal eating patterns, low-leptin levels (energy deficiency), and fasting as factors that can affect menstrual patterns.
A study carried out by Hamadan University, published in the Iran Journal of Reproductive medicine in the year 2013, stated that women who fasted for more than 15 days during Ramadan reported some menstrual abnormalities, including irregular or missed periods, abnormal, heavy for prolonged bleeding (oligomenorrhea, polymenorrhea, hypermenorrhea). These effects were seen for the next 3 months.
Another study published in the Middle East Fertility Society Journal in the year 2017 noticed that there were changes in the teenager's menstrual cycle, especially in blood volume.
While a study carried out in 2015, depicted that Ramadan fasting can positively affect the stress hormones in women suffering from PCOS. Stress neurohormones decreased in the women during Ramadan fasting.
While researchers feel that disruption in the circadian clock (owing to changed eating and sleep patterns) could affect menstruation, some previous research points towards menstruation affecting the circadian rhythm. The ovaries appear to have their own circadian clock and intermittent fasting or Ramadan fasting if done right, may aid in more robust Circadian rhythms!
However, more studies are required in this direction to understand the correlation between Ramadan fasting and menstruation as the studies and data seems to be limited, and hence, drawing a conclusion is difficult.
It is important to eat healthy during suhoor. You can have oats porridge, daliya porridge, moong chilla, roti veggie roll, mixed vegetable paratha, muesli with milk and fruits. During Iftar 2-3 dates + 1 bowl mixed vegetable soup/chicken soup, whole wheat egg sandwich, paneer/chicken shawarma, oats haleem, whole wheat pasta with veggies + 1 glass coconut water/lemon juice/kokum sherbet + 1 fruit are some ideal food options to have.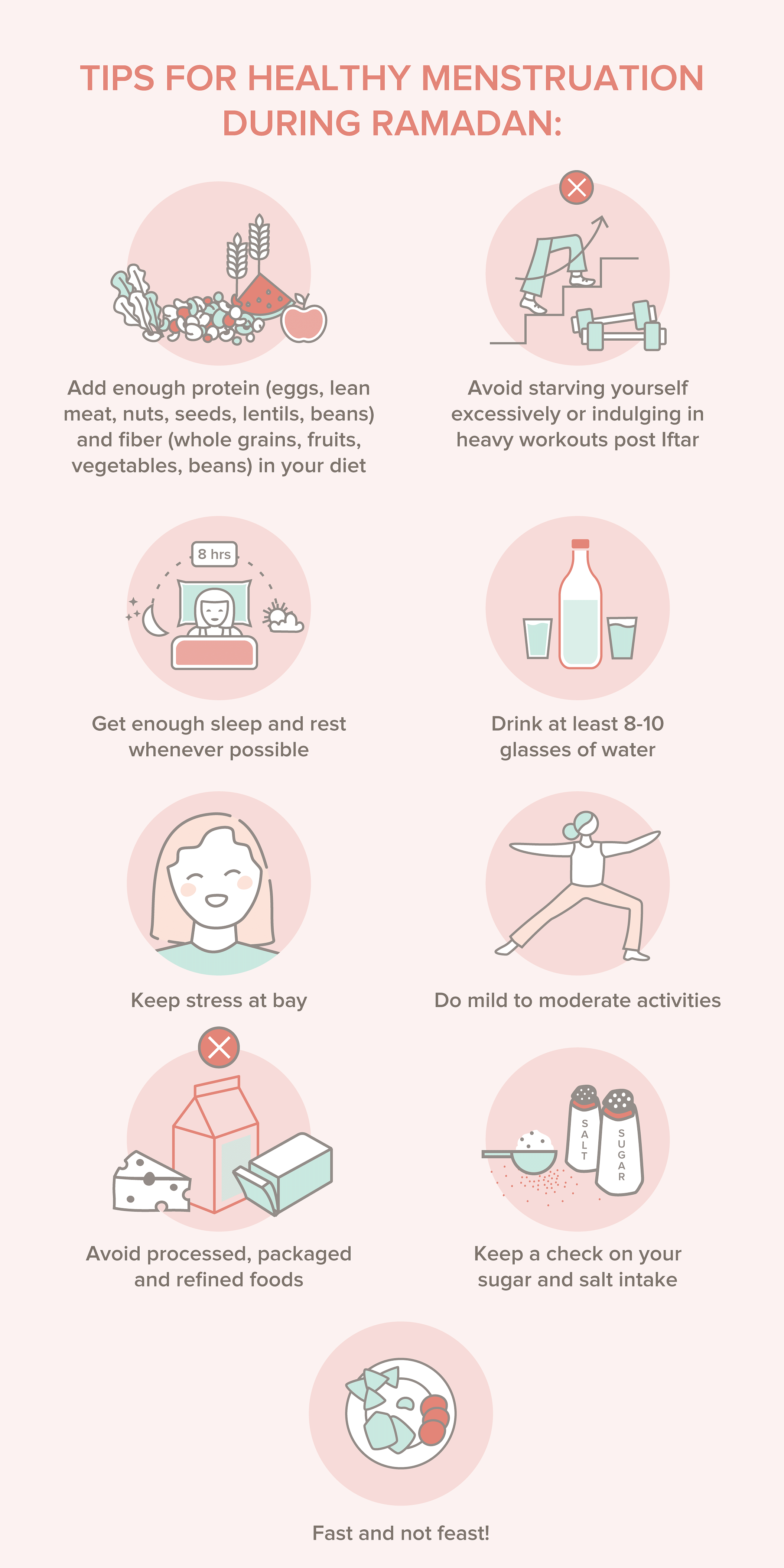 For most of us, our religions become an integral part of our lives. It is also important to take care of our health. It is advisable to consult your doctor if you feel unwell at any point and to always eat healthy.
Wishing everyone a happy and healthy Ramadan!