Being a teenager is a rollercoaster ride. It almost seems impossible to get past the teenage years without facing various skin problems. Skin disorders vary, everyone experiences many skin changes. The most crucial stage of these changes is for adolescents. When these teenage skin problems start to rise, there's a common and obvious dilemma about their treatment. Due to the lack of exposure to products and skincare, teenagers have a rough time nursing these problems.
Since all of us have been there at some point in our lives, we understand how important it is to start taking care of our skin at the right time.
All teenagers who are either going through a rough patch with their skin need the right guidance. Here are some common skin changes and problems that teenagers face:
Oily Skin
Our skin has tiny oil glands below the surface called sebaceous glands. They produce a waxy substance called sebum. Sebum is essential for our skin as it keeps the bacteria at bay, and maintains skin moisture and pH level. Teenagers have very active sebaceous glands due to their hormones producing more sebum. Excess sebum on the surface of the teen skin leads to impurities sticking to the skin. This is one of the major skin changes all teenagers experience and often leads them to acne and breakouts.
Acne
Acne can be of different kinds. In the form of blackheads, whiteheads, papules, pustules, or cystic acne, they are inevitable. It can occur anywhere in the body including the shoulders, chest, thighs, and buttocks. Acne is one of the most common skin conditions seen in teens due to changing hormones that also make your skin greasy-looking. You are most likely to notice these breakouts when your skin changes due to your growing age.
Eczema & Dermatitis
Eczema is an umbrella term for rashes, itching, swelling, and irradiation of the skin. It is also referred to as Dermatitis which is an extreme form of the condition. These skin changes show up as dry, red, and scaly patches on teen skin, commonly seen on the face, knees, hands, or feet. It causes skin changes that create intense itching that might be painful, but the urge to scratch makes the condition even worse as scratching can lead to inflammation and infection. There is no one specific cause of eczema or dermatitis, it may be influenced by both genetics and environment. It often improves with age or even goes away.
Cold Sores
Small tender blisters that emerge beneath the skin and show up around the lips are cold sores. This form of skin changes is caused by HSV-1, a highly contagious type of herpes virus that is spread between teens. This virus is not always transmitted sexually, it can be caught through skin contact or even by sharing food or drinks.
Sunburn
Sunburns are caused due to prolonged exposure to the heat and UV rays from the sun. Teens are at higher risk of getting a sunburn as they spend more time doing outdoor activities. A sunburn can be red, painful and takes the skin a few days to get back to normal. It's a skin change that can be rectified but sometimes it can leave pigmented marks on teen skin without proper care.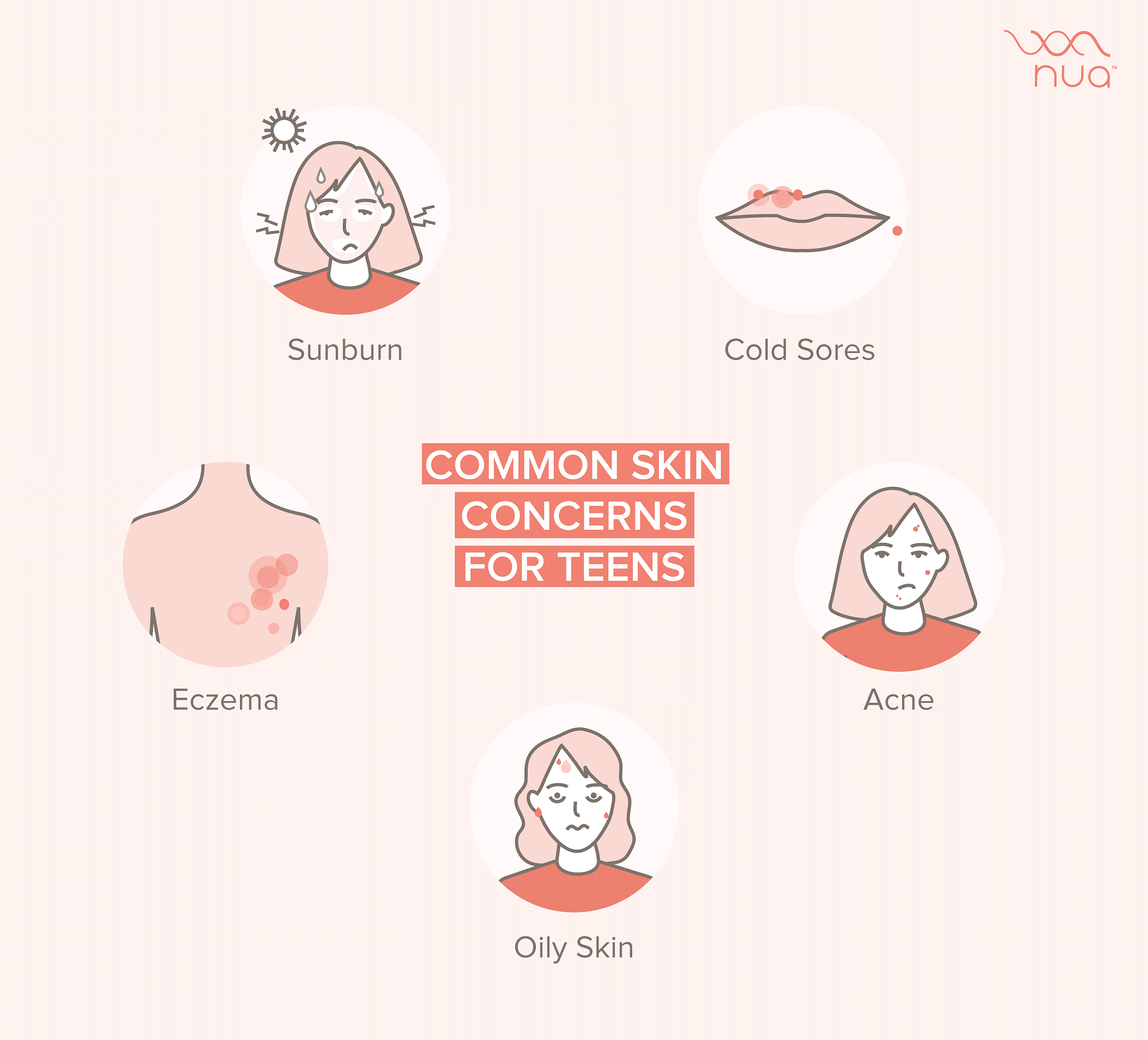 Irrespective of the skin changes and concerns you may experience, just remember that this is not the end. Teen skin cycles are full of ups and downs. Your skin deserves your time, commitment, and patience. Consult your medical estheticians in the case you want a professional treatment.
Hang in there, your glow-up stage isn't that far!
---
Our experts work round the clock to provide you with the answers that you are looking for. If you have any, leave it in the comment section below or send us a DM at @nuawoman. This is a safe space so don't hold back on any doubts you may have about your body, skin and mind.
Read all of Dr. Pavitra Patel's articles here.