In the last two years especially with the spread of a pandemic, hygiene has become a crucial part of our daily conversations. However, when it comes to menstrual health & hygiene, we're yet to go a long way in having every person in India aware of its importance and practice. With many initiatives in place already, people have become conscious of their menstrual health & hygiene. However, let's brush up on how we can further improve our menstrual health & hygiene needs and practices.
What is menstrual health?
Menstrual health is a state of complete physical, mental, and social well-being. Often people directly associate menstrual health to one's menstrual cycle. While most women and girls experience menstrual cycles, it also can be associated with menstrual health for all individuals who experience a menstrual cycle, regardless of their gender.
What is menstrual hygiene?
Menstrual hygiene is the practice of keeping your body clean during menstruation which can prevent a person from infection in their reproductive and urinary tract. It refers to the proper sanitary steps one must take while they are on their period to ensure their health is never compromised due to lack of hygiene and provides access to the best hygiene-based routine.
Why is menstrual health & hygiene important?
Hygiene-related practices of women during menstruation are incredibly important, as they may increase vulnerability to infections that could be dangerous. Poor menstrual hygiene is one of the biggest reasons for the high prevalence of Reproductive Tract Infections (RTIs) in India and contributes significantly to female morbidity. This is due to a lack of knowledge regarding menstruation and menstrual hygiene leading to poor attitude and practice.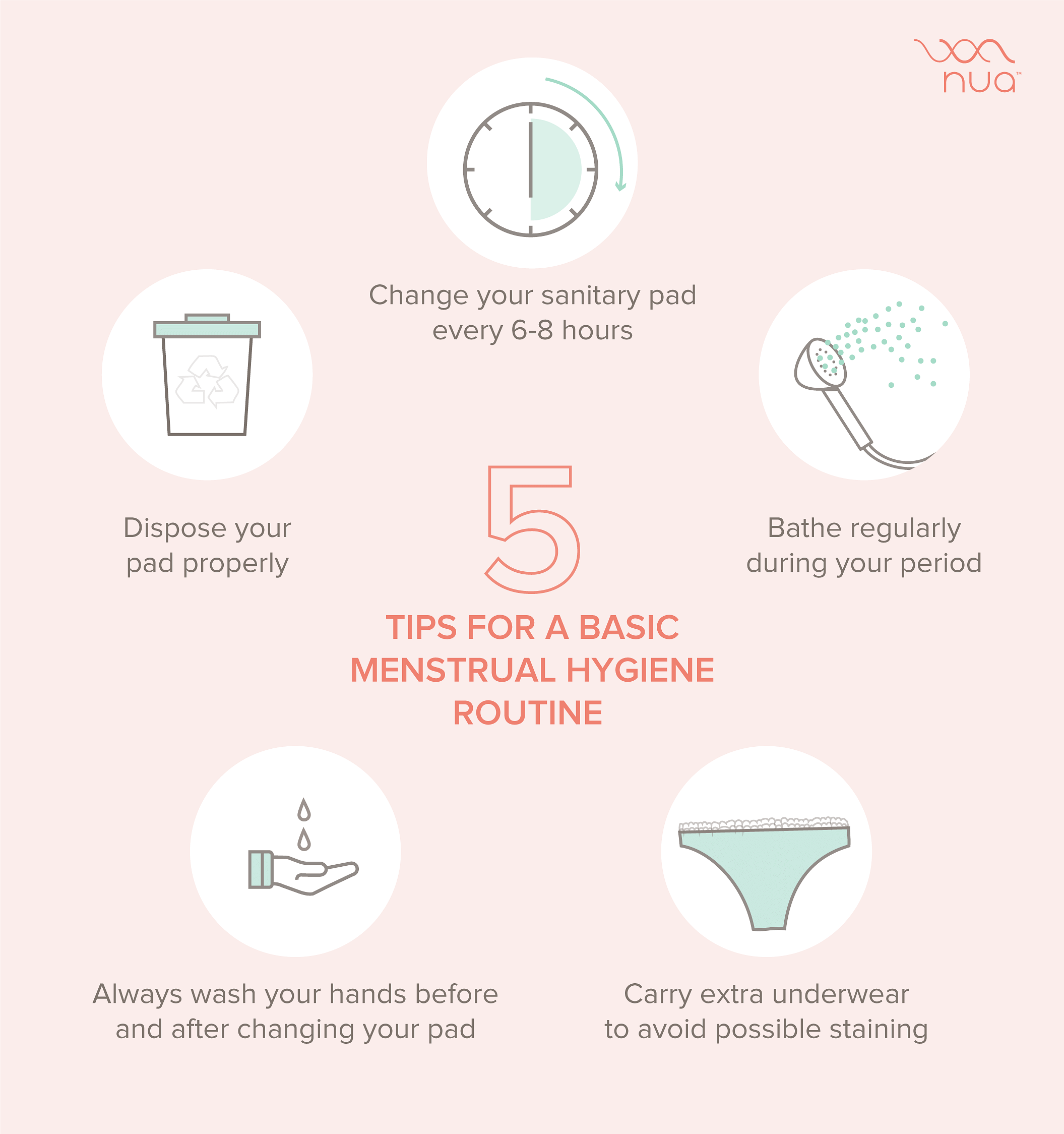 How can our menstrual health & hygiene practices improve using the right products?
While menstrual hygiene practices are the first step in ensuring your health is not compromised, there are specific sanitary product qualities that can be beneficial to avoid the risk of certain menstrual infections.
When looking for sanitary pads, look for ones that are toxic-free, non-fragranced, and absorbent. Our new and improved Sanitary Pads (co-created with our 4 lakh+ community!) are dermatologically-tested, super soft, and have a 50% wider leak-proof back compared to other pads. What's also great is that they are available in customized packs, giving you the choice to curate your personalized kit according to your period needs.
Our Foaming Intimate Wash is formulated to eliminate infection-causing bacteria while preserving the good ones you need for a healthy vulva. It is enriched with aloe and lactic acid to gently cleanse your skin without dryness or irritation.
Some common consequences of neglecting menstrual health & hygiene are:
Irritation of the skin that can swell turns red, and at times becomes sore with blisters.
The introduction of bacteria into the urethra may cause urinary tract infections (UTIs). It can be fatal as it could damage the kidneys if left untreated.
Alteration of the pH of vaginal flora. This can lead to a higher possibility of bacterial vaginosis and impacts the body negatively when a woman is trying to conceive.
We have always emphasized the importance of menstrual hygiene in a woman's life and the potential risks of poor menstrual hygiene, maintaining your menstrual health & hygiene routines are an essential part of any woman's life. Make sure that your health is never compromised during your vulnerable time of the month.