Women all across the globe have experienced the heartbreaking moment their pretty underwear gets stained with period blood. Depending on your flow and your personal preference, it's your underwear that makes a big difference during your menstrual days.
When it comes to preference, there are many options available for you to choose from! Just like you might decide between using sanitary pads, menstrual cups, or tampons, the underwear best for periods also depends on your choice.
Some look for aspects that suit their style. Do you want something comfortable? Are you looking for support? Or something with a bit more coverage?
Here are some options that are available in the market for you to choose from:
1) If you want the perfect fit
Often, women want period products that are close-fitted against our bodies to avoid any form of leakage. But a good fit doesn't mean it has to dig into your skin! A bikini-cut style of underwear sits comfortably on your lower waist for a comfortable fit with the right amount of coverage to keep it all secure.
2) If feeling secure is your priority
High-waisted period underwear is great when you need additional support around your body. Termed 'granny panties', these are the best when it comes to feeling snug. Plus, they provide enough coverage to place a Cramp Comfort heat patch when you need some relief from period pain!
3) If you want more freedom
For ultimate comfort, security, and breathability, the boyshort does it all. It functions as an underwear style that can be worn on your period – or even if you don't have it – for ultimate comfort. It's the one period underwear style that will always have your back (and front).
4) If you want to feel breezy
When it comes to materials, cotton is the way to go. Comfortable and breathable on your skin, there's nothing like a pair of basic cotton period underwear for girls and adult women. The material is also thick enough to fit securely to your waist and not feel tight when you're already experiencing cramps.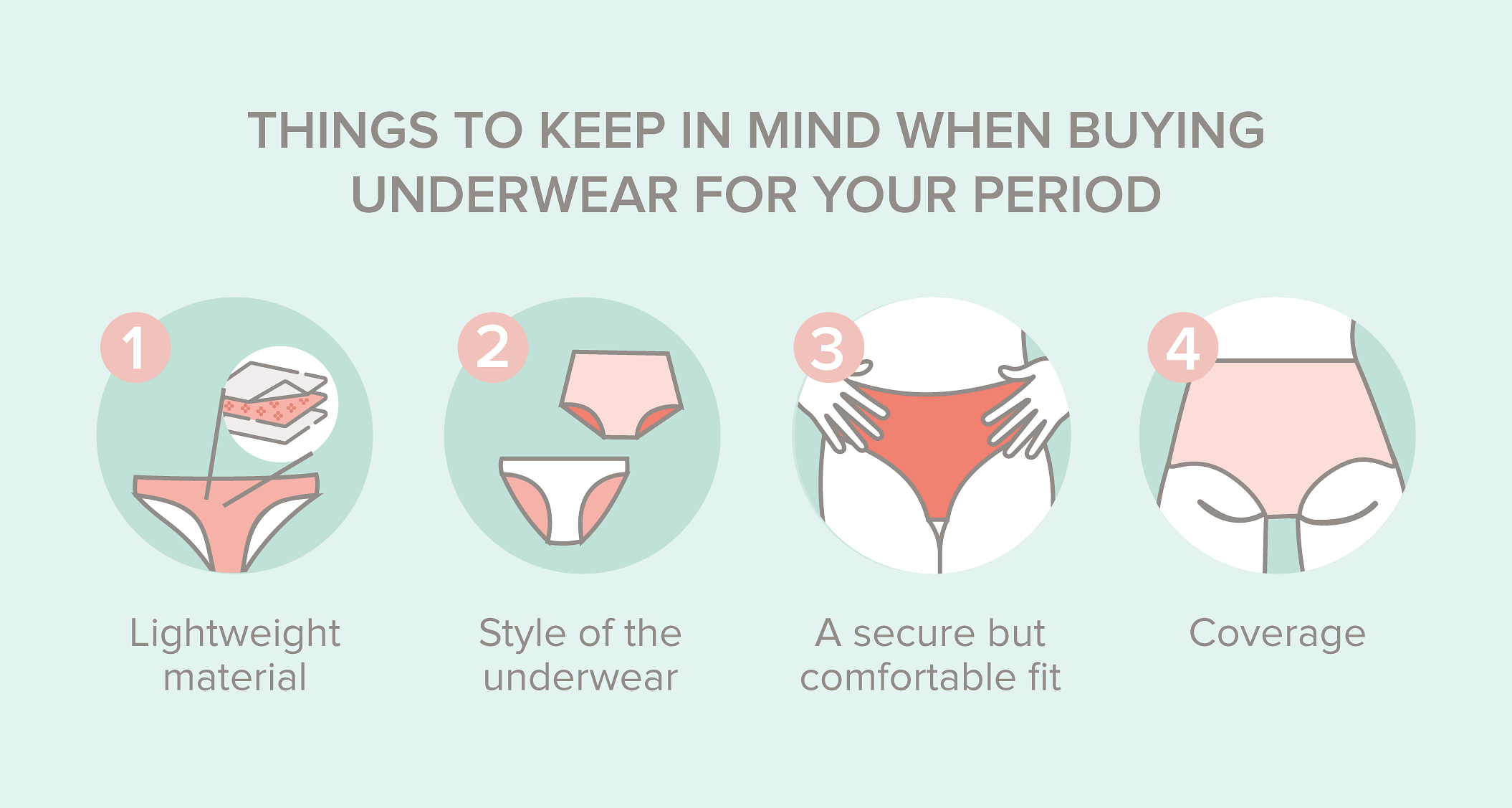 When choosing the period-proof underwear for you, check each style. The important thing to know is how your period works. You can use one style of period underwear pad for the heavy days and a different style for lighter days. Find out what style suits your comfort and flow to enjoy a freer experience at work and home.
Wear your choice freely on your period days to give you a sense of peace, comfort, and flexibility. Let the underwear help you #GoWithYourFlow.