Niacinamide has gained immense popularity among skincare enthusiasts and rightly so, due to its multiple benefits and amazing results. However, before we get into why you need to incorporate niacinamide into your skincare routine, it is important to understand what this ingredient does for you.
The B vitamin family includes the water-soluble vitamin niacinamide. It also goes by the names vitamin B3 or nicotinic acid and is crucial for the body's continued good health.
To support the healthy operation of our primary organs, our bodies require vitamin B3. The skin is one of these organs—and this is where niacinamide enters the picture. While vitamin B3-rich meals and supplements are important and can support the health of our bodies, the skin needs more and we will tell you exactly how to do that.
How does niacinamide work?
Niacinamide aids in accelerating the skin's natural cell renewal process when applied topically. At this time, the skin's surface is pushed with newly generated skin cells. During this process impurities and dead skin cells are also eliminated.
For skin to remain healthy and youthful-looking, the natural cell turnover process is crucial. Niacinamide also bolsters and mends the epidermis, the skin's outermost layer which aids the rest of the skin's layers in defending against irritants and pollutants when it is firm and hydrated.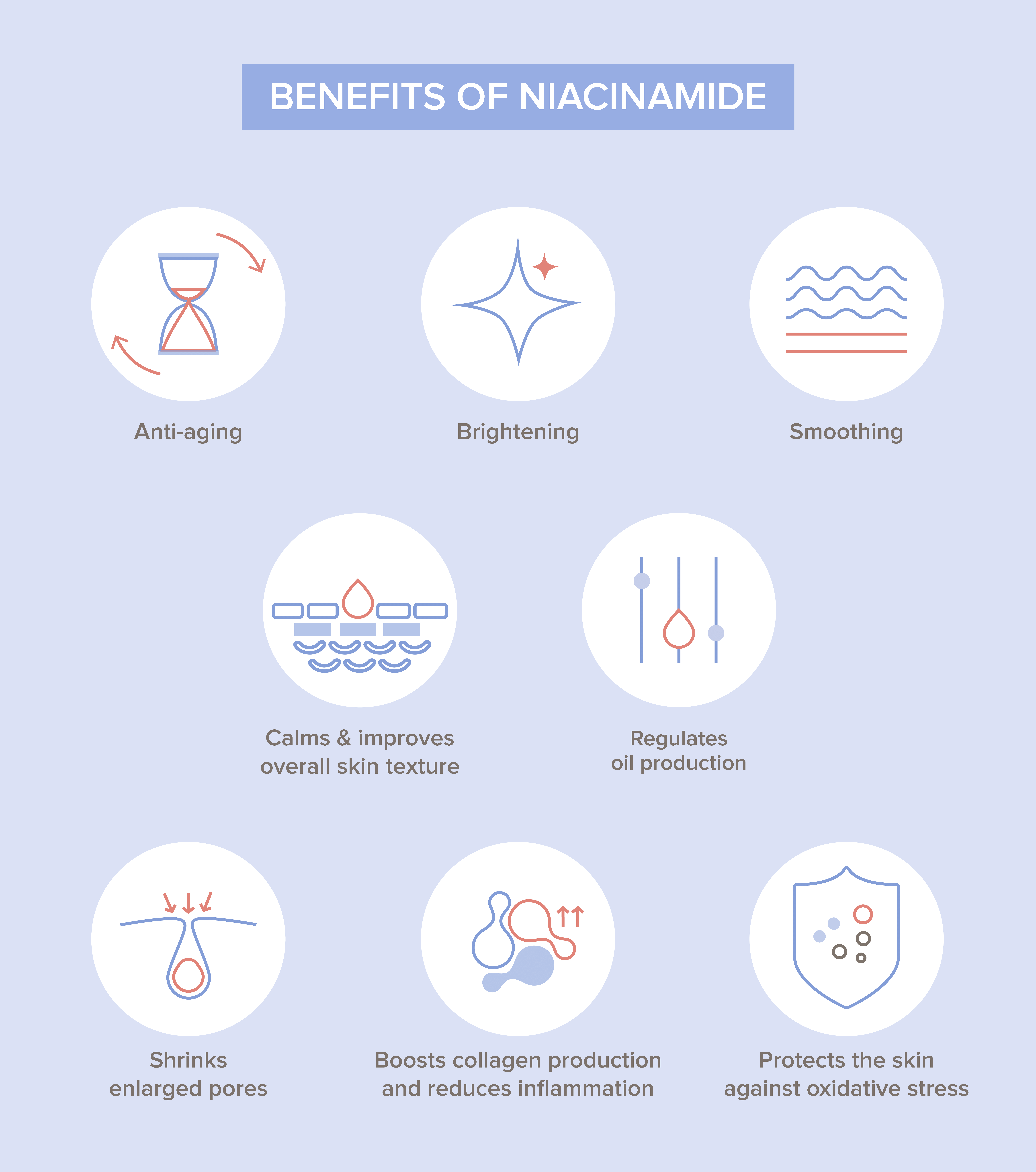 Additionally, it works wonders for sensitive skin types and problems like eczema, rosacea, and acne-related redness. It has skin lightening, treating pigmentation and dark spots while improving your skin's elasticity.
Everyone can safely use niacinamide. All skin types—dry, oily, and everything in between!
Niacinamide-containing products are excellent choices for anyone who experiences redness or finds retinol too harsh. Overall, all skin types can benefit from utilizing niacinamide because it is an all-purpose ingredient that works on a myriad of skin-related problems.
How to use Niacinamide in your skincare routine
In general, niacinamide is a well-tolerated component in skin care products. Niacinamide is frequently found in over-the-counter (OTC) and prescription moisturizers, serums, and toners.
These products allow niacinamide to remain on the skin for longer than cleansers, which can benefit the skin for a longer time. Niacinamide might be simple to include in your current skincare routine because it can be found in many products.
Knowing when to use niacinamide is one of the key elements to maximizing its skin-healing effects. It can help shield and restore sun-damaged skin when used during the day. Niacinamide is a fantastic component to take in conjunction with your SPF because it reduces the irritation brought on by UV radiation. It is mild enough to be used daily but it is always recommended to perform a patch test on your hand or arm. Niacinamide concentrations between 2 and 5% have been used in the majority of research, so you don't need more than that to reap the rewards. Starting with a 5% or less niacinamide content is advisable as side effects are less likely to occur at this dose. If your skin tolerates your formula well, you can always increase the concentration.
What ingredients pair best with it?
Hyaluronic acid- since both these ingredients are water-based they work well together on dehydrated, oily, and acne-prone skin.
Vitamin C – these two ingredients paired together have a great impact on your skin, making it much more radiant and glowing.
Salicylic acid- Although there is some debate about how to pair niacinamide with salicylic acid, it can be used together as long as you are careful about the application to avoid negative reactions and maintain the effectiveness of both ingredients.
Retinol: However if you use retinol, then niacinamide should be included in your nighttime skincare regimen because your skin will be able to tolerate retinoids or retinol better with the help of niacinamide's ability to heal and soothe the negative effects of retinol but this is totally up to you, there is no particular time to use niacinamide.
How long does Niacinamide take to work?
In essence what you use, how it's made, and how much of it you use is what truly matters. Once you start using niacinamide you will start to see some noticeable changes for minor skin issues within a couple of weeks itself but in case you have more persistent problems like severe hyperpigmentation then it can take up to 12 weeks to see proper results.
Potential side effects of niacinamide
Skin purging is the transient response of your skin to an active substance that causes cell turnover. Niacinamide is unlikely to induce purging, however, some people may feel discomfort and pimples when they begin taking a product with vitamin B3. If you break out after taking a vitamin B3 supplement, check the ingredients to see if there's anything else in the mix that could be irritating your skin. Retinoids, vitamin C, AHAs, and BHAs are the most often used substances that cause skin purging.
Now that we have understood how to use niacinamide, incorporate it into your routine immediately to get all the benefits as soon as possible.
---
Our experts work round the clock to provide you with the answers that you are looking for. If you have any, leave it in the comment section below or send us a DM at @nuawoman. This is a safe space so don't hold back on any doubts you may have about your body, skin and mind. Read our other Community Asks here.
Read all of Dr. Pavitra Patel's articles here.