No matter what our shapes are – be it thin, regular or full-figured – most of us have experienced thigh cellulite. It often prevents us from wearing that pair of shorts we want to flaunt or that really cute dress. It is one of those things that always makes us conscious and can keep us from wearing or doing whatever we like.
So, what cellulite on thighs?
They are those annoying little bumps or dimples that form on the surface of our thighs. They are present in most of us and on seeing it on ourselves, it upsets us.
Scientifically one would say, cellulite is the bulging caused on the skin due to the fat cells below it.
The bulging occurs due to the presence of tough long connective cords that pull the skin down. The cords are 100% needed by our body but less fat cells can result in less cellulite.
What are the most common symptoms?
Many women consider cellulite a body imperfection. The symptoms of cellulite are simply the appearance of bumps on the surface of one's skin like cottage cheese or a mattress. If one has mild cellulite, it will only be shown if the skin is pinched, and cellulite that is severe, will make the skin appear bumpy at all times.
What can be the potential risk factors of having cellulite on thighs?
If cellulite is caused due to excessive weight gain then there can be certain risks involved.
The dimpled skin can get worse as one ages, continuously increasing the risk of health conditions like diabetes, arthritis, and cardiovascular disease.
Another risk is having poor muscle definition, decrease in muscle mass, and excessive weight gain.
What can we do at home to treat cellulite?
More often than not, extreme cases of cellulite are due to lack of exercise and proper diet. Cellulite cannot be completely eradicated by being at home but it can be drastically reduced. Here's what I would recommend – bring yoga into one's lifestyle to banish cellulite.
Daily practise of yoga will get one active and not to mention reduce the fat cells which cause the bumps on the skin

The practise helps tighten the muscles too
These are all great to challenge one's thigh muscles. Also, a yoga friendly diet of more fruits and vegetables will aid in treating cellulite. Reduction in carbs, salt and sugar and increase in flaxseeds and oatmeal will help to banish those bumps!
By eating correctly and working out regularly, you can maximize the health benefits you receive from doing these exercises.
It's also important to be sure that you are drinking plenty of water. This keeps you hydrated while also helping you to better control your appetite!
When should one consider speaking to a doctor when it comes to cellulite?
If one leads a healthy lifestyle which includes exercising on a daily basis and eating a balanced diet of predominantly vegetables/fruits and still suffers from a severe case of cellulite, it is best to speak to a doctor. A severe case of cellulite would have a "mattress" like appearance on the skin, with 10 or more deep depressions, and the skin will be severely draped.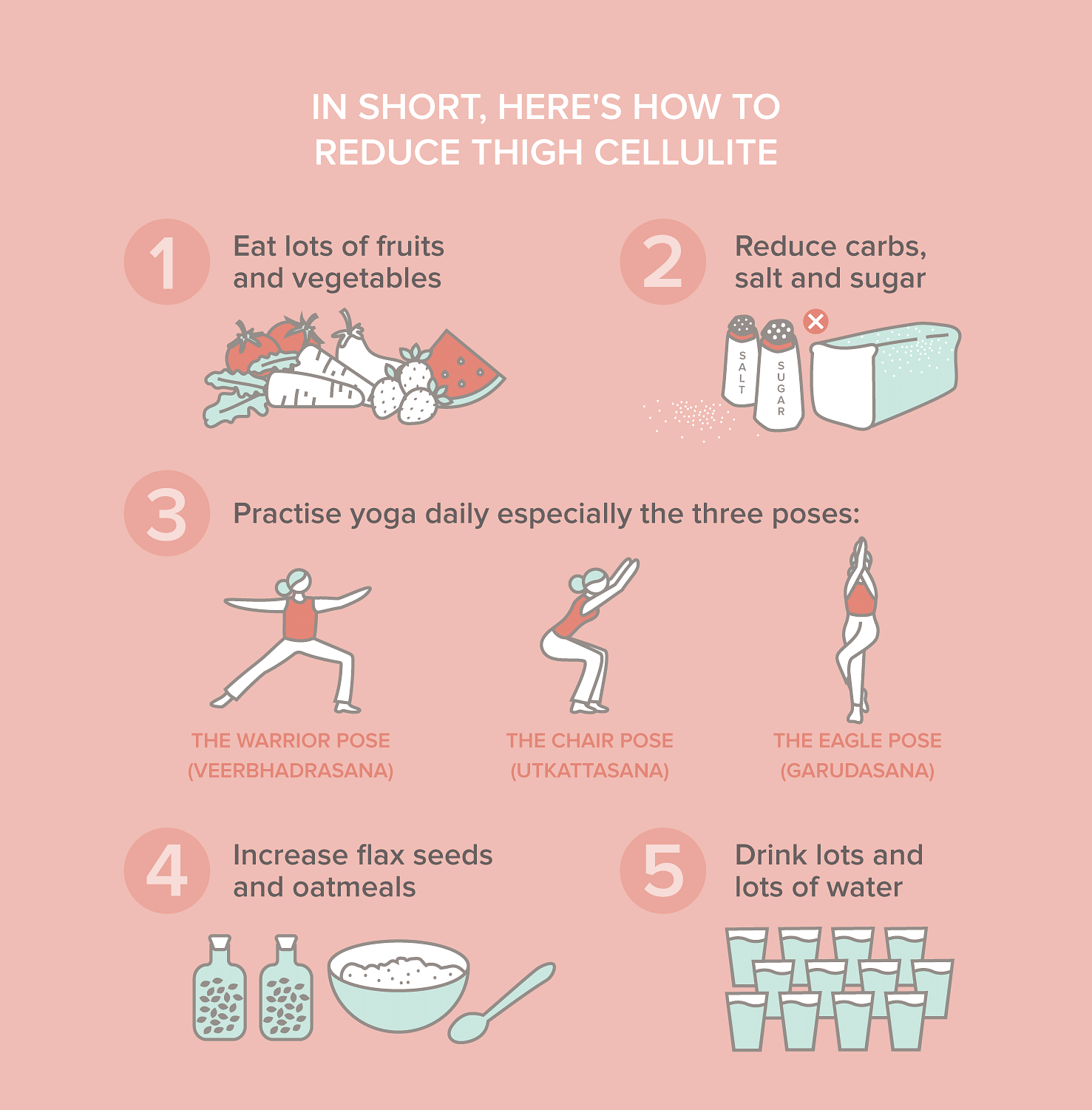 We always recommend a healthier lifestyle which can help you prevent various problems. We have created content by experts who will give you the ideal guidance for the right kind of diet and exercises. Find out more from our Lifestyle section. You can also read our expert Marina Kotwal's article on yoga poses for PMS and cramps right here.