At one point or another, most of us have asked the question, "Why do I have so much acne?" While some of us have been asking it ever since we transitioned into puberty, others experience it on specific days during our menstrual cycles. No matter when it strikes, hormonal acne escapes no one!
To answer these questions, we reached out to dermatologist Dr. Poonam Wadhwani. In an in-depth discussion, Dr. Wadhwani explained to us what hormonal acne really means, when it happens, and how we can take better care of our skin.
What is hormonal acne and why does it happen?
Acne happens because of hormonal changes and it generally starts at puberty. During this time, with an excessive secretion of sebum, our skin begins to produce oil which clogs the pores.
As we grow up does our skin change, leading to more acne?
At puberty, our body goes through a lot of hormonal changes. And our skin's way of responding to this change is through producing sebum. It is interesting to know that while as teenagers most of the acne we have is the result of changing hormones, as we grow older – probably 10 years down the line – several other factors such as lifestyle, diet, and so on, begin to contribute to acne growth on skin.
In puberty, hormonal acne appears in the T-zone which is the area on the face consisting of forehead, nose, and chin. There can also be various forms of acne at this stage.
Most girls will have any of these 3 kinds of acne:
White or black heads – The heads appear when the pores are clogged by oil secretion which prevent the hair follicles from growing. On the other hand, since the pores are closed, the dirt under the skin also begins to accumulate in certain areas of the face creating tiny bumps.
Papules – They appear in the form of pink or white bumps and can be sensitive to touch. They can lead to severe acne if the bumps burst and the pus comes out.
Pustules – Similar to papules, they also appear as pink bumps but with a whitehead surrounded by a red rind. These acnes can leave behind scars if they are picked or burst, intentionally.
As we grow older, we notice that the acne is more around the jawline. They tend to be a little more painful than what we experienced in puberty.
In adulthood, most women mainly experience two types of acne:
Nodules – They appear as large bumps which can feel hard when touched. They usually develop within the skin and often appear without heads.
Cysts – They look very similar to boils and are larger in size than nodules. They are filled with pus but they, too, do not have a head.
Can you suggest ways in which we can soothe our skin during hormonal acne?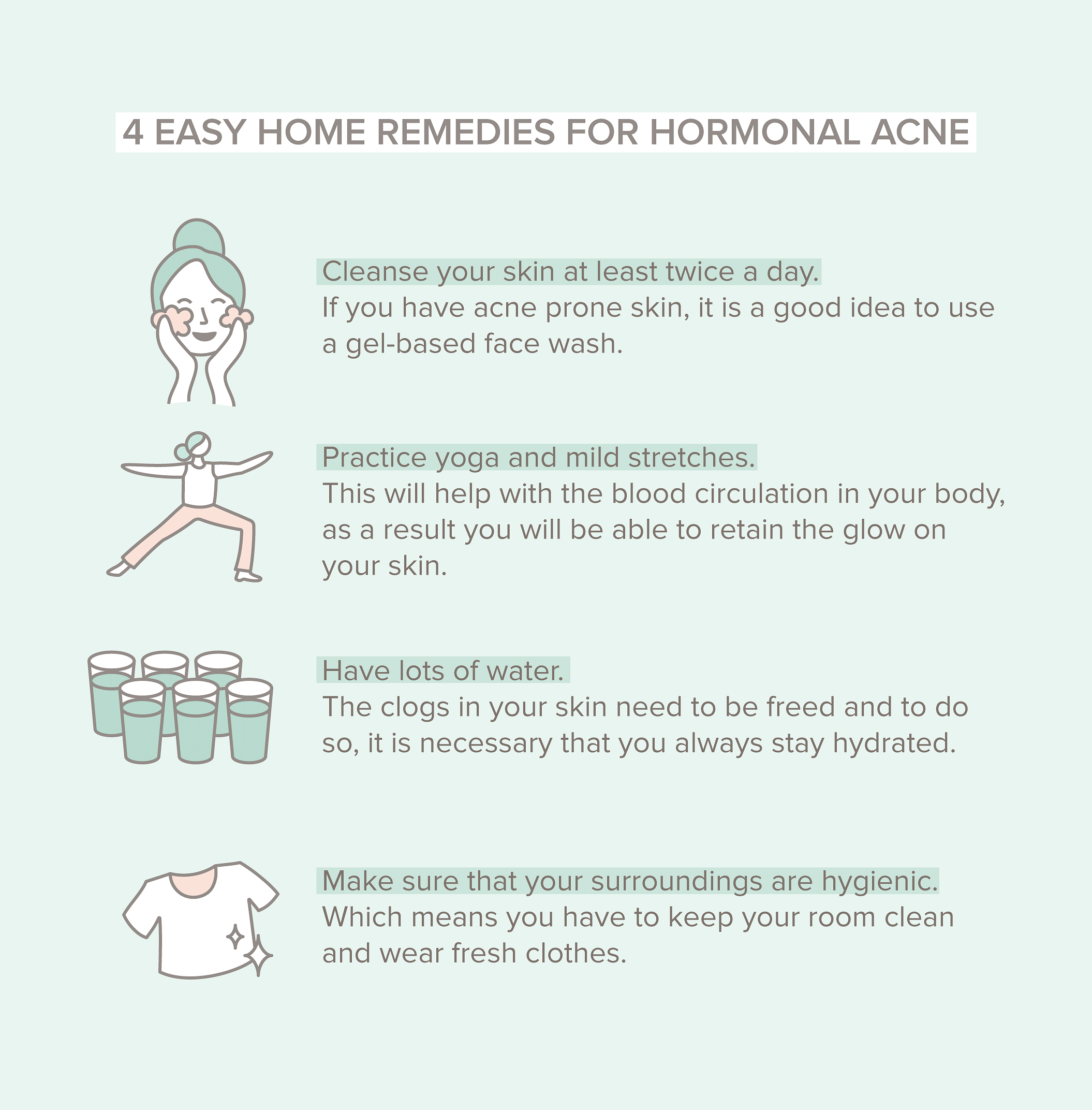 Finally, if you feel that your hormonal acne is painful and it is something that you cannot bear, it is advisable to seek medical help. But most importantly, always know that acne is very normal. Nearly everyone experiences acne at some point or the other. So there is absolutely nothing to worry about!