Irrespective of when acne occurs, a consistent skincare routine is essential. Here are some things you cannot skip out on, experts say:
1. Cleanse, cleanse… that's enough!
Wash your face two times a day with a gentle cleanser. Foam or gel based if your skin is combination or oily, and cream or oil based if your skin is dry. Cleansing your face more than twice a day can cause your skin to dry out quickly. When your skin feels dry, it triggers more sebum production, which ultimately leads to acne.
Tip: Look out for products for your skincare routine that do not contain comedogenic ingredients if you have oily skin. These products will leave your pores untouched and unclogged according to experts.
2. Sweat it out!
Exercise increases blood flow, which nourishes your skin cells and keeps them alert. It also reduces stress, which can sometimes lead to acne. Do remember, however, to wash and dry your skin after a workout because a stinky and sweaty environment is perfect for bacteria to thrive in. Sweat also tends to flush out dirt from your pores so wash yourself off as soon as you can.
3. Holy hydration!
The more water you drink, the more elastic your skin will be. Elasticity is ideal to prevent dryness and acne because it keeps your skin plump. Without it, you become prone to irritation and cracks.

Tip: Consume water in different ways. Try fruit, popsicles, citrus drinks – anything that has high water content.
4. Moisturize mildly.
Twice a day is a good call. Ideally, moisturize once in the morning and once before bed as part of your skincare routine. This increases moisture, which increases elasticity, which in turn reduces acne. Plus, you will feel better waking up to supple skin.
5. Trust your doctor – and science!
Lots of people tend to resort to natural treatments to deal with acne. They don't always work because they haven't been developed to treat the root cause of acne. This means that even if it temporarily causes your acne to calm down, the problem doesn't go away.
If you've tried a natural remedy and your acne gets worse, this is an indication to visit a doctor. If your acne is starting to affect your frame of mind, this is also an indication to visit a doctor and listen to what experts say.
Beyond these five things, you are welcome to create a more sophisticated routine, involving toners, exfoliation, masks and spa treatments. No matter what else you wish to do, it is crucial to add these five things to your routine without fail.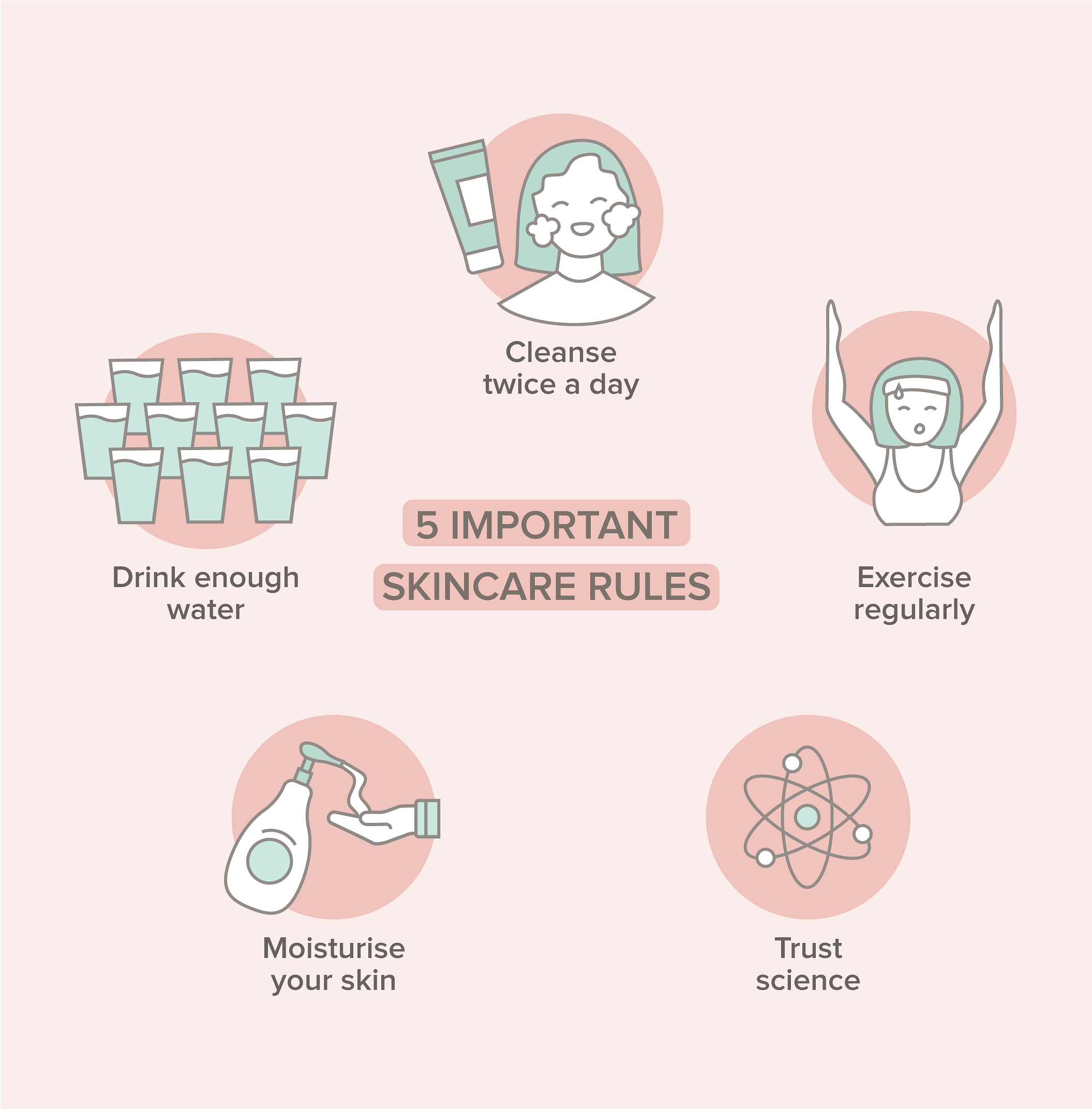 Our experts work round the clock to provide you with the answers that you are looking for. So, if you have any, leave it in the comment section below or send us a DM at @nuawoman. This is a safe space that we have built for you so do not hold back on any doubts you may have about your body and mind.
Read other articles by Dr. Poonam Wadhwani on InSync here.