We all know that when it comes to your periods, a sanitary pad is the go-to product for your flow. But where do panty liners fit into the equation? Get all the information you need about how to use a panty liner for your needs and if there are any additional benefits of wearing a panty liner.
What is a panty liner?
A panty liner is a thin, absorbent piece of material worn inside your underwear, similar to a sanitary pad. It's lighter and thinner to act as a barrier against daily vaginal discharge you might experience to keep your underwear dry and feeling clean all day long.
Why use a panty liner?
Vaginal discharge is a very common and completely natural phenomenon. Women experience discharge before their period called 'leukorrhea' or even after their period. Some even experience discharge on a daily basis. The purpose of a panty liner is to absorb it. This also prevents staining your underwear. Some also use panty liners along with tampons or menstrual cups for extra protection.
What is the difference between a panty liner and a sanitary pad?
A sanitary pad is created to absorb your period flow when you menstruate. Panty liners are predominantly used for hygiene purposes all year round. You don't have to use one when you're on your period. When in doubt, for your period needs, our customisable Sanitary Pad options will keep you covered, literally.
How to use a panty liner?
Just like a sanitary pad, panty liners are worn inside your underwear. They have an adhesive strip on the bottom to keep them in place. It should be placed vertically and secured on the gusset of your underwear.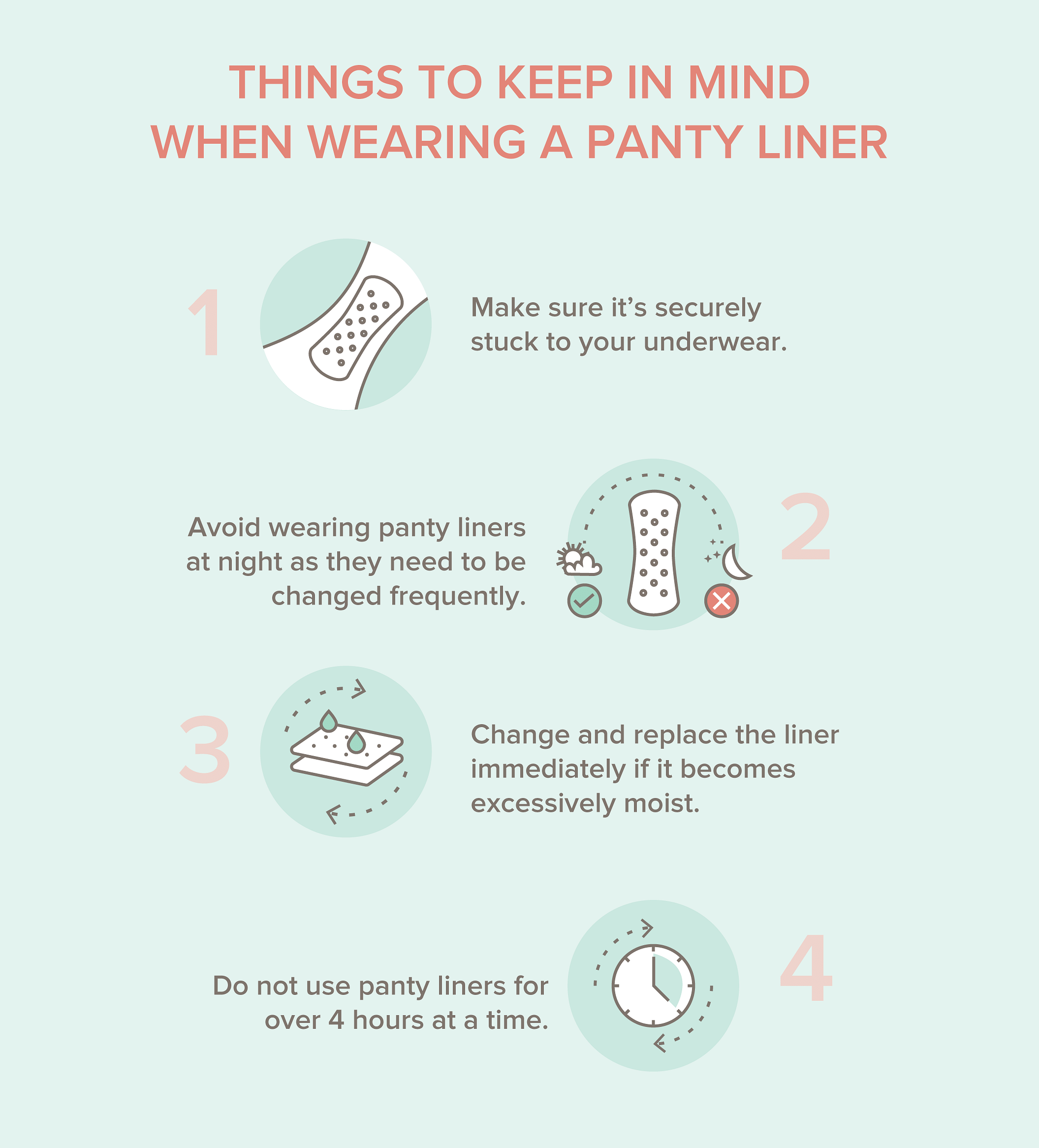 What are the benefits of wearing a panty liner?
Maintain good intimate hygiene
A panty liner is the best way to maintain a dry and clean feel throughout the day. Even if you don't experience daily discharge, one can feel damp and uncomfortable down there due to tight clothing or even after a workout.
Avoid bacterial infections
Panty liners, when changed within the recommended time period, can help you keep bacterial infections at bay.
Leave behind the worry of staining
Stains on your underwear (and in extreme cases your pants) can easily be avoided by using a panty liner everyday. Our Everyday Panty Liners are 1mm thick, concealing them seamlessly within your clothing and are ideal to help you manage vaginal discharge on a daily basis, no matter where you are!
P.S.: If you're looking to further enhance your intimate hygiene, use our Intimate Foaming Wash for a healthy vulva all year long.
---
When it comes to taking a call on your menstrual needs, making an informed choice with total control over your physical health is what matters the most. Taking all your concerns in mind, our products are curated to help you with your menstrual needs, one period at a time.