Your skin is the largest organ of your body, and the skin on your face is very different from the rest. The most important step in taking care of your skin and its concerns is to find your specific skin type. Before we jump into the common skin types, it's first important to identify what your skin type is using a simple test.
This test helps determine the amount of oil production your skin has in each area. You must sit in a room with a gentle fan instead of an air conditioner.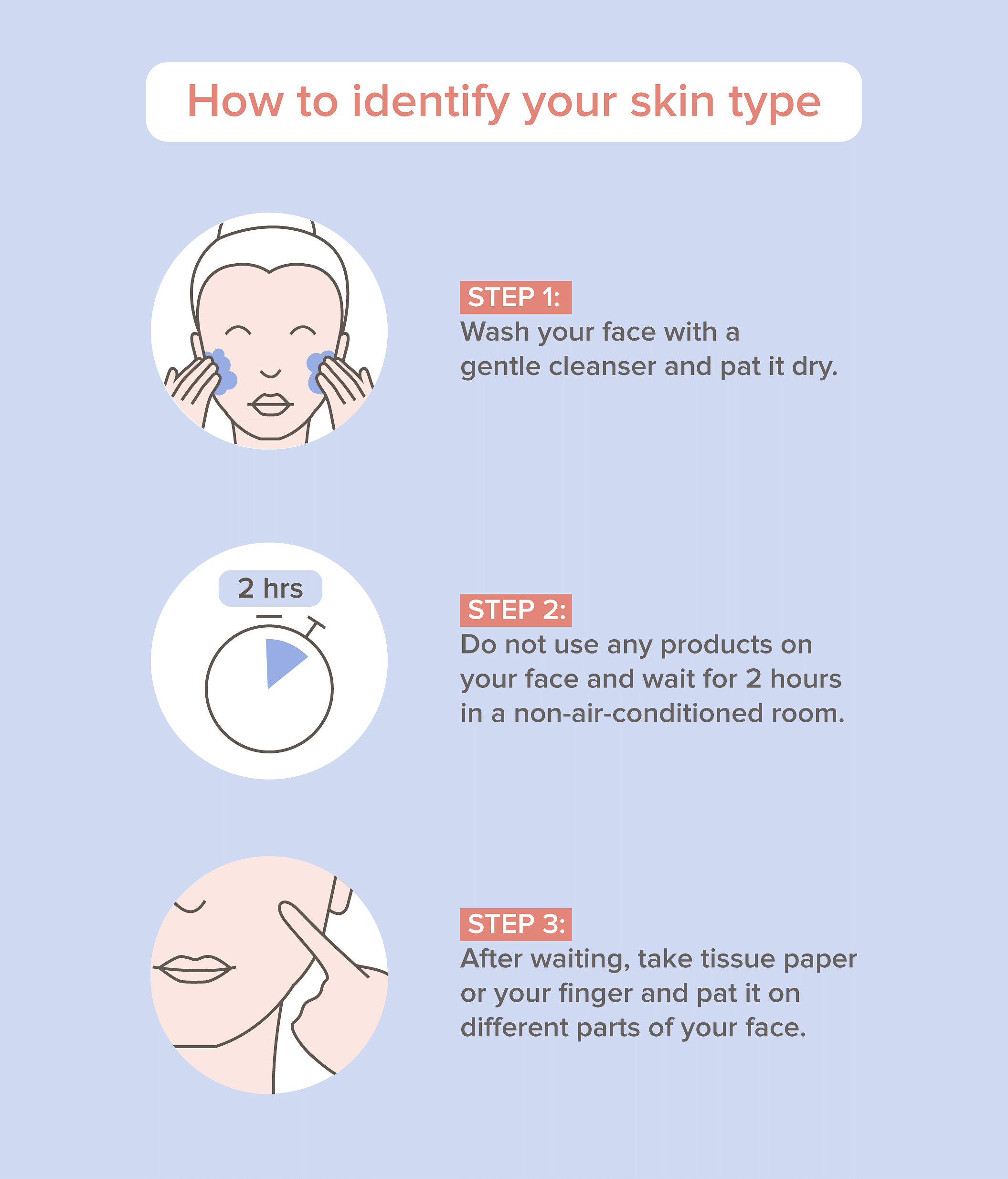 If your skin has no excess oil and feels normal, you have normal skin.
If it is oily all over the face, you have oily skin.
If there is no oiliness but your skin feels tight and itchy, you have dry skin.
If your T-zone (the skin on your forehead and nose) is oily but normal on the rest, you have combination skin.
Now that your skin type is understood, you can treat your skin for its needs and its condition. Many people have concerns or skin conditions which are important aspects we look for when building skin care routines. The conditions can be similar across all skin types, a few including acne, dehydration, pigmentation, and mature skin.
Identifying your skin condition is easier as they are more visible than your skin type as it changes the texture of your skin. Acne will show up as inflamed spots while dehydration would make your skin feel tight and dry. Pigmentation causes the skin to look discolored in spots or patches and you will notice fine lines and wrinkles as your skin matures.
The most effective way of treating your skin condition is to use a serum formulated to treat it. A serum that has active ingredients in it can travel to the maximum depth of the skin, up to the dermis. Hence, they are most effective to cater to your condition.
Now that both your skin condition and skin type has been identified, here are products that help treat them:
Cleanser: All skin types should use a cleanser that has pH-balancing ingredients to get rid of any dirt and pollution on the skin without stripping it of its natural moisture. The formula can vary if you would like an additional ingredient for your skin concern or your skin type, this product can cater to both these needs.
Serum: This product would be based on the concern you want to target for your skin type. Acne-prone skin benefits from serums with salicylic acid, while dehydrated and mature skin would need hyaluronic acid serums.
Moisturizer: A moisturizer is essential and you must choose one based on your skin type. People with an oily skin type can opt for light-weight and gel-based formulas that will not clog the pores. Dry skin will need additional moisture which needs a product that has ceramides and squalene. Someone with normal skin can use a light moisturizer that doesn't need to have super hydrating ingredients.
Just like the weather that changes every few months, your skin type also changes. You may have noticed your skin getting oilier in the summer and dryer in the winter. These changes are normal and mean that your skin is adapting to the environment around it. It is during this time that you must change your skin care routine to suit your skin's needs for those months.
---
Our experts work round the clock to provide you with the answers that you are looking for. If you have any, leave it in the comment section below or send us a DM at @nuawoman. This is a safe space so don't hold back on any doubts you may have about your body, skin and mind.
Read all of Dr Anupriya Goel's articles here.