With self-expression being the central point of conversation across the globe, its movement – into the trials and tribulations during a woman's period – is natural. Our series, 'Periods & I', is an ode to these women who have pioneered the concept of being vocal about their emotions and staying true to themselves – just like Atia Sen.
Based in Delhi, Atia grew up in a household that encouraged arts and extracurricular activities. "I was born into a family filled with artists, be it musicians, photographers, or painters. Art was given more importance than academics. So, my brother and I could be doing poorly in class at school and that was never a problem.
"I am so grateful to have been brought up in a family that encouraged self-expression and worked together. Even my grandparents who we lived with for a long time would tell me how good I was until I took it up professionally and got a reality check in art school".
As a student at the Shristi Institution of Art, Design & Technology, she recalls facing doubts and fears with the other students around. "Everyone else was way more experienced and skilled. At the time, I felt that I didn't belong there and needed to work way harder than those I was in class with, which I did".
It's this balance of her support from her family and her hard work that's led her to understand and realize the importance of being true to herself, even when it came to her periods. Although her knowledge about it started a tad bit earlier.
"I was either 6 or 7 years old when our entire family got together to celebrate Dussehra and we had a huge sleepover at night. The next morning, my mother wakes up early and notices blood on her white pants. She quickly rushed to the bathroom and I immediately panicked seeing my mother with blood on her clothes. What surprised me was that no one was worried about her the way I was! I remember being so confused and taken aback by their reaction. I kept knocking on the door while my mausis appeared quite nonchalant and relaxed. After she came out of the bathroom, I asked her whether she was okay but she seemed totally normal. That's when she had to sit me down and explain it all".
While her first instance of coming across periods was a bit overwhelming , Atia's experience was a different one. "I knew I had my period when I saw a faint stain on my underwear. Since I knew this was normal, I went to my mother and told her about it. Instantly she called for my father and told him too. It ended up being a more celebratory occasion than anything else".
There was another escalation of feelings she experienced after graduating from school. "After graduation, I came back home feeling demotivated and scared because an institution can teach you to run behind a goal – graduate, get a job, earn money. I tried a few jobs that weren't rewarding enough. When my parents noticed that I had completely stopped creating and instead got lost in the race, they reminded me how much love and passion I have for painting and creating.
After taking the leap to pursue her passion, she gave it her all. Knowing the privilege of having to step back and have a few months of no steady income, she's glad to have taken that bold step. "At the end of the day, it is still scary to do something that's termed unconventional. Just putting up my work on social media was frightening because it hurts when you don't feel seen, especially when you put yourself out there."
Her experience with sharing the news about her period with her peers was the same. "Even though it was taken well at home, I was a bit ashamed to talk to my friends at school about it. I got my period  quite young, and I told my parents and my brother that no one can know about it. At that time, it was still considered quite a taboo and no one else from my group of friends had gotten it. No one else my age really understood what it was. Comments about it being gross and weird became a fear since it could translate to me feeling like the odd one out. I got it even before my older cousin sister, automatically making me think, 'Why did I get it before her' and 'Is there something wrong with me?"
"I'm an intuitive painter and most of my work is based on my mood, how my mind or body feels in the moment. There are paintings I've created during my period and I can see how the choices of color and expression come through. I never intentionally draw on the fact that I'm creating work while on my period but it's rather the reflection of what I feel when I do experience it".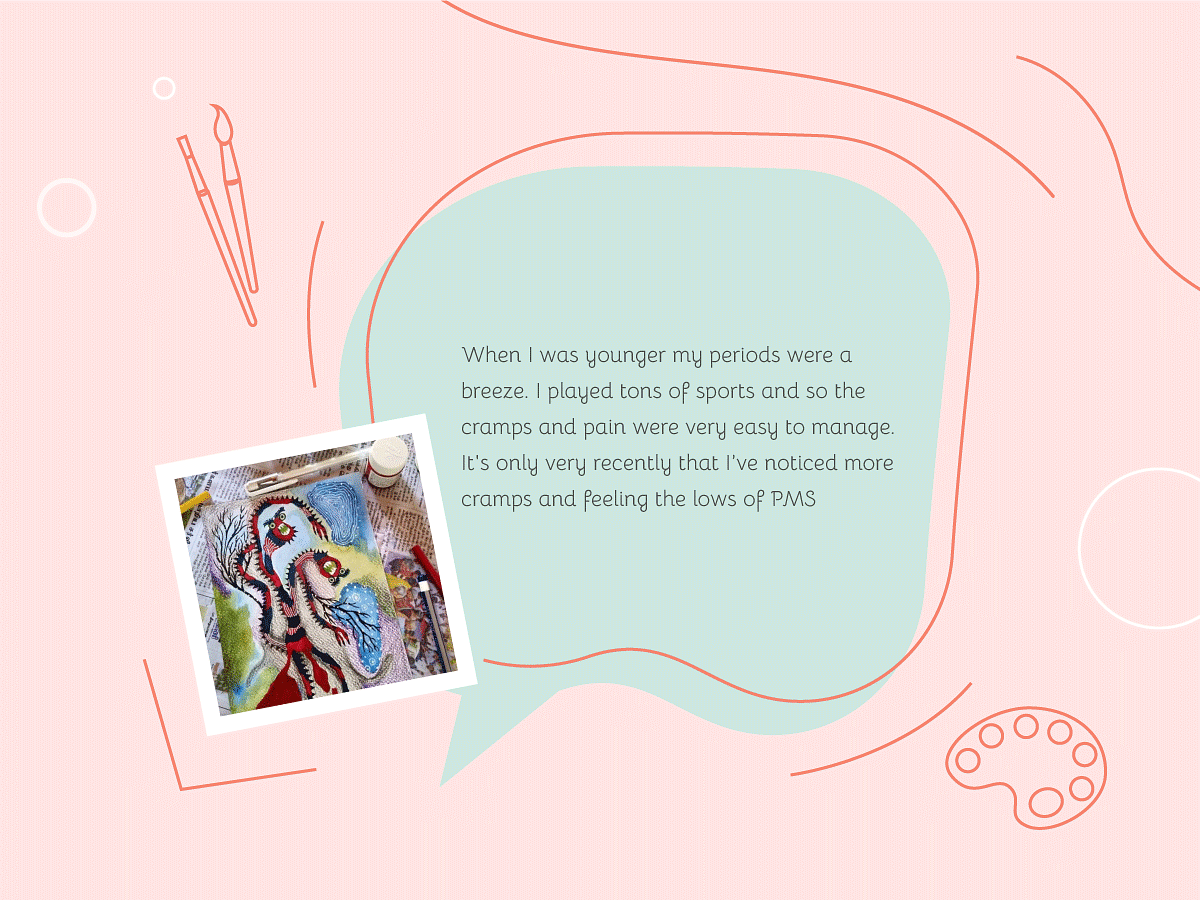 "There are parts and parcels of the experience where you feel such a release because as women we pent up emotions in general. You're storing so much weight and stigma of being emotional from everything else in your life. It's really liberating and freeing when you can take it all out on the canvas. And I actually find myself painting a lot more during that time!"
"I feel like every cycle has added to my strength. It's given me a sense of feeling divine, more powerful, and comfortable with my inner self in some way or the other. "It helps you realize and understand how much your body is capable of and that makes you love and respect yourself more and more with time.