Sanitary pads are often the first choice for women when their period arrives, simply because it is one of the safest, easiest and most accessible menstrual products after an intimate wash in our country. Sanitary pads have several layers that prevent leakages and trap period odour.
Sometimes, because of how many layers a pad might have, it can lead to the build up of moisture and heat, which may eventually result in period rashes.
Period rashes are common and can be treated easily. At times, period rashes can lead to itching, irritation and swelling if not taken care of immediately. In fact, you are doubly prone to period rashes in hot and humid climates since your sweat ducts can get clogged and trap sweat under the skin.
At Nua, we collected feedback from over 10,000 women from our community to create a pad that is designed by us, and co created by you, for a rash-free menstruation experience! One thing that could make a big difference in the occurrence of period rashes is the kind of sanitary pad you use. Our sanitary pads are scent-free, made safe and are toxin-free, promising you a rash-free menstruation experience!
Try a pack today for a smooth sailing period! Get yours here.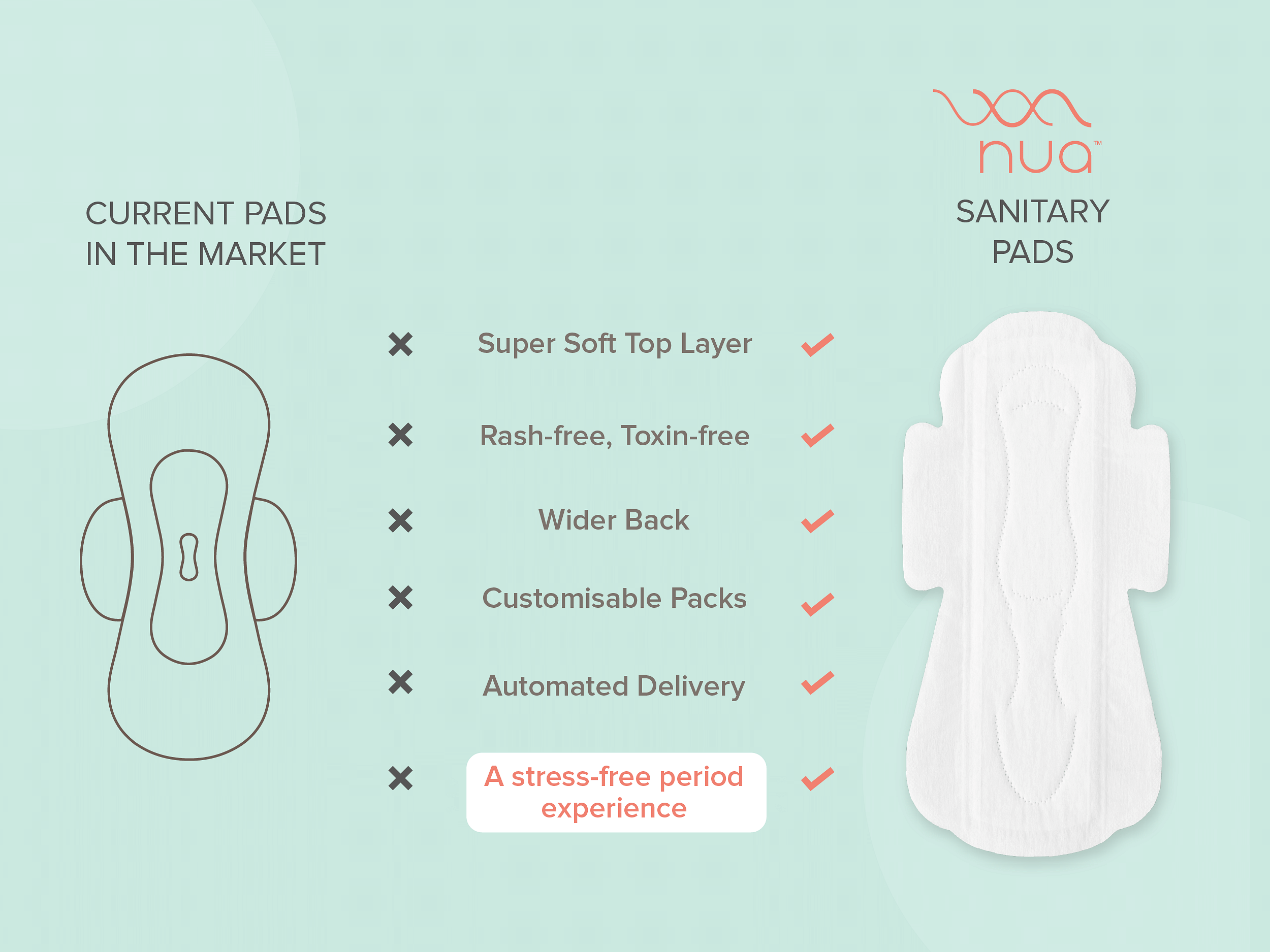 Our sanitary pads come in three different sizes so that you can manage the ebb and flow of your period appropriately and comfortably. In better words, our pads are made for you to #GoWithYourFlow.
Period rashes may sometimes develop after your cycle ends too. On those days, just like on regular days, it is important that you maintain menstrual hygiene. One way you can do this is to invest in a good, safe and gentle intimate wash.
Intimate washes don't just keep period rashes at bay, they also maintain the pH level of your vagina, which in turn, prevents bacterial infections. While the vagina is a self-cleaning organ, it doesn't hurt to give it a little assistance. Intimate washes can help get rid of vaginal odour, prevent dryness, help treat infections and leave you feeling clean and fresh.
Nua's Intimate Wash is made with nourishing ingredients like aloe vera and lactic acid and is toxin-free. Since it is a foaming wash, it is very mild and doesn't irritate the skin.
Start your intimate hygiene routine today with a gentle and refreshing cleanse with Nua's Intimate Wash!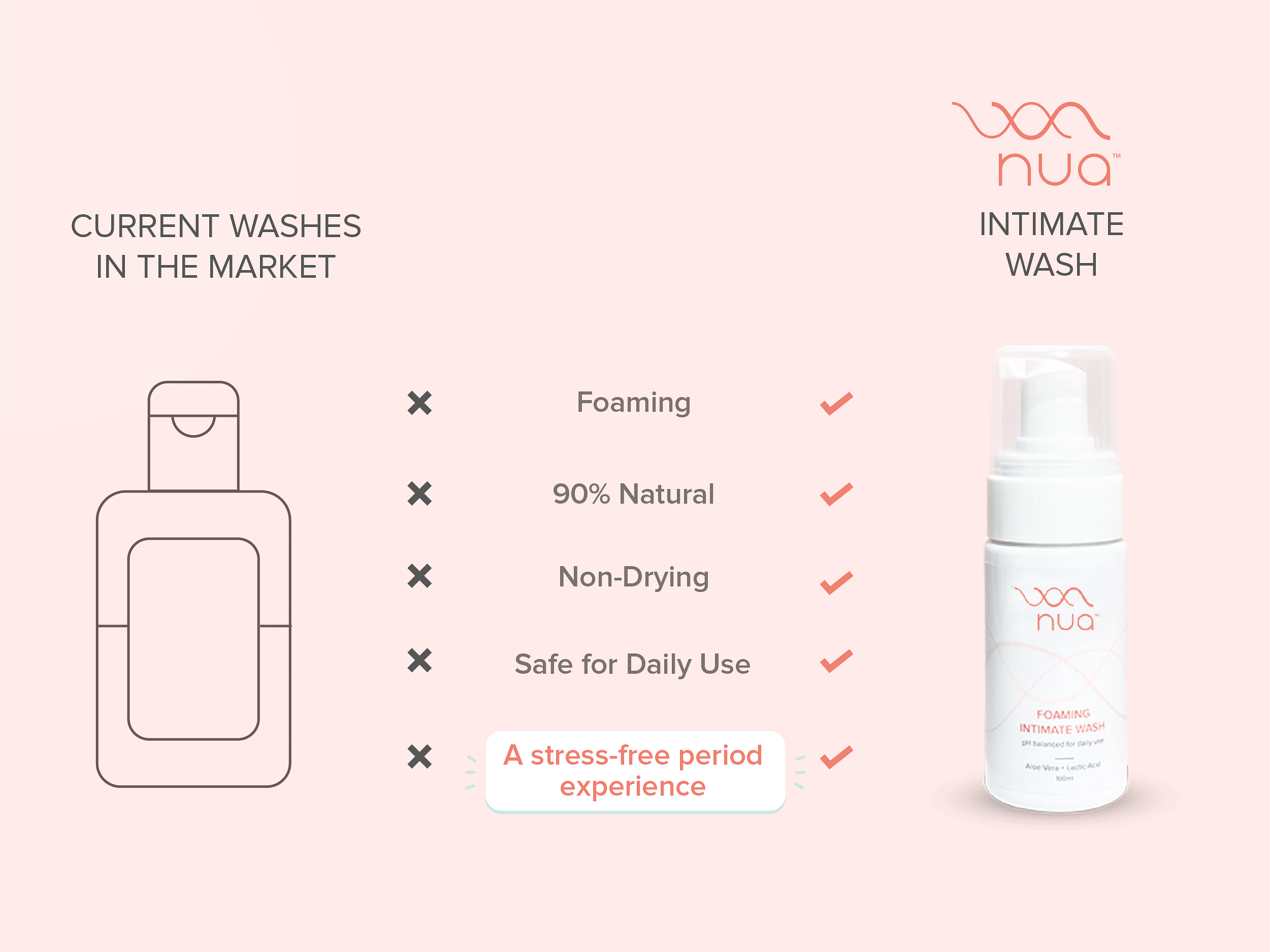 Here are some tips to prevent period rashes:
Switch to all-cotton, toxin-free pads
Use unscented pads
Change pads frequently
Wear loose, airy clothing
Keep your vagina clean and dry
With these tips in mind, you should be able to avoid period rashes but if they still manage to sneak in, you should get yourself checked to make sure your period rashes are not allergic in nature. Period rashes are often mild but if you notice consistent rash formation or your period rashes present painfully, do not hesitate to visit your doctor since it may require medical attention.
---
Everyone deserves to have a comfortable menstruation journey and at Nua, we are finding newer ways to make this process easier for you. Check out our entire line of menstrual wellness products here.