When you get your period for the first time, it takes a few cycles for your body to adjust to track it better. While your body is still adjusting, your period can often appear unannounced. Make sure you're always ready with the essentials, with the help of an emergency period kit!
This is what every period kit should include:
A pretty pouch
You need to use something to call your period emergency kit! Make sure the pouch you use is the right size to hold all the essentials you would need in a pinch.
Sanitary products
The initial stage of your period tends to be on the lighter side, so light pads are a must. If you experience heavier flow, you can carry medium to heavy flow pads. If you've been using other menstrual tools such as tampons or menstrual cups, you can have those in your kit as well. You'll need about 3 pads or tampons to last you through a school day if you change them every 6-8 hours.
P.S.: Our sanitary pads are customized for you to #GoWithYourFlow. Check them out here!
Pain relief
There's a high possibility you'll get period cramps, which aren't pleasant. For constant and discrete heat to help soothe cramps, keep a patch of Cramp Comfort handy for use. If you're hurting badly, you can include a pain medication prescribed to you by a gynaecologist.
Extra underwear
Extra underwear is a must for every emergency period kit so that you can switch the probably stained one for a clean and fresh one. If you've stained your underwear, you can also carry a plastic or cloth bag to hold your stained panties.
Soap and sanitizer
Hygiene during your period is very important. Sometimes you might not always have soap or enough water nearby, so it's a good practice to carry soap strips and a sanitizer to ensure you have clean hands before dealing with wearing a pad as your period arrives.
Some goodies, 'cause you deserve them!
Don't be worried about managing your period when you're out, take it as a chance to give yourself a treat! Pack some chocolates, candy or imli to get you in a good mood.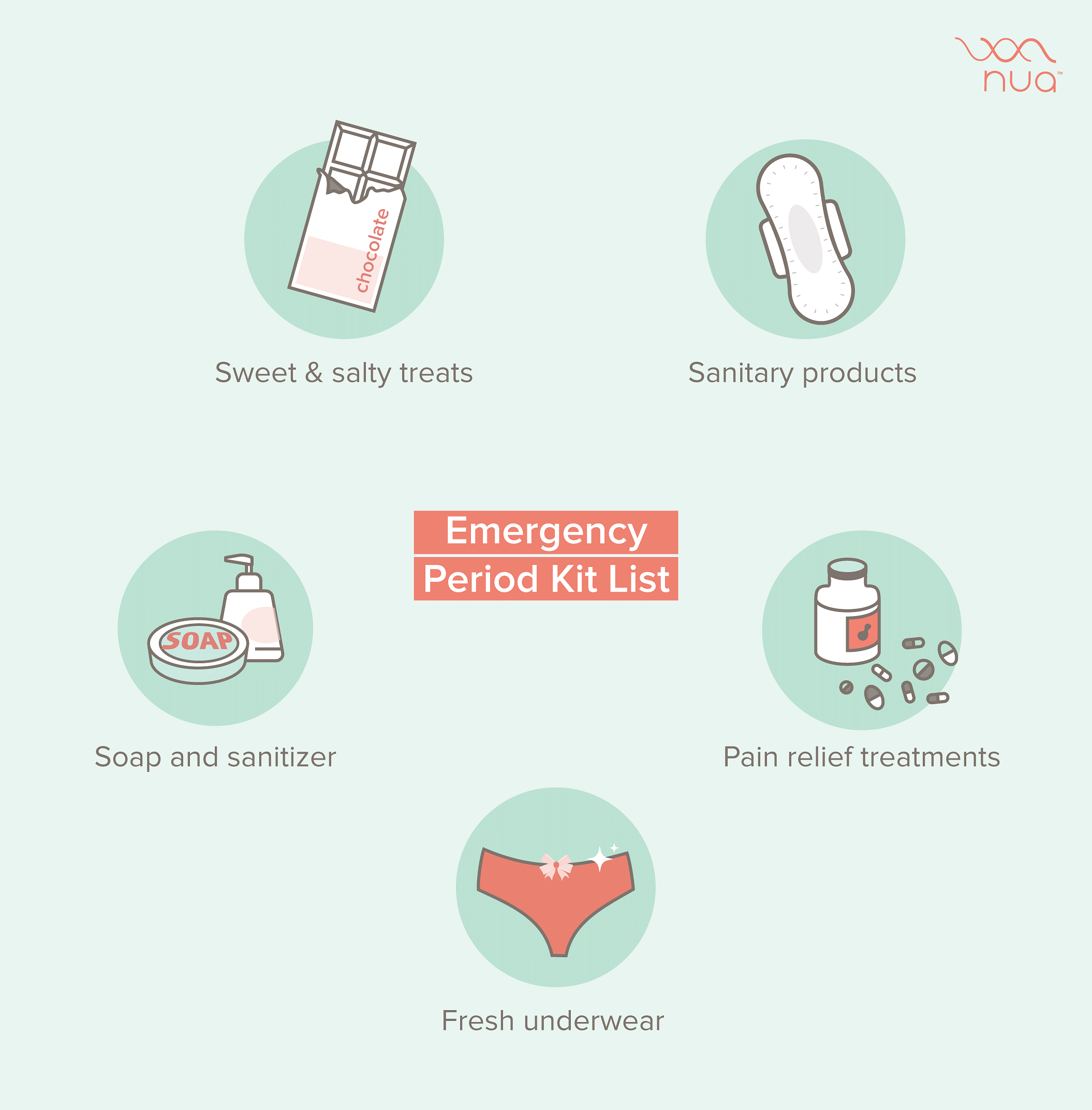 ---
We aim to help you take care of all your menstrual needs. Take a look at our range of products for all your period essentials here.