Our hormones form a significant part of our being. Our lifestyle plays a major role in determining our hormonal balance – how well we eat, our physically activities, and also how we take care of our mental and emotional health.
When it comes to what we should eat, there's way too much information and misinformation floating around! Some food products such as dairy often create debates about their potential benefits and disadvantages.
Here's what we should know about dairy
Milk and other dairy products contain a hormone known as Insulin-like Growth Factor 1. It promotes the production of androgen hormones such as testosterone, which can worsen hormonal imbalances. This is not only in cases of testosterone dominance but also when there is an excess of oestrogen (as testosterone can be aromatased into oestrogen in fat cells).
Besides, to meet the excessive demand for milk, cows are being pumped with external hormones and antibiotics. When we consume that milk, those hormones find their way into our bloodstream and further disrupt our natural hormonal balance.
Does that mean we need to get off dairy?
Everybody is unique and you have to do what is best for your body. Our body is always communicating with us, we just have to learn to listen! Some women may not face any issues with dairy, and so they need not give it up. But if you are facing hormonal imbalances – like delayed or irregular periods, unbearable menstrual cramps, fertility issues, extreme hot flashes during menopause and perimenopause, and endometriosis – it would be worth it to try and give up dairy. At least for some time to see how your body reacts to it. After all, these are your body's way of communicating with you that something's not right.
Going off dairy ONLY during your periods, may not be helpful as the hormones from the milk have already entered your system. It can take a while to leave the body. It is advisable to not consume dairy for at least 4-6 weeks at a stretch to notice any remarkable difference in your body.
While it is not the only factor that could be causing hormonal imbalances, dairy is definitely one of the major factors.
Hormonal imbalances cause prolonged stress which could lead to high cortisol levels. These in turn causes your liver and kidneys to be overworked!
So while you are working on correcting such imbalances, it would make sense to also provide your body with foods that support these organs. Include more green leafy vegetables, fresh fruits, nuts and seeds which help flush out toxins as well as promote hormonal harmony.
If you really love that masala chai and café latte, you have a ton of dairy-free milk options like oat milk, almond milk, coconut milk! Make use of the resources available and enjoy your way to better health and fitness!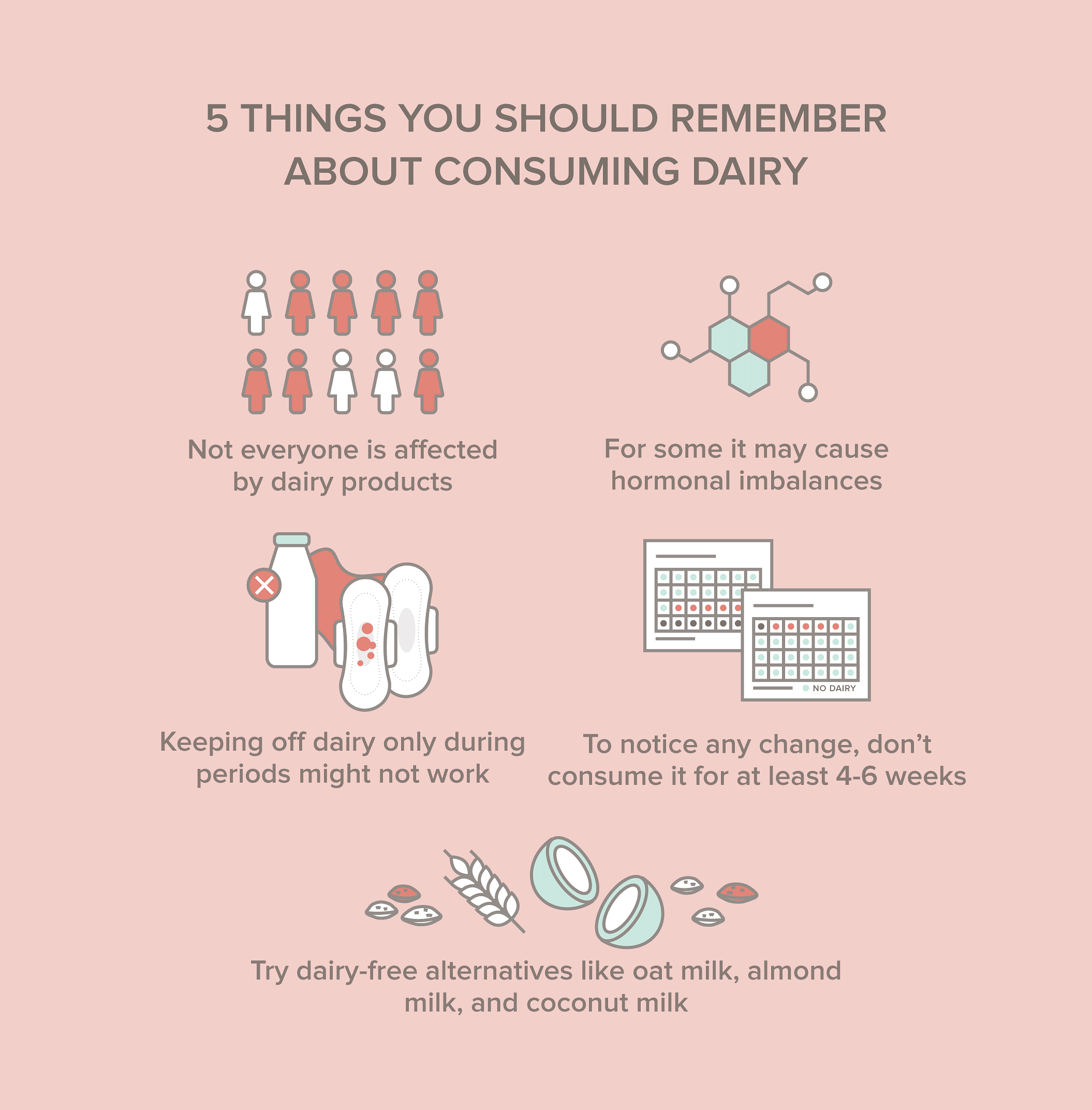 Our experts are constantly working to provide our readers with the right information. Read more expert articles right here. You can also read up more on nutrition right here.