The food we eat plays a crucial role in our overall health – from preventing diseases to giving us healthy hair and skin. Diet and hydration levels even play an important role in balancing the pH levels of the vagina, minimizing smells and fighting infections.
Did you know that there are certain superfoods that help boost vaginal health in many ways? Let's look at some:
1. Probiotics:
Vaginas have a high pH level and are naturally acidic. A lot of foods consist of good bacteria that balance these pH levels, preventing dryness, itching and bad odour. Which is why probiotics top the list! Probiotics are full of good bacteria that live in the gut and are responsible for balancing mood and weight, and keeping up immunity to maintaining the pH levels of the vagina.
2. Vitamin C rich foods:
These foods are good sources of ascorbic acid. Many studies have shown that consuming high amounts of citrus fruits and vegetables reduces the risk of recurring vaginal infections. If you experience regular UTI's (urinary tract infections) or vaginal discharge, having lemons and oranges is the answer.
3. Omega 3 fatty acids:
If you are feeling dry down there or lacking libido, try snacking on flax seeds and nuts, or including fish in your diet. Omega 3 fatty acids play an important role in heart health, and help with vaginal health too. They pump blood flow which boosts one's sex drive. They are also a good source of phytoestrogens that increase oestrogen levels and help lubricate the vagina, preventing dryness. Some studies show a positive impact of Omega 3 fats and a reduced risk of developing endometriosis.
4. Broccoli & Spinach:
Love it or hate it, there is a reason why these foods are important and have made it even to the list of foods that help vaginal health. They are loaded with flavonoids and magnesium; powerful antioxidants that help reduce inflammation in blood vessels and increase blood flow.
5. Vitamin A and carotenoids:
These compounds help strengthen muscle tissue for strong healthy vaginal walls. Women who consumed high amounts of flavonoid rich foods such as carrots, cabbage, sweet potato and peppers had a 34% reduced risk of developing ovarian cancer. So pack in the rainbow in your diet and make sure you eat your vegetables!
6. Water:
Drinking water and hydrating well is one of the best things for vaginal health. It helps balance the pH levels of the vagina, which has a self-cleaning system of its own. It also helps increase lubrication and the proper release of secretions. It prevents that nasty itch and infections from developing, too.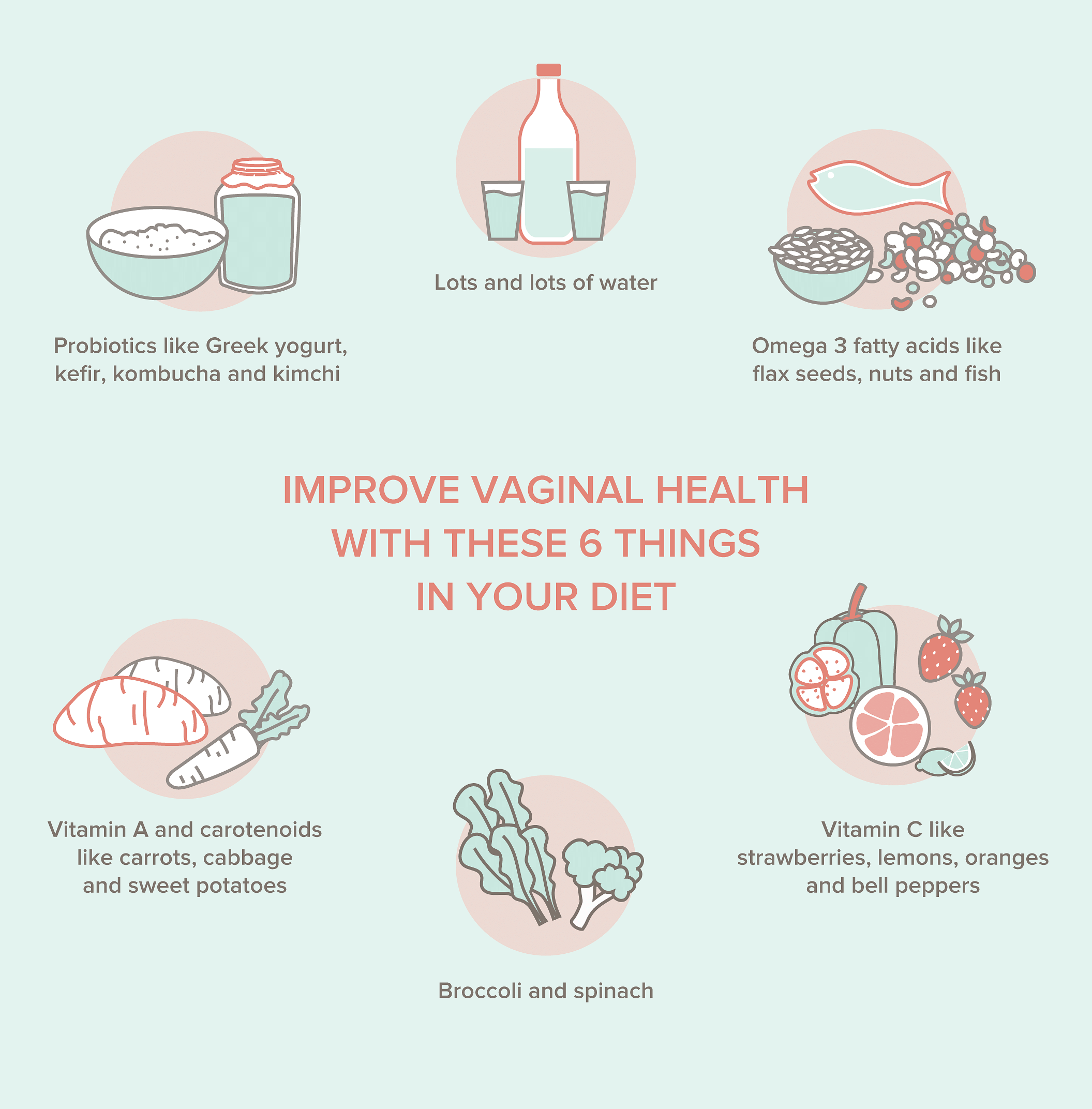 Get your vaginal health in top shape with these foods, and don't forget to love and care for your intimate parts the same way you do for the rest of your body!